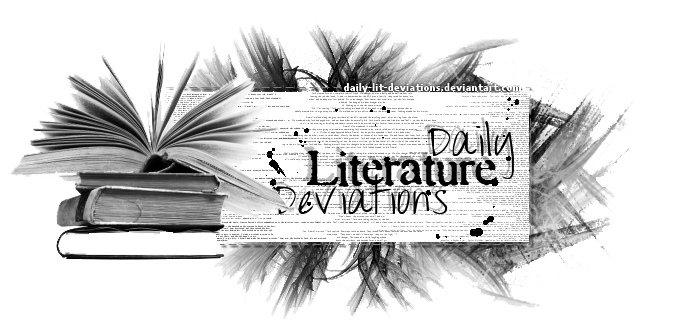 Guidelines
|
How to Suggest a DLD
|
Group Administrators
|
Affiliation
|
Chatroom
|
Current Staff Openings
Daily Lit Deviations for July 17th, 2013
We are proud to feature today's Daily Literature Deviations!

You can show your support by

ing this News Article.
Please comment and

the features and congratulate the artists!

For all of the featured artists:
If you receive a DD for one
of your pieces featured by DLD please note LiliWrites.
We will include you and your piece in a special recognition news article.

Poetry
Suggested by: Nichrysalis
Featured by: SilverInkblot
The Chimes of a Clock
by
WilliamDallwitz
Suggester: "An intriguing
poet with an intriguing style."
Suggested by: beeinthebottle
<da:thumb id="376675786"/>
old light
by
throughangelseyes7
The artist's comment says
it all on this piece: Some
things aren't what they seem.
Suggested by: Concora
Featured by LadyofGaerdon

YogaShe goes to sleep late.
She sits alone,
Listening to ambient-drone
In her midnight-blue room.
The desk lamp is a small star
In the corner of her dark universe.
She searches Wikipedia
For shades of blue.
She falls in love with
Celeste, cornflower, cyan,
Electric, Indigo, Iris, Maya,
Powder, Sky, Tiffany and Turquoise.
Awe-stricken by their
Surreal quality
And the vacuum it creates
In her solar plexus.
She unfolds like a flower.
She imagines herself opening up,
A bouquet of dreams:
Fragile, alive,
Also like a fluffy, white lamb
Beneath a beautifully crafted
And bejewelled sacrificial dagger.
In her mind she pinches
The petals of a thousand sherbet-coloured blooms,
Their biology presses back.
They do not bruise.
"What kind of
Magical-yoga
Do they practice?"
She wakes up late.
Yoga
by
sherbetblooms
Suggester: A peaceful, spiritual
piece of poetry. A lovely read.
Prose
Featured by LadyofGaerdon

The Birth of a Writer"Mom! I put six words together!"
The Birth of a Writer
by
starswirl3
As the author herself
notes: Every writer
starts off as a child.
Featured by doodlerTM

I, Tito Jacobin, 16, Now Begin My Life After 16 years of sustaining myself entirely with coffee and biscuits and slowly chewing away every eraser from every pencil I own and then—when this supply was exhausted—chewing down all ten of my fingernails, I, Tito Jacobin, have got one thing figured out: good things don't happen to me. I will never enter an Ivy League college, I will never buy Mom a proper house, and I will never miraculously acquire the one ring to rule them all. No, poor little Tito is destined to die in these gray slab streets like a scrawny, diseased pigeon, pitiful and alone.
So it's to be expected that when Vivian Andromeda walks straight out of the clouds and into my life and smiles at me, smiles at me (except it's probably just out of politeness, might even be a smirk, and anyways there's no reason to get my hopes up because from what I've seen in the halls Vivian Andromeda would even smile at a rabid dog) I
I, Tito Jacobin, 16, Now Begin My Life
by
VolkesWagondaOtaku
A cute, humorous
coming-of-age love story.
For more information, including how to suggest a Deviation
to be featured, please visit us at
DailyLitDeviations
.
Thanks so much for supporting the lit community and this project!
~ The
DailyLitDeviations
Team ~
Prepared by: LadyofGaerdon