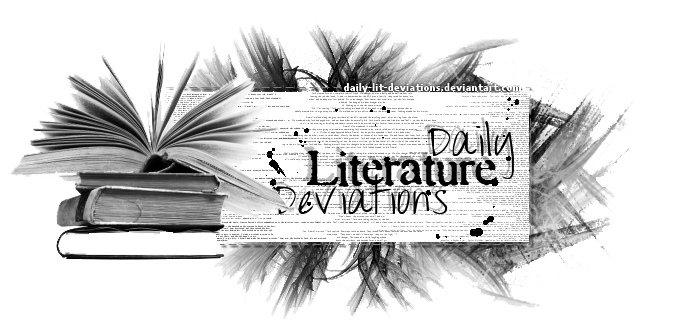 Guidelines
|
How to Suggest a DLD
|
Group Administrators
|
Affiliation
|
Chatroom
|
Current Staff Openings
Daily Lit Deviations for January 9th, 2013
We are proud to feature today's Daily Literature Deviations!

You can show your support by

ing this News Article.
Please comment and

the features and congratulate the artists!

For all of the featured artists:
If you receive a DD for one
of your pieces featured by DLD please note LiliWrites.
We will include you and your piece in a special recognition news article.

Poetry

Featured by: DrippingWords

These desolate dreamsSeashells and echoes
skip across the seas
faintly,
whispering the pasts
of gilded farces;
softly,
there are many calls.
Skip across the seas.
Mirrors and sunrises,
the birds all take flight,
quickly,
depart before night
before their dark light,
briskly,
so as not to fight
seashells and echoes.
Gravel and diesels,
they scratch at the eyes,
roughly
concealing the lies,
bombarding their cries.
Harshly,
their livelihood dies.
Skip across the seas.
"These desolate dreams "
by
ozzla
The colorful imagery helps
the reader to understand
the message of the poem.
Suggested by: alapip
Featured by: betwixtthepages

planetary perspectivedid you ever stare into the sun as she was falling behind the horizon
and realize
you're the one falling?
could you finally assimilate, during her spectacular dive,
the wonderous speed
at which you're moving?
did you ever walk barefoot by the roaring, receding ocean
and ponder in awe
the distant moon's attraction?
did you ever observe great orion plunge into a forest
and mourn
when the hunter didn't find his way home
but stands forever in cold space,
while we, in our na´vety, just keep going
around
and around
?
planetary perspective
by
raido-ehwaz
From the suggester: This
beautiful piece combines cosmic
science with a sense of wonder.
Featured by: SilverInkblot

DandelionsI remember,
When I was just a little kid
In spring,
I would pick dandelions.
My mom told me not to pick them
Because they were weeds.
"But mom," I would argue,
"Dandelions are flowers,
Not weeds!"
I remember
Not being able to comprehend
How something so pretty
Could be a bad thing.
Besides,
They weren't hurting anyone.
Now, I wonder-
Who is more at fault?
Me,
For judging by looks
Or my mom,
For judging by labels.
But one thing I am sure of;
Neither of us
Gave dandelions
A fair chance.
Dandelions
by
myprettypictures
A simple poem with
a simple message.
Prose
Featured by: SilverInkblot
Cries of an innocent
by
Laeneris
I had to read it twice to get it, but
once I did, it hit hard. Sometimes
apathy is the worst crime of all.
Featured by xlntwtch

The Page of Promise: A Winter Solstice TaleIn the depths of a night that's about to begin
with the feeling of snow as it melts on your skin
and it covers the land with a dream so intense
that it returns us all to a child's innocence
And then what you'd thought lost and could never retrieve
is suddenly there to be found on Christmas Eve
-Trans-Siberian Orchestra
The sound of her boots breaking the snow is delicate and light, like meditated, unhurried piano notes. She walks gracefully between the pine trunks, their needles making a cover for falling snow above her head. Her face, a frozen petal of porcelain, eyes of crystalline frost, is framed by the hood of her white, fur-lined mantle. The air is still, the cold a pleasant hindrance, as Lumi is able to wander gloveless, touching each gigantic pine in thought. Each tree speaks to her in a unique way, telling of the earth and the sky, of what speaks the wind, what whisper the animals nuzzled against their roots, or perched among their branches. She hangs, on all of them a
The Page of Promise: A Winter Solstice Tale
by
kamalaksh
Every image and change here
is striking, whether it's gentle or
bold. They contribute well to the
writer's fine storytelling and definitely
make this worth the time to read.
For more information, including how to suggest a Deviation
to be featured, please visit us at
DailyLitDeviations
.
Thanks so much for supporting the lit community and this project!
~ The
DailyLitDeviations
Team ~
Prepared by: LadyofGaerdon