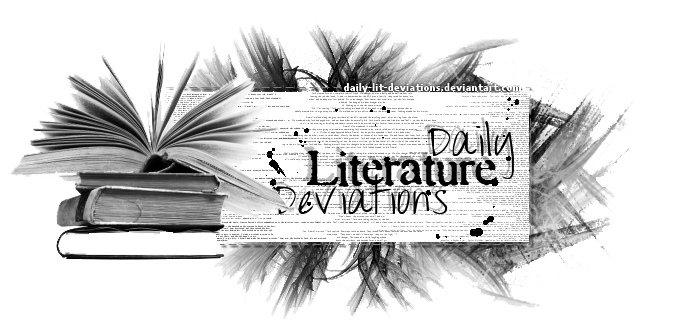 Guidelines
|
How to Suggest a DLD
|
Group Administrators
|
Affiliation
|
Chatroom
|
Current Staff Openings
Daily Lit Deviations for January 8th, 2013
We are proud to feature today's Daily Literature Deviations!

You can show your support by

ing this News Article.
Please comment and

the features and congratulate the artists!

For all of the featured artists:
If you receive a DD for one
of your pieces featured by DLD please note LiliWrites.
We will include you and your piece in a special recognition news article.

Poetry
Featured by: betwixtthepages

The Prince's Last WifeIt must be confusing
to lie down every night
not sure if you were going to be with
the man or the bear.
Sure, he's always been a man by night,
but then he's a bear by day,
with those big, sad, polar eyes,
still trying to control his massive limbs
like he's the master of his own destiny.
And yet you find those white hairs
on your good clean sheets,
on your silk pajamas,
mingled in your morning tea,
which is always waiting,
hot and steaming,
despite the fact he can't carry it in his paws.
And he watches you dressing yourself,
pulling on layer after layer, wool and wire,
because he shoots the cold
right through you,
with a nuzzle of his nose.
And he never has to dress, though at night
you can feel his skin,
and the goosebumps that line his humanity.
It must be confusing,
to lie there at night,
hoping he'll be the bear,
coming to eat you alive.
The Prince's Last Wife
by
KarlyNoelleAbreu
This lovely poem, based on a fairy tale,
will leave readers pondering until the
very end, and for days after reading.
Featured by: LadyofGaerdon

Grass on your knees and water on my feet.The sky was a deep overwhelming blanket tucked into the spots our limbs couldn't
fill, and the stars were the brewing passion burning through the bruised fragments
of me, gobbling up all of my fear in flickers to tickle my secrets until they cried
mercy and gave themselves up to be saved by the gentle graze of your hands.
You filled and overfilled my arms until there was no room for me to hug the trees
anymore, but the wind carried my affection which moved the branches to find the
will to reach out to the sky, slowly caressing the invisible clouds back and forth,
forth and back, and the perfect crescent moon married them over and over until
the sun would stop hiding and they could all stand face to face again, unveiled.
The blades of grass were tiptoeing timidly across our backs until the power of the
weight of our yearning bodies urged them into a run and sent them rolling and
crashing into one other, taking all the chances we quickly forgot to cower from,
falling in love from a simpl
"Grass on your knees and water on my feet."
by
theshadowkissedgirl
Exquisite stream-of-consciousness creates
a dizzying tapestry of imagery and
emotion perfect for diving into head-first.
Featured by: spoems
Creep
by
melodysnow
The poetic maladies pile up quickly
for the writer in this well penned moment
of preoccupied confusion and erotic dread.
Prose
Featured by: SilverInkblot

WherewithalOnce I met a girl who carved the world flat just to tell me I was beautiful.
It went without warning, in the morning when we left our sheets and searched for a bed of leaves beneath my mother's apple-tree; I settled crooked as she leaned against my side, and even as my muscles cramped I wouldn't shift her burden from my shoulders even to walk a free girl again. I was the real Atlas, the true one so willing as to ask to bear the weight of the world on her back for all of time, and you wouldn't know it to look at a ghost like me.
August, I said to her, and when I waited for her calling voice to come back I couldn't stop thinking about the way the russet leaves were crumbling under our spines with every movement; it was like we were grinding gold dust, collecting fortunes with every breath that I felt her lightly shake against me. It seemed like a waste, all this precious metal for a kid too haunted to wear the jewelry that would slip straight through her neck, but I couldn't stop myself
Wherewithal
by
whatpumpkins
The beautiful writing in this
piece puts an ache in my
chest in the very best way.
Featured by doodlerTM

Preparations"Honestly...I'm a little scared," she admitted.
"Don't worry about it," he reassured her. "It's nothing to be afraid of."
"It's different for you; you've done all of this before. I-I haven't. It's my first time, so I have no idea what to do." She was so nervous that she was shaking, but at the same time her cheeks were flushed with excitement.
"Stop worrying, babe. Just follow my lead and you'll do fine."
When she looked at him, she could see it in his eyes. He was ready to go, but she was holding him back. She was still afraid, but he was worth it. If he was ready to go there, then so was she.
"Alright then," she took a deep breath in an attempt to calm down. "Let's go. I can do this."
A smile spread across his face when she spoke; he'd been afraid that she would back out.
"Great. Great!" He was full of energy now. Before she could even take her hat off, he had her by the hand and was leading her out the door and down the hall.
"You know, you're lucky I love you," she said in an out-o
Preparations
by
FillInTheBlankStares
A preposterous flash fiction
with a twist of an ending.
For more information, including how to suggest a Deviation
to be featured, please visit us at
DailyLitDeviations
.
Thanks so much for supporting the lit community and this project!
~ The
DailyLitDeviations
Team ~
Prepared by: spoems