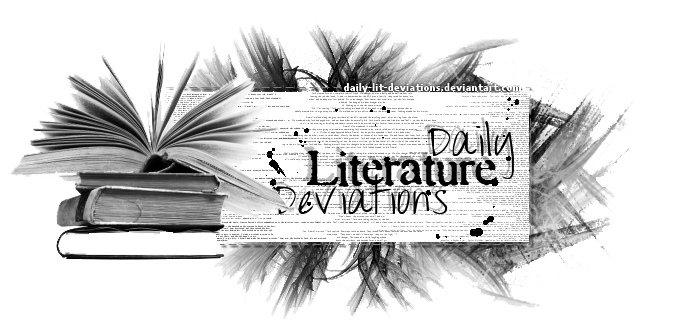 Guidelines
|
How to Suggest a DLD
|
Group Administrators
|
Affiliation
|
Chatroom
|
Current Staff Openings
Daily Lit Deviations for January 4th, 2013
We are proud to feature today's Daily Literature Deviations!

You can show your support by

ing this News Article.
Please comment and

the features and congratulate the artists!

For all of the featured artists:
If you receive a DD for one
of your pieces featured by DLD please note LiliWrites.
We will include you and your piece in a special recognition news article.

Poetry
Suggested by nightshade-keyblade
Featured by: LadyofGaerdon

I am not summer personifiedDo not compare me to a summers day,
I'm an autumn baby, with fallen leaves,
Printed in gold and amber across my skin,
With the deepest red sunset lips,
Offset by snowy skin.
I am the crisp breath of wind,
On oxygen starved lungs.
Forget the call of the heat,
And fall into my mist embrace.
I am not summer personified
by
blood-red-ribbons
Suggester says "It's a simple
but nimble little poem." I quite
agree: the metaphor is lovely.
Suggested by: doodlerTM
Featured by: lion-essrampant

stop me if you've heard this one beforei.
there is a man on the corner of my street
who gave me a bottle of bleach
and told me if i drank it, i'd finally feel clean.
but i gave it back to him, and went home to take a shower.
because i am almost happy,
and i do not want to mess that up by
chugging bleach or fingering knives or thinking too much
about that man who turned my insides cold
from inside of his car.
because this has to be happy.
this has to be what happy feels like.
it feels like god gave me a vodka bottle
filled with nature and people and oceans and deserts and seas,
cause see, it feels like i'm drunk on life.
ii.
i have this nervous habit of scratching holes in my skin
and my mother says it's because
i'm trying to find something beautiful inside me.
she said i need a psychiatrist.
my friend asked me if i needed itching crème.
iii.
i keep laughing about stuff that's probably not funny.
iv.
i don't want it to rain anymore.
used to, i liked the rain,
because if i squinted, all the lines would be blurred.
now, i
"stop me if you've heard this one before"
by
MisfitableGrae
Suggester says: "A poem that takes
a stunning glance into existential crises,
pain, and brokenness."
Featured by: SilverInkblot

BlessingMy father strangled a bird
quietly, calm as gravity,
there in the garden. He bent
as if praying to the torqued wing
reddening his hand.
The night hunkered down on the screaming
wildness, on the kicking legs, the abrupt
and awe-filled silence. I watched him
watch the beak open, close,
like rippling lake water.
I loved him, the mercy
of his heavy knuckles, the kindly
indifferent expression.
He closed the beak like a priest
closes the eyes.
Blessing
by
saartha
Morbid, yet beautiful; sometimes the cruel
thing is the merciful thing.
Prose
Featured by xlntwtch

Music Can Have a Great Influence on the Weak-Mi...Music Can Have a Great Influence on the Weak-Minded
I know bards who have literally sold their souls for fame and talent. It's not really even very hard to do in Cheliax, where devils and diabolists are found in every major city, and the red-robed priests of Asmodeus stand outside their smoky temples, promising all the wealth and power of Hell in exchange for something most mortals never use—in this life. But when I was a child, my family was invited to one of those temples for a high service, a reward for generous tithing, and I saw a gate open unto Hell and the suffering of the souls therein. I never missed a tithing again, but I decided then and there that my soul was remain wholly mine until my death. Maybe Pharasma will send me somewhere more pleasant than Hell. One can hope.
But the need to be famous, to sing a lead on Egorian's Opera Row, to draw crowds in Absalom and Oppara—that had always been my dream and drive. There was no instrument I did not easily master
Music Can Have a Great Influence on the Weak Minded
by
ShadowedAcolyte
This is flash fiction fantasy at its finest.
Description, dialogue and the protagonist's personality
work together to make a story one hopes will be continued soon.
Featured by doodlerTM

Write What You Know

Once upon a time, a young woman was so in love with books that she decided she wanted to become a writer so she, too, could create loveable stories. She read everything she could about writing. Then, one day, she found herself in a book store where she bumped into an old man among the shelves. Turning to apologize, she discovered it was a venerable, much-loved author.
As soon as she could find her voice to speak, she said, "Oh, sir! I know you are very busy, and so I would just like to ask you one small question: what is the best piece of advice you have for a beginning writer?"
The old man smiled and said, "Certainly, young lady. In fact, I will write it down for you."  He took out a small slip of paper and a pen and jotted something down. Then he handed the paper to her.
She thanked him profusely and moved out of his way so he could go about his business. Then she looked at the little paper in her hand. She frowned.
"Write what you know."
Well she was very disappointed. In fact, it m
Write What You Know
by
TheBrassGlass
An amusing, thoughtful and much-needed story
that all aspiring writers should read for inspiration.
For more information, including how to suggest a Deviation
to be featured, please visit us at
DailyLitDeviations
.
Thanks so much for supporting the lit community and this project!
~ The
DailyLitDeviations
Team ~
Prepared by: LiliWrites