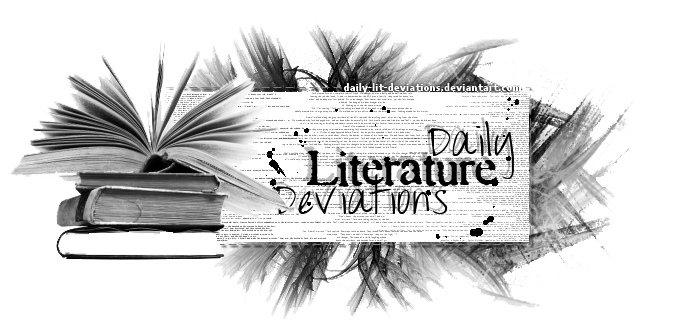 Guidelines
|
How to Suggest a DLD
|
Group Administrators
|
Affiliation
|
Chatroom
|
Current Staff Openings
Daily Lit Deviations for January 3rd, 2012
We are proud to feature today's Daily Literature Deviations!

You can show your support by

ing this News Article.
Please comment and

the features and congratulate the artists!

For all of the featured artists:
If you receive a DD for one
of your pieces featured by DLD please note LiliWrites.
We will include you and your piece in a special recognition news article.

Poetry
Suggested by:

Lacewinged-Beauty


Featured by: betwixtthepages

SehnsuchtOctober again;
and the curtains billow
with broken glass echoes and
Mendelssohn's bride waltzing
to better times
(ein
zwei
drei)
She becomes the rain,
and breaks her own heart as the sound
drips
right through us.
Sehnsucht
by
Concora
From the suggester:
This piece is lovely.
The title, everything.
It speaks.
Suggested by: GrannyJae
Featured by: betwixtthepages

Tending our gardenTending our garden
I pull apple blossoms
From your hair
Tending our garden
by
WindyWolfune
This lovely haiku paints a vivid,
emotional picture in three short
lines. Tending our garden is sure
to bring a smile to readers' lips.
Suggested by: halcyonshores
Featured by: betwixtthepages

FugitiveIt's the end of the line:
twine torn thin between
rotten railway sides
and the trains
that slide
in and out of light
like my tunnel-sight:
shackled to life
(and the line)
in Noir.
Time unwinds
behind thine eyes:
A broken reel run-away
whose frames flicker
and skip
and stick
like a flip-book,
pages carved into flight
from a steam locomotive
streaming on by.
Smoke and pulp conspire
in the spiral skies,
delicately deconstructing
dreamscape deaths
in the mire:
reversing chase patterns
pulled from plans
and pursuers in blotted
black and white
-- and blood
caked upon canvas:
causality cracks
against crimson tides,
tearing tension
cables along a track
caught alight
-- and eyes
that burn open,
bleary at midnight.
Fugitive
by
arctoa
From the suggester:
A very well written
piece that holds
the reader captive.
Prose
Featured by doodlerTM

FrogsIt was a full moon night.
Two men sat around a campfire. One wore the armor and sword of a warrior, the other the robes of a Buddhist monk.
The warrior, a lean and scowling man stared up at the moon, almost as if mesmerized by its light. He pulled his cloak, stained but serviceable close around him against the night chill, but made no move to draw closer to the fire.
His companion had much less of the serious demeanor of the warrior, but poked the fire once, cascading sparks. Seeing how little his friend was paying attention to him, he also looked up at the moon, and broke the silence.
"In a moonlit night,
piercing through the whole cosmos
the voice of one frog."
The warrior turned towards the monk. "What the hell is that supposed to mean?"
"It's part of a famous poem," the monk said. "Once a monk was sitting in the latrine, thinking about the teaching his master had given him, and he heard a frog croak, and suddenly it all made sense. He had his enlight
Frogs
by
knittingknots
A humorous yet enlightening
conversation between a
warrior and a monk.
Featured by xlntwtch

I Can Haz Ceasefire?"I'm not sure I fully understand the traditions of this race," said general Zhlag, "but I don't think that's normal."
"You there!" called the commander. "Human. What are you doing?"
"I just want to talk for a minute," he shouted across the blasted field. "Don't shoot!"
"I've read about this," said the general. "Isn't a white flag more traditional?" he shouted to the messenger.
"We're in the middle of a war!" the messenger replied. "Not a lot of white flags handy."
"I suppose practical matters sometimes require one to deviate from tradition, but I've never heard of somebody calling a truce with a cat on a stick."
"Well, like I said. Not a lot of white flags around at the moment."
"It's not even a white cat!"
"Not a lot of white cats, either."
General Zhlag decided not to draw attention to what must already have been an embarrassing matter. "I take it you are speaking on behalf of the Earth people. What is it you wanted to say?" he asked.
"Just one thing," replied the messenger: "Sic him
I Can Haz Ceasefire?
by
DamonWakes
Funny from start to finish, this fifteen-minute
write-off is composed of dialogue only, and
full of humor in an alien and tense situation.
You'll find grand writing here.
For more information, including how to suggest a Deviation
to be featured, please visit us at
DailyLitDeviations
.
Thanks so much for supporting the lit community and this project!
~ The
DailyLitDeviations
Team ~
Prepared by: LadyofGaerdon