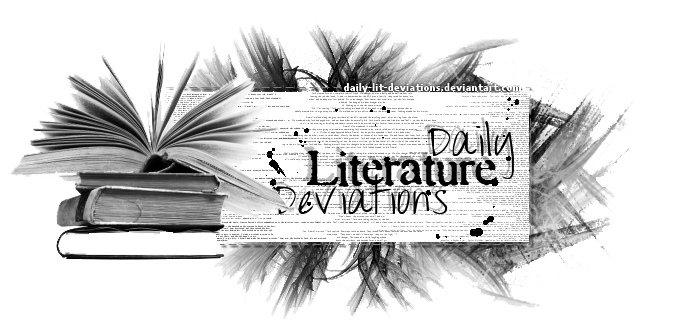 Guidelines
|
How to Suggest a DLD
|
Group Administrators
|
Affiliation
|
Chatroom
|
Current Staff Openings
Daily Lit Deviations for January 31st, 2013
We are proud to feature today's Daily Literature Deviations!

You can show your support by

ing this News Article.
Please comment and

the features and congratulate the artists!

For all of the featured artists:
If you receive a DD for one
of your pieces featured by DLD please note LiliWrites.
We will include you and your piece in a special recognition news article.

Poetry
Suggested by The Favorites Project of LITplease
Featured by: LadyofGaerdon

White RoseSirens are singing through the storm
A white rose Blooms in a garden of thorns
A Darkening Sky
A Hallowed Cry
Sirens are Singing
But you never ask why
Emergency Lights flash in the cold
A Struggle that has long since grown too old
Silence Rushing In
Whispers in the Wind
The Darkness Seeping in
But you never ask why
All of Her
White Rose
by
ZeroSkyler
With a tense, tumbling rhythm
reminiscent of a chant, the words
spiral through your mind, leaving
behind a tumult of vibrant images.
Suggested by:

travelgirlxx


Featured by: betwixtthepages
control freak
by
calibius
Control is a hard thing for us to give
up; this piece, by calibius, reminds
us all that sometimes, the things
that are out of our control are the
things we struggle with most.
Suggested by: camelopardalisinblue
Featured by: betwixtthepages

you're lucky if they kill youshe screams
deafening conversations of millions
footsteps and wine glasses of the smart and the dull,
clinking. clinking. laughter.
life
goes
on
she screams
blankets pulled up to comforting warmth
smiles and dreams of the abandoned and the blessed,
whisper. whisper. peace.
life
goes
on
she screams
a hand covers the delicate slopes of her lips
cries and pleasure of the chosen and the thief,
echoes. echoes. silence.
life
goes
on
you're lucky if they kill you
by
izha
From the suggester: I think this
should be featured because it's both
powerful and haunting, and deserves
to be seen by many more people.
Prose
Featured by: LadyofGaerdon

Six Words: AlarmAlarm cat: works... needs snooze button.
Six Words: Alarm
by
MotleyDreams
Adorable and accurate, as
any cat lover well knows.
Suggested by WritersInk
Featured by LiliWrites

MAJESTIC - 01MAJESTIC – 01
The titan arose. It shook off an era's worth of sand and stone and rock and various umbrage, heedless of the mountains crumbling around it, and stood. The sun beat down upon its chrome hull, but the tarnished metal had endured things far worse than insignificant heat. The titan arose, and remained still, as sensors began to process information at a terrifying speed. One blue, glowing eye looked out on the dusty horizon, and at the same time, the titan's scanners pinged back their results. Nothing was alive in the great red wasteland that surrounded it.
A deep, grinding sound rolled out from deep inside the titan's chest, a sonorous echo of sadness an eon old. The titan had seen oceans fade away into nothing, had seen the core of a world wither away and die. It had watched civilizations drag themselves out of the primordial mud and build for themselves shining cities and achieve great things, and it had watched those same civilizations collapse and disappear
Majestic - 01
by
blubbityblub
Suggester writes: A powerful
introduction to a dying world
with the perfect tone of
languageto carry the narration.
For more information, including how to suggest a Deviation
to be featured, please visit us at
DailyLitDeviations
.
Thanks so much for supporting the lit community and this project!
~ The
DailyLitDeviations
Team ~
Prepared by: LadyofGaerdon