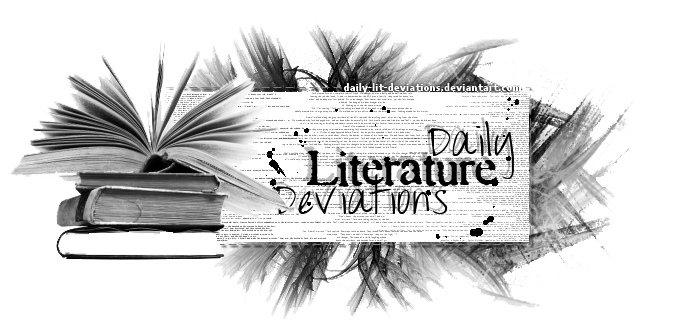 Guidelines
|
How to Suggest a DLD
|
Group Administrators
|
Affiliation
|
Chatroom
|
Current Staff Openings
Daily Lit Deviations for January 28th, 2013
We are proud to feature today's Daily Literature Deviations!

You can show your support by

ing this News Article.
Please comment and

the features and congratulate the artists!

For all of the featured artists:
If you receive a DD for one
of your pieces featured by DLD please note `Kneeling-Glory.
We will include you and your piece in a special recognition news article.

Poetry
Featured by: =TwilightPoetess

Fill in the blank.Sometimes people leave
these why-sized holes in our lives
after they depart.
Fill in the blank.
by ~
projectilewordvomit
With an inventive use of word-choice, Fill in the blank.
by ~projectilewordvomit gets to the heart of reality with a bitter-tasting
truth: sometimes, there's no reason people leave. Sometimes, they just do.
Featured by: =DrippingWords

Untitled1.
inexplicable things
that we sense
like wings fluttering
in the shadows

or chest rising with the effort
of feeling

crystal chandeliers
so fragile in the wind

shards of memory
piercing the stillness
and screams silenced
with agony

the lashes to our eyes
hurt and bleed

come again
and wound me

so close to breaking
I can see the cracks.
they widen
and begin to disintegrate

the holes patched
the pain "forgotten"
(as if things
like that can just go away)

I see light
cold and clear through dry eyelashes
whispers in the ink
and music that sings

2.
inexplicable things
darling and sweet
unmistakable
…and there

I see the light in your
"Untitled"
by *
MistressofQuills
The imagery in this poem is sharp and piercing; catching hold of the
reader's mind, leading them to things they've never thought about before.
Prose
Featured by *xlntwtch

Lies.Her skin was so tight and crisp and with my touch it seemed like it melted away.

It was the color of caramel.

On her breasts there were goosebumps, as i brush my hand against it.

Her smell filled my nostrils and over took my senses.

She was there sitting in front of me. Begging me to eat her.

I must have her.

I undressed her hungrily, biting her, savoring her.

For i have waited to long for my princess.

With a tug, here there, her meat slipped away from her bone as she gave in to my lust.

"MICHAEL are you done with your fried chicken?!
Uh... Yes ma!"

And like that he left her naked and alone.
Lies
by ~
talkin-silence
A good little vignette with a fine twist at the end.
Solid writng helps this piece stand out.
Featured by *doodlerTM

. becoming a mermaidthe thing about mermaids, i must explain, is that they are not always born in the sea.

i.

nothing.
it was nothing, she reminds herself, leaning precariously over the prim white balcony. the breathing ocean moans and sighs, sighs and moans against the fragile coastline.

all of this is nothing and it is everything.
she takes one, two, three bitter sips with a wince and leaves the salt air to find her sterile, cold bedroom. the new year is cursed, she decides as she falls limp and helpless into the wild mess of sheets that swallow her small body whole.

(she closes her eyes and imagines the pale blankets to be rugged waves, breathing and g
becoming a mermaid
by ~
illusively
A twisting prose-poem that manages to show the pains
of love through the fantastical exploration of mermaids.
Suggested by: *Vigilo
Featured by: =SilverInkblot

To His Coy Mistress[es]i. earl and lady grey

gentle kin,
you have often graced me with your soft-spoken company, bergamot blossoms adorning your dark hair, fragrant as your steamy exhalations. you remind me of simple home and something untouchably elegant, pale and supple when i dress your skin with pallid cream and soften your thin, graceful hands. on a bleak winter evening, snow glittering by lamplight, you are a royal pleasure: a warm complement.

ii. darjeeling

bengali goddess,
i will lay you on the finest saris, those embroidered with gold threads and flawless diamonds that shimmer like your black eyes. you are the champagne of my harem, floral yet astri
To His Coy Mistress[es]
by *
glossolalias
Overflowing with details that engage all the senses,
these delightful letters will be savored by tea lovers.
For more information, including how to suggest a Deviation
to be featured, please visit us at =
DailyLitDeviations
.
Thanks so much for supporting the lit community and this project!
~ The =
DailyLitDeviations
Team ~
Prepared by: =SilverInkblot