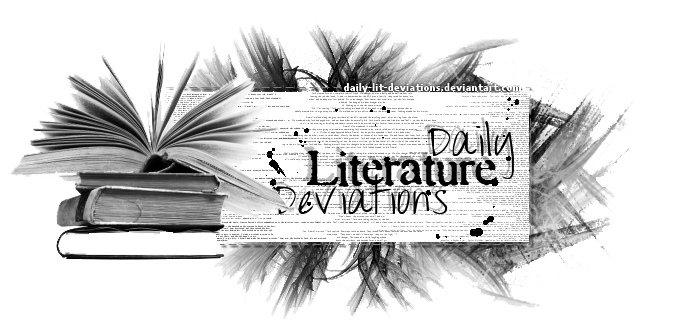 Guidelines
|
How to Suggest a DLD
|
Group Administrators
|
Affiliation
|
Chatroom
|
Current Staff Openings
Daily Lit Deviations for January 27th, 2013
We are proud to feature today's Daily Literature Deviations!

You can show your support by

ing this News Article.
Please comment and

the features and congratulate the artists!

For all of the featured artists:
If you receive a DD for one
of your pieces featured by DLD please note `LiliWrites.
We will include you and your piece in a special recognition news article.

Poetry
Featured by: =LadyofGaerdon
:thumb346172989:
sea-fire
by ~
gogocherryrose
A plethora of fascinating
images and inventive
use of language.
Suggested by The Favorites Project of #LITplease
Featured by: =LadyofGaerdon

Wildflowers, Imperfect BirdsI breathed your name like wildflowers under vast broken skies, in wide-open spaces. The wind blowing through them spoke of dew and dirt and petrichor, and there was sunlight on the ground like a mosaic patterned by god's own hands.

I said it like a monarch claiming new land: a declaration, a butterfly breath over old earth; like it was coffee on a warm morning with the sun in my eyes, interlacing with my lashes; like it was a dream; like it was a prayer like it was a miracle wrought of air and bone and body: you, in, out, in, out, in and in and in.

I cried it out like an earthquake between lip and lip, continents that don't quite fit: your
Wildflowers, Imperfect Birds
by ~
Flummoxative
Breathlessly beautiful rhythm,
captivating imagery, and rich, flowing
language create an exhilarating read.
Featured by: `thetaoofchaos

1109he brushed his cheeks with hair dye,
he was woven by punnet squares,
with shoe polish stuck in his teeth,
and his pupils wearing Iris as a dress.
acid knew no form, nor did
his misplaced organs, they played flutes
made out of bone, and bone marrow
was scraped out of him for pathetic pocket change,

which he kept in a drawer labeled №1065,
for no particular reason:

when poppies grew that season,
and that season took no form,
in a container he would whisk it,
frothy white, white, foam.

in the ocean dwelled the fingers fair,
dirt was hidden under shoe polish
and under shoe polish, his feet.
1109
by ~
jaani-androphile
A fascinating character study rife
with compelling symbols and sounds.
Prose
Featured by *doodlerTM

Within Her GraspShe reaches for the dial on the radio and turns up the volume.
"Charlene? Are you even listening to me?!"

She isn't.

Staring out the window she watches the trees flash by. While her mother rants and raves about ungrateful children and their lack of respect, she hums along to the music. Another commercial rears its ugly head. A car advertisement.

She turns off the radio.

She reaches for another cigarette.
"That's a nasty habit, Charlene."
She lights it with a match and the conversation shifts to more important things. Taking a long drag, she feels temporary satisfaction. Her father eyes her with a look of disapproval.
"You need to qui
Within Her Grasp
by ~
BakuSpirit
A telling story of a girl
trapped with no way out.
Featured by *doodlerTM

the strawberry tartOne afternoon I bought a tart for thirty dollars.

Didn't seem like much at the time, just a couple of bills out of my back pocket, for a tart about three-quarters the size of my fist, laden with whipped cream and fresh strawberries.

I popped a strawberry in my mouth and I liked it, so I took another bite. Didn't like the whipped cream so much. Ate the strawberries, the edges of the chocolate pastry, and threw the rest of the tart away.

When I turned around and strolled back home, I felt the sunshine on my face and I thought that this world could do with a little more happiness, this bliss of a bright afternoon, more often.

Then I rounded
The Strawberry Tart
by ~
XanthiaB
An well-written vignette that makes
the reader value what they have and
consider their own wasteful habits.
For more information, including how to suggest a Deviation
to be featured, please visit us at =
DailyLitDeviations
.
Thanks so much for supporting the lit community and this project!
~ The =
DailyLitDeviations
Team ~
Prepared by: `thetaoofchaos