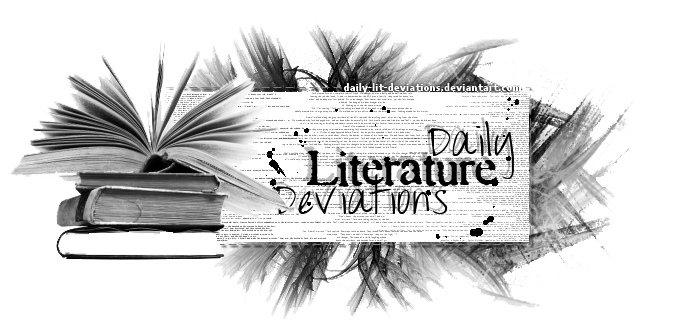 Guidelines
|
How to Suggest a DLD
|
Group Administrators
|
Affiliation
|
Chatroom
|
Current Staff Openings
Daily Lit Deviations for January 24th, 2012
We are proud to feature today's Daily Literature Deviations!

You can show your support by

ing this News Article.
Please comment and

the features and congratulate the artists!

For all of the featured artists:
If you receive a DD for one
of your pieces featured by DLD please note LiliWrites.
We will include you and your piece in a special recognition news article.

Poetry
Featured by: lion-essrampant

Revenantthey came like phantoms;
oceanic whispers left me washed out.
those gossamer ghosts that lined
the doorways-- eyes in a constant
state of surprise as they reached for me:
needle fingers pricked, fueling
my addictions. they ached
for my veins, entangled like
the strings of my paper heart
and they stained my skin,
amethyst bruises in the shape
of recognition.
their breaths were the heavy hums
of a forgotten lullaby "one day you
will leave, and you will fade into a
virulent void, like us. you will warm
our icy bones, and we will love you,
like no one else can.
go back to sleep, little girl, we will
come again" with their cerulean
secrets painted on my arms,
they became the empty walls.
I wake up alone, and silence
falls. I only hear the echo of
my hungering heart.
"Revenant"
by
intricately-ordinary
The imagery the writer uses
to create the piece sets the
tone for the melancholy ending,
leaving the reader with a taste
of heartbreaking beauty.
Featured by: LadyofGaerdon

MimiHer lips were cerulean; a never melting frost.
The blue blossomed in the corners of those lips
As the white of snow played upon her relaxed face as delicate as moth wings.
The perfectly quaffed hair of an angel she laid in her coffin,
Her boat that would take her on a voyage to worlds beyond.
Reminiscent to the Lady of Shallot.
Her song had sung into those who knew her
In a clear voice that ran through one's soul
As clear as a bird yet soft as a breeze.
Woven with the themes of life,
In each of us she sung her breath, her spirit.
We now carry a part of her with us.
Her story becomes ours intertwining with time through love and remembrance.
She was a storyteller, cantadora,
medicine woman, wise sage,
The matriarch of our family.
Mimi
by
SugarCoatedLollipops
A touching dedication that
will resonate with all those
who have known and lost
beloved grandmothers.
Featured by: betwixtthepages

GreyI like the color grey;
it's not black and it's not white,
but sometimes it's a little blue.
Grey
by
SilverInkblot
This is one haiku that can easily be
interpreted in multiple ways! One
thing's for sure--nothing in our world
can be described by just one word.
Prose
Featured by xlntwtch

IntroductionSometimes what you want for Christmas won't make you happy.
"Roy! So good to see you!" I beckoned my old friend inside and hung up his coat. "How are you?"
"All right," he replied, "but I still can't grow my own coat."
I laughed at the inside joke. Roy and I had more than one common interest, but our obsession was movie monsters. We pored over pre-code comics, and he envied the werewolves even though they always died horrible deaths.
"I see college hasn't changed you," I said with a smile.
"Unfortunately not," Roy sighed. "You know what? I don't want to be a werewolf. I just want to see one. To see one and meet one, and then I'd be happy."
"Really?" I asked, skeptical.
"Really," Roy answered. "I just want to know it's for real, and move on. It doesn't have to be me, or bite me, to satisfy my curiosity."
I paused. I had a surprise for Roy, but it wasn't ready. On the other hand, Roy wouldn't be home again until Easter. I paused longer than intended.
"What?" Roy snapped. "Spill it."
"Fou
Introduction
by
JoeyLiverwurst
Enter the world of
lycanthropy with this
fine vignette by a very
good writer who seems
to live there.
Featured by doodlerTM

The MurderessLet me say this now. The event of which you are about to read are not my fault. I am not to blame, nor did I partake in any of these events. If anything, I am a witness.
It was her. I saw her with the blood on her hands. On the knife she held. Her blue eyes held no remorse, only fear that she had been caught.
She killed my husband. The only person on this whole earth who cared about me. And she took him away.
I came home one October day, eager to surprise him with a romantic dinner. I had wonderful news to share.
I was with child.
We had been trying for so long to start our family, and now I could finally tell him that in seven month's time, we would be parents.
I entered our home eagerly, excitement fluttering in my belly. My husband was already home, but I as I prepared to tell him the news, I noticed something was wrong. His breath smelled of alcohol, which wasn't unusual. He always had two beers after work. No, that wasn't the problem. The problem was that there was another scent.
The Murderess
by
GhostGirl818
A gripping psychological
horror vignette that
leaves you questioning
the sanity of the protagonist.
For more information, including how to suggest a Deviation
to be featured, please visit us at
DailyLitDeviations
.
Thanks so much for supporting the lit community and this project!
~ The
DailyLitDeviations
Team ~
Prepared by: LadyofGaerdon