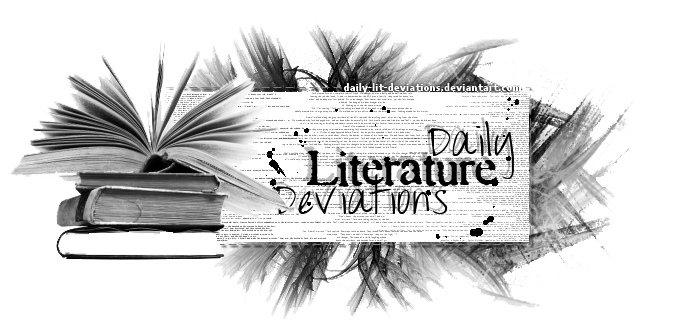 Guidelines
|
How to Suggest a DLD
|
Group Administrators
|
Affiliation
|
Chatroom
|
Current Staff Openings
Daily Lit Deviations for January 23rd, 2013
We are proud to feature today's Daily Literature Deviations!

You can show your support by

ing this News Article.
Please comment and

the features and congratulate the artists!

For all of the featured artists:
If you receive a DD for one
of your pieces featured by DLD please note LiliWrites.
We will include you and your piece in a special recognition news article.

Poetry
Featured by: SilverInkblot
Church
by
dy-ad
Erotic, but tasteful,
and beautifully conveys
the spiritual side of an
intensely physical act.
Suggested by autumnlit
Featured by: LadyofGaerdon

The Fluidity of Our Shared DreamBeneath the remnants of tortured embers that once glowed with the strength of a wildfire
remains the lost soul of the somber seeker of truth
In a glade of mists, swallowed by speculations
rests a complete disconnect from all that has come before
Distant memories have faded over the years of reckless abandonment of emotions that once burned so bright with passion
It isn't somber, it's common ground with the weather patterns swirling about our heads as we sleep with eyes half closed
Dreaming of past commonalities shared with the life of those who have long faded
out from all that had a purpose
And from those ashes, like the Phoenix, a cornucopia of newness we shall build together
A utopia of dreams shared together, wishing for the structure with the strength of many who remain nameless
And whose names are the brick and mortar of mutual experiences, shared by none but us
If one could offer an opportunity of ideas not yet shattered by demonic influences
of modern society
then our words cou
The Fluidity of Our Shared Dream
by
MorbidMosaic
&
snarkydreamer
The words flow fluidly, resonating
with life and loss, sparking inspiration
of revitalizing dreams. I have seen
MorbidMosaic write lovely
poetry such as this, and just thought
that he and snarkydreamer should
get more recognition for this collaboration
that came together so beautifully.
Suggested by: Solarune
Featured by: DrippingWords

West of the SunWhen our worded train
was about to derail,
I saw 'una donna bella'
with hair as the olives
from the groves
where we trailed,
and stole kisses.
She was a more enticing read
than the one absent,
as the sweet red in her lips
was what the wine vapors
were searching for
just to make sense
once more.
Splitting from her locks,
like the grass we were picking,
were her bladed words;
splicing together
in seamless strands,
and cutting south
like flocks of birds.
"West of the Sun"
by
Pr0metheusUnb0und
Suggester says: "I love
the images and elegant
words in West of the Sun."
Prose
Suggested by doughboycafe
Featured by xlntwtch

Turning Into Ghosts2007
BABYLON- AL HILLAH,
IRAQ.
I have come back. Finally, I am here, standing on the same unwinding road that I was forced to bid goodbye to in what seems to have been eons ago and yet, it feels like I never really left at all. Seventeen years have passed since my nightmares first began to unfold into reality; the summer of 1990 forever haunts me. So full of emotion, my eyes tear up as I am still trying to process my arrival. Truly, I feel as if every time I inhale and my lungs expand, I am instantly pricked with a million needles and, whenever I breathe out and my lungs deflate, it's as if I've lost my soul altogether with the carbon dioxide waste. My heart must be shouldering bricks and my legs are but trapped in cement shoes, I just know it.
Why am I back here? I have already lost everything. I am entering a town filled with past ghosts and demons. I tell myself that I need not revisit this sad reminder of the irreparable yet my feet continue marching along this corkscrew path. A va
Turning Into Ghosts
by
Sammur-amat
Suggester says: I found this
very moving. It's relevant to
the modern day, so difficult to
talk about, but the author
does a stunning job making it
relatable and thought-provoking
Featured by: SilverInkblot
suggestive adage
by
somethingsophie
The three different conversations
are threaded together beautifully
with humorous and heartbreaking
touches, and cover multiple facets
of love and sex and the differences
between them.
For more information, including how to suggest a Deviation
to be featured, please visit us at
DailyLitDeviations
.
Thanks so much for supporting the lit community and this project!
~ The
DailyLitDeviations
Team ~
Prepared by: LadyofGaerdon