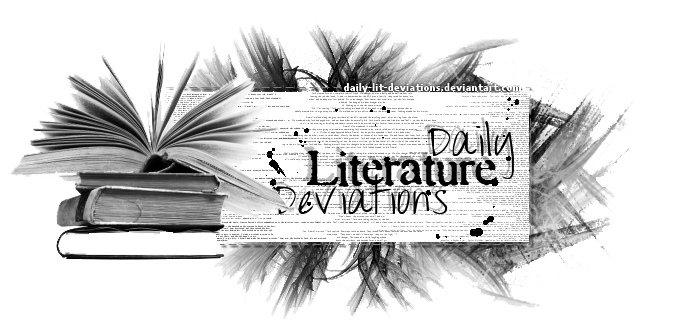 Guidelines
|
How to Suggest a DLD
|
Group Administrators
|
Affiliation
|
Chatroom
|
Current Staff Openings
Daily Lit Deviations for January 22nd, 2013
We are proud to feature today's Daily Literature Deviations!

You can show your support by

ing this News Article.
Please comment and

the features and congratulate the artists!

For all of the featured artists:
If you receive a DD for one
of your pieces featured by DLD please note `Kneeling-Glory.
We will include you and your piece in a special recognition news article.

Poetry
Featured by: =LadyofGaerdon

into the sea belowa lock on a door, in a place well-known
the withered-windy-whisper wood, whickered-flickered candlelight
soft illuminations and hints of dazzling-decked, twin-leafed
cardinal vascular canvas.

a musical blend of blue and grey.

--

the lock on a door, in a place well-worn
beneath the melancholy-painted, cerulean-white cliffs
and the tri-pigment, undertone-hued sky
never can meet with its widow-burned key.

singular musical drops unwittingly fly
only to fragment and fall
into the sea below.

into the sea below
by ~
emster85
The innovative use of language
and rhythm rolls deliciously off
the tongue of the reader, whether
the words are read aloud or not.
Featured by: =TwilightPoetess

snippets 11-01-2013
(on blue-lined paper with a dark blue ink stain)

spiderweb memories
and another i will not trust:
swipe his eyes shut
and leave me to hang.

5-01-2013
(on torn printing paper)

sometimes i feel a flicker,
almost like an artificial light before it dies
or perhaps
the sun as it peeks out from a break
between murky storm clouds.

11-01-2013
(on blue-lined paper, aligned to the right)

portrayed without a
voice,
the cardboard barriers are
collapsing silently –
almost as if
the only resistance you
can claim is the
one you create and store
secretively behind
your bitter-brittle collarbone.

17-01-2013
(on the back
snippets 1
by ~
jikivigoig
This collection of snippets, complete
with a note about what each was written on,
gives readers an intriguing glance into the
mind--and creative use of whatever's available
to write on--of the every day poet.
Suggested by: ~AMWeitz
Featured by: `thetaoofchaos
:thumb348015347:
stoned
by ~
owensprayer
Per the suggester: "Who knew drugs could
be so...beautiful? With its beautiful lyrical
feel, double meanings, subtle patterns, plays
on words and gorgeous diction, "stoned" is a
wonderfully crafted piece of literature
that deserves to be read."
Prose
Suggested by: *SCFrankles
Featured by: =SilverInkblot

Homestory(In private with a dictionary-)

home|body
    ˈ~ brew
        ˈ~-ˌcin·e·ma
    ˈ~ ˌcook·ing

  ˈ~like

            ~stead
Homestory
by ~
fantom125
Suggester: "A possibly unique work
of literature - a six word story that
is also a piece of found poetry. A great
concept well executed."
Suggested by *jamberry-song
Featured by *xlntwtch

Makeshift GingerbreadThe makeshift gingerbread house sat on the table. Tracie had cobbled it together out of graham crackers and a wide variety of candy pieces. Spree pieces decorated the front, while candy corn adorned the roof. Gum drops, a necessity for a gingerbread house, had been placed on the top and around the house; she had stuck pieces of candy cane on the sides of the house. What Tracie considered to be the centerpiece, however, were the sour patch kids whom she had placed as though they were walking into the house.

Despite the fact that the house was crooked and did not look like one of the box sets that her boyfriend had wanted her to buy, Tracie wa
Makeshift Gingerbread
by ~
Creativity-Squared
Suggester says: A sweet story
(no pun intended!) with a good
message at heart.
For more information, including how to suggest a Deviation
to be featured, please visit us at =
DailyLitDeviations
.
Thanks so much for supporting the lit community and this project!
~ The =
DailyLitDeviations
Team ~
Prepared by: `thetaoofchaos