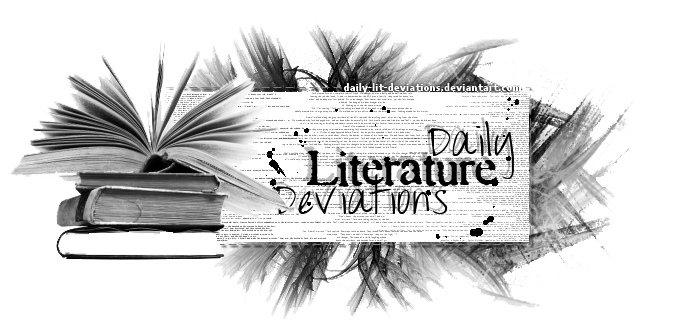 Guidelines
|
How to Suggest a DLD
|
Group Administrators
|
Affiliation
|
Chatroom
|
Current Staff Openings
Daily Lit Deviations for January 21st, 2013
We are proud to feature today's Daily Literature Deviations!

You can show your support by

ing this News Article.
Please comment and

the features and congratulate the artists!

For all of the featured artists:
If you receive a DD for one
of your pieces featured by DLD please note LiliWrites.
We will include you and your piece in a special recognition news article.

Poetry
Suggested by: SCFrankles
Featured by: DrippingWords

misunderstandings left.
you
when we finally felt right, turns out, we were wrong.
I
fell.
"misunderstandings "
by
0hgravity
Suggester says: "An intellectually satisfying piece of
wordplay that also manages to be very moving."
Featured by: TwilightPoetess

Wanted.Seeking silhouette:
Read me poetry while I
Cry feverishly
Wanted.
by
Racketeered
This lovely haiku brings about a sense of whimsy and
the desire for the unknown to, just once, be what we
really need in our lives.
Prose
Featured by doodlerTM

Mrs. LubonekNobody knew how old the Luboneks were, but they'd lived at the top of Pecan Hill since before Cumberland was built, and the town grew up around them. Mr. Lubonek had a voice like gravel and always smelled of engine grease, sweat, and the gritty scent of someone whose friends were machines and whose family were the tools he kept in the shed. Mrs. Lubonek was airy as a bird and every bit as flighty, yet there was a sharp, witty glint in her eye that you only caught if you were looking for it.
The Luboneks lived a simple, dusty life atop Pecan Hill. Mr. Lubonek ran a small mechanic shop out of his garage and Mrs. Lubonek sold baked goods. Despite their humble background they were moderately successful in Cumberland, but you could never tell. Most people said they hid all their income in a ratty black doctor's bag Mr. Lubonek kept just inside the front door. Or maybe the bag held Mrs. Lubonek's pie recipes. Or maybe it held a treasure map or a severed hand or the secret t
Mrs. Lubonek
by
frizzymissizzy
A mysterious yet charming story about
destiny and what people want out of life.
Suggested by: ShadowedAcolyte
Featured by: SilverInkblot
Disconnected
by
kamcalste
Suggester: "Short and punchy, this is a sharply honest
reflection by the writer on her own life. Modern technology is
dramatically changing the nature of family crises, and this
short work examines that as well."
Featured by xlntwtch

The Morning the Devil Was Gone A Fable
One morning, everyone in Hell woke up to find that the Devil was gone. They didn't know what to do. No one had seen him leave, and they didn't know when he was going to be back.
At first, they tried to get on with business as usual, but there was no one to decide who was going to possess, who was going to tempt, and who was going to think up new and excitingly frustrating automated phone menus. They didn't get past press 9 for more options. They tried to get Beelzebub to come out of his office, but all they got were form letters that kept sliding under the door, over and over. (Beelzebub hadn't
The Morning the Devil Was Gone
by
Alizabith
This writer takes us on a wonderful tour of what
the demons do when the Devil is nowhere to be found.
Great flash fiction that's funny and frank, it's a story well-told.
For more information, including how to suggest a Deviation
to be featured, please visit us at
DailyLitDeviations
.
Thanks so much for supporting the lit community and this project!
~ The
DailyLitDeviations
Team ~
Prepared by: SilverInkblot