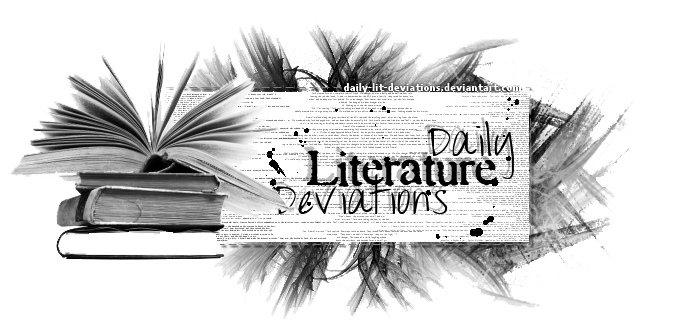 Guidelines
|
How to Suggest a DLD
|
Group Administrators
|
Affiliation
|
Chatroom
|
Current Staff Openings
Daily Lit Deviations for January 20th, 2013
We are proud to feature today's Daily Literature Deviations!

You can show your support by

ing this News Article.
Please comment and

the features and congratulate the artists!

For all of the featured artists:
If you receive a DD for one
of your pieces featured by DLD please note LiliWrites.
We will include you and your piece in a special recognition news article.

Poetry
Featured by: SilverInkblot

Origamipaper hearts
contract each time the earth
spins, making its way through
the aorta of space
and time creased,
my heart doesn't really beat,
it folds.
Origami
by
Stara-Aquila
This short, lovely piece seems to
fold in on itself, mimicking the very
nature of origami in its words.
Featured by: betwixtthepages

A Little Too LateI told myself that there was peace within the pieces that you left of me
That a quiver on the wind was a shiver at the coming storm of you
There was something in the space between your eyes and mine,
Something in the flutter of a dying heartbeat
As the sun set on us
I crave just an hour
Just a second
Just a breath
Just a lie
I really want eternity lost in the rapture
Because it was pain that I found between you and I
And it was sharp
But it was better than not knowing
Better than false idols
And more than the sum of all of my broken words
Broken promises
And our two broken hearts
A Little Too Late
by
Dantino
The beautiful rhyme scheme of this poem,
by Dantino, will keep readers coming back
to it. The subject matter is one we can all
relate to in some way. A Little Too Late
is worth a read!
Prose
Featured by xlntwtch
Magician and Bird: the first
by
Alizabith
Superb storytelling grabs readers and
leads them into both mysterious secrets and
what can be too easily dismissed as
outright "magician's tricks."
Featured by doodlerTM

dear deathdear death,
i went to visit my wife today, in the building where i have to breathe through my mouth because it smells like a slaughter house. i don't buy her flowers anymore, because they are almost as dead as she is and giving them to her is like putting flowers on a grave. i don't buy her chocolates, because she'd just vomit them up in a shit-brown wave and she never had much of a sweet tooth anyway. no, i just go by myself and hope that it's enough.
today i realised how much her eyes scare me. they used to be green. mossy green, not emerald green like they say in books, because in real life nothing could possibly be that perfect. but in the sunlight they used to sparkle and that never failed to steal the breath from my body. she always said that her eyes were her best feature. she never could see how beautiful the rest of her was.
her new eyes look like giant cigarette burns. whenever i'm sitting at her bedside in the pink chair with the stuffing leaking out like blobs of decomposin
dear death
by
SameStripes
A heart-wrenching epistolary story
that conveys a sinking feeling of loss.
Foreign Language
featured by Exnihilo-nihil

DragonD'un rugissement plaintif venu des anciens Temps,
Dragon pleure les Souvenirs effacés des Enfants.
De sa magnificence et sa grandeur d'Antan
Ne restent que le Feu des ses yeux vieillissant.
Il gît là, dans la neige, sur les pentes d'un Volcan
De guerres terribles et légendaires amer et seul Survivant.
Ses écailles écornées abîmées par les Ans
Tombent une à une dans le Pourpre des flaques de Sang.
La Magie des histoires est perdue à Jamais.
Dragon attend la fin de sa vie sans Attrait,
Et pense au souffle léger du vent du mois de Mai
Qui le portait vers les étoiles près de sa belle Cassiopée.
Pleure avec lui avide lecteur des contes de Fées,
Car si Dragon s'oublie comme les autres l'ont Fait,
La Nuit noiera ton âme dans des Limbes épais,
Et tu ne croiras plus à Rien, non,
Tu ne croiras plus Jamais.
Dragon
by
SuzelH
A simple and beautiful poetry about
the tears of the dragon - figure of
forgotten stories and lost child's dreams.
For more information, including how to suggest a Deviation
to be featured, please visit us at
DailyLitDeviations
.
Thanks so much for supporting the lit community and this project!
~ The
DailyLitDeviations
Team ~
Prepared by: spoems