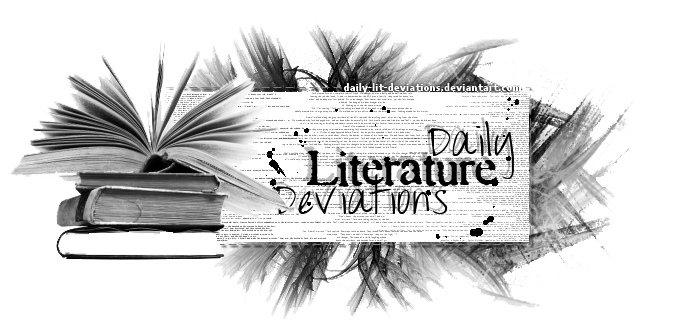 Guidelines
|
How to Suggest a DLD
|
Group Administrators
|
Affiliation
|
Chatroom
|
Current Staff Openings
Daily Lit Deviations for January 1st, 2013
We are proud to feature today's Daily Literature Deviations!

You can show your support by

ing this News Article.
Please comment and

the features and congratulate the artists!

For all of the featured artists:
If you receive a DD for one
of your pieces featured by DLD please note LiliWrites.
We will include you and your piece in a special recognition news article.

Poetry
Featured by: SilverInkblot
Good Dolls Gone Mad
by
Hfeather53
There's a subtle creepiness hiding between
the lines and behind innocence, and the image
really stuck with me in the best and worst way.
Suggested by: intricately-ordinary
Featured by: betwixtthepages
:thumb330855903:
I Had No Breath
by
Golden-Leaves
From the suggester: This poet's personal
questions make for a compelling conversation
between her and the inanimate life that guides her.
Suggested by Oilux
Featured by: spoems
:thumb342895388:
Odyssea Nunquam Abstitit:
by
Canis44
Per the suggester: "I think it's a wonderful
piece, and it is by far one of my favorite
literature pieces of all time."
Prose
Featured by doodlerTM

Georgia, 1946"Damp night air and hot summer fear. Looking through the crosshairs while my face caught fire. Flex, shudder, pull, fall. Dust, moonlight, blood. The walk home though the long grass is unbearably uneventful. No serpent to bite or scorpion to sting. Just guilt, silence, dread. Hiss, hiss, the grass screams and clings to your ankles."
Georgia, 1946
by
kittens-and-arsenic
This piece shows that prose doesn't need
to be full of excess dialogue or outright
descriptions to tell an open and impressing story.
Featured by xlntwtch

The Last SongDo you think we'll get a last song?
I'm not sure.  This diary I'm writing in is full of holes.  It's sopping like a wet sponge.  It reeks, but what doesn't in the filth and the mess?
Storm's passing.  Not like I've ever seen here.  Even the explosive storms of my youth; running in the fields, the junkyards, the rust-ravaged train tracks of old wasn't quite like this.  
Something's exploded against the skyline.  Orange is reflecting off the glass; the spider-striped, near shattered glass I kicked two weeks ago while mowing the grass.
It might be the gas works.  Or the chemical sheds.  Weyrdstorms do this, you know.  That's what the warnings said.  Electricity and chaos and hellish atomic confusion mixed into an atmospheric slurry and let to rage.  I ask the question because music's the one thing I'm yearning for right now.  It settles me, helps me think.  Always has, though keeping my sister's sniveling furthest from my head might be an ulterior motive.
Do I think I'm escaping this plac
The Last Song
by
DodgingTheBeat
Subtle and fascinating storytelling takes
readers along for what may be a last song.
For more information, including how to suggest a Deviation
to be featured, please visit us at
DailyLitDeviations
.
Thanks so much for supporting the lit community and this project!
~ The
DailyLitDeviations
Team ~
Prepared by: spoems