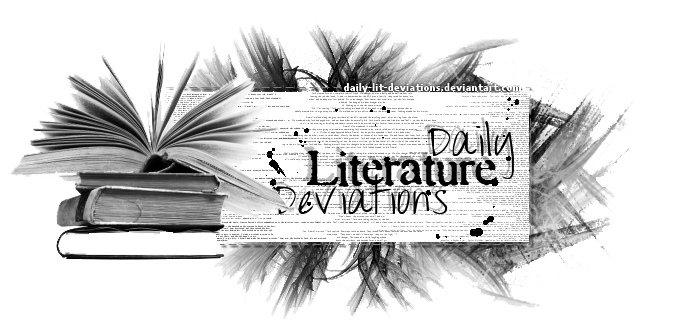 Guidelines
|
How to Suggest a DLD
|
Group Administrators
|
Affiliation
|
Chatroom
|
Current Staff Openings
Daily Lit Deviations for January 17th, 2013
We are proud to feature today's Daily Literature Deviations!

You can show your support by

ing this News Article.
Please comment and

the features and congratulate the artists!

For all of the featured artists:
If you receive a DD for one
of your pieces featured by DLD please note LiliWrites.
We will include you and your piece in a special recognition news article.

Poetry
Suggested by: GrannyJae
Featured by: betwixtthepages

Hollow Memory of a Distant ShoreYou are like a long passed season.
As delicate as the footprints of sparrows in freshly fallen snow.
Intricate, yet so easily disturbed when care is not taken.
Somehow, you have managed to persist after all these years.
Residing in the same quiet place you carved into the woods so long ago..
Only a short ride from the sea.
When you cross my mind, you carry with you the scent of that shoreline.
Harsh and thick, yet somehow placating.
Though the weather was perpetually gray, misty, and cold.
Much like your heart had become..
Just before we painfully, and slowly, parted ways.
I recall with deep longing your fascination with foxes.
With the way they would trot up and down the beach in the early morning,
Their coats most often wet and muddy from crossing into the tide.
I could see the subtle enthrallment in your eyes as they dug for clams.
They would thrust their forepaws deep into the muck, throw it backward..
And at times, to my assuagement, you would smile.
Now, it feels more dist
Hollow Memory of a Distant Shore
by
FaintSketches
The lovely metaphor in this piece
will bring to mind at least one moment
in the reader's past that still stands
out with vivid, brilliant clarity. The
emotions seep through each line of
this beautiful poem by FaintSketches.
Featured by: spoems

Utensils*sigh*
The notion of, Why bother?
Tell me... Why do you do if you do?
Why you don't if you don't?
It doesn't matter. And I don't know why I care.
I do. It's frustrating.
And I wonder why bother?
When I know for undetermined fact.
There's a point to all of this.
But there is no such thing.
Not now. Not ... Just not.
If I could only know why?
If I could only have ...
Why can't I know?
Is it too much?
How badly did ...
To know ...
And me, am I the only..?
Reflections tell me
I am one of few...
Unsettling. It is.
Restless holds it more.
Unease and despite ...
That I can never say.
I can never tell.
I am bound by...
Nothing I can
tell anyone.
Because
then I would
have to know...
Why Bother?
Utensils
by
tmpst24myst
Circular interrogatives and

metaphysical angst abound

in this quizzical little gem.
Featured by: SilverInkblot
:thumb335006313:
Sandy
by
remainingoptimistic
Written as Hurricane Sandy throttled
the coast, this poem showcases the
unusual places you can find
inspiration and even beauty.
Prose
Suggested by: ozzla
Featured by: SilverInkblot

blue velvet"i think it's better to be crazy and free."
she's sitting on the balcony of my apartment. her blue dress is dark against the edge of the sky and against the paleness of her thigh, against the glittering outline of the eiffel tower just outside my window. the weather is getting colder now, late autumn fading into early winter, and the wind dances through her choppy, curled hair.
i want her to close the door, for her to come inside. i want to say something to her, to say something back, but the words aren't forming in my mouth, are lodged somewhere between my tongue and my throat.
the light from my bedroom is soft gold against the edges of her face as she slides from the rail, brushing the velvet dress off with her hands as she stands. her cream-coloured pumps, red-soled and hinting at a glamorous life, seem almost to float above the ground. perhaps she is an angel, otherworldly in the glow of an old city tinged with the impressions of a thousand old souls.
"don't you agree?"
i don't kno
blue velvet
by
Hildetann
It may be prose, but
this lovely piece reads
like the smoothest poetry.
Featured by xlntwtch
The Lotus Woman's Child
by
nightshade-keyblade
Great descriptions and intimate
knowledge of another era in
another place make this short
story well worth the time to read.
For more information, including how to suggest a Deviation
to be featured, please visit us at
DailyLitDeviations
.
Thanks so much for supporting the lit community and this project!
~ The
DailyLitDeviations
Team ~
Prepared by: LadyofGaerdon