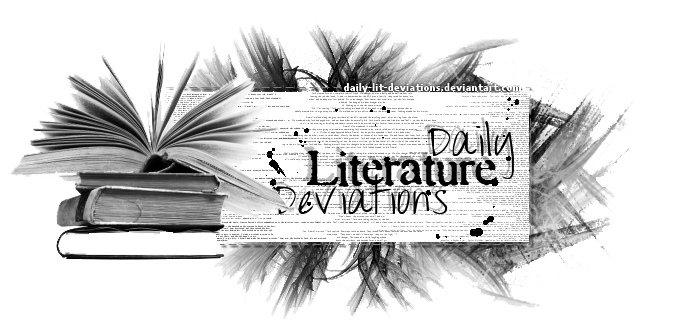 Guidelines
|
How to Suggest a DLD
|
Group Administrators
|
Affiliation
|
Chatroom
|
Current Staff Openings
Daily Lit Deviations for January 16th, 2013
We are proud to feature today's Daily Literature Deviations!

You can show your support by

ing this News Article.
Please comment and

the features and congratulate the artists!

For all of the featured artists:
If you receive a DD for one
of your pieces featured by DLD please note LiliWrites.
We will include you and your piece in a special recognition news article.

Poetry

Suggested by: intricately-ordinary
Featured by: betwixtthepages
:thumb341080400:
we are by

emilyericson



From the suggester: Through the use
of an enchanting rhythm and uniquely knit
metaphors, this poet paints a beautifully
candid representation of what makes us up.

Featured by: LadyofGaerdon


Frozen MemoriesBy accident,
I found her tombstone.
It lay buried beneath snow,
encased in ice,
under a canopy of white held aloft by the trees.
I had been walking,
focusing,
as I often do,
on the clouds of steam rising from my mouth,
and what they meant to me,
when my foot caught hold of the crumbling cross,
and sent me tumbling down...
down...
down...
I caught myself on hands in a sea of crystal white,
flesh stinging from the cold,
my foot aching in pain,
burning hot in the winter wood.
Why would there be a grave here?
What poor soul would be forever lost in this hollow?
Carefully,
in the cold,
throughout the fading light,
and into a darkness of falling snow,
I worked to unmask the grave,
and reveal the name of the damned.
I toiled for hours,
until my fingers went numb and bled,
spilling red upon the white,
a contrast so stark in hurt my eyes,
but in such beauty that was not lost on me,
until I could reveal the faint carvings that were letters.
Her name was as beautiful as I'm sure she was in life,

Frozen Memories by ron-brouillette

An incredibly vivid narrative
poem, with crystal clear imagery
and a whsiper of enchantment.


Suggested by: GrannyJae
Featured by: betwixtthepages


Ocean EyesYour skin would be lace
Between my fingertips,
Tangling with streams
Of golden sunlight that
Button you up,
Leaving intricate patterns
That tell your secrets
With every thread.
You'd breathe like a mermaid,
The scent of the sea echoing
In our veins,
Like teenage hearts
Pumped full of lust.
Too fast.
Like heels on marble floors,
But you're so
Much closer
Than that.
You're blood in my lungs
And air in my heart,
But I live only
Off the raindrops
That fall from
Your soft, sea-stone eyes
When a smile curves your lips.
The edges
Gathering me,
Unraveling me.
(I carve you in the sand,
But ocean tears
Wash you away.)
Ocean Eyes by WhisperedInsanity

The extended metaphor
in this beautiful poem by
WhisperedInsanity will bring
to mind the sight, smell,
and sound of the ocean.


Prose

Featured by xlntwtch

Truly Intelligent Design by WyvernLetDie

Excellent flash fiction that
asks (and answers) wonderful
questions about creation.


Featured by doodlerTM


Olivia + AdamOlivia met Adam in first grade. He was eating paper. "That's not food," she told him.
"How do you know until you try it?" he'd riposted.
Ten years later, they were still best friends. They had so much in common. They both liked algebra, and Monty Python, and boys.
On a late summer afternoon, the two of them sat under a tree, their textbooks face-down on the grass. Olivia tugged on Adam's curly pony-tail; she was the only one allowed to pulled it out to its full length and watch it snap back into a frizzy ball. "That boy at the 'Bou yesterday… He liked you. I could tell."
Adam shrugged. He was all collar-bones and big sleepy brown eyes and puffy lips. "He didn't really see me."
Olivia bit the insides of her lips, suppressing a smile. It was exactly what she had thought. The boy had been cute, and slick, and possessed of a sharp wit, but he wasn't good enough for Adam, as far as Olivia was concerned. All surface, no depth. She playfully tugged at the peach fuzz on Adam's chin. "I
Olivia + Adam by LindsayIrene

A heartwarming vignette
describing a beautiful friendship
between a girl and a boy.



For more information, including how to suggest a Deviation
to be featured, please visit us at DailyLitDeviations.

Thanks so much for supporting the lit community and this project!

~ The DailyLitDeviations Team ~


Prepared by: LadyofGaerdon