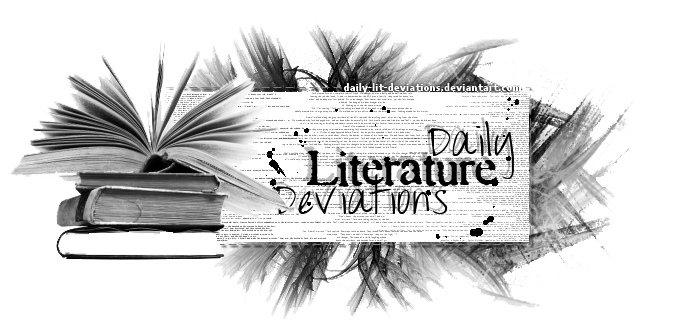 Guidelines
|
How to Suggest a DLD
|
Group Administrators
|
Affiliation
|
Chatroom
|
Current Staff Openings
Daily Lit Deviations for January 13th, 2013
We are proud to feature today's Daily Literature Deviations!

You can show your support by

ing this News Article.
Please comment and

the features and congratulate the artists!

For all of the featured artists:
If you receive a DD for one
of your pieces featured by DLD please note LiliWrites.
We will include you and your piece in a special recognition news article.

Poetry
Suggested by xlntwtch
Featured by: LadyofGaerdon

ThursdayRumors of tumors, chatty neighbors, the grateful dead
A broken swing on a deserted playground
And bones; oh, the bones that pile up, more everyday
Thursday I had nothing to say
A weak and pale moon glares down at the snow, impotent
Stars in motion whisper my star-name, calling
Tiny spiders build homes in my beer-soaked brain
Thursday I had nothing to say
Pizza or Chinese for dinner? I can't hold a thought
Craftsmanship went out on a three-hour cruise
Through the swamplands of South Carolina in the rain
Thursday I had nothing to say
A brass-toothed journeyer shines a light in dark corners
Nudges and pokes at the beasts sleeping there
Scraps of re-arranged words piled with the bones rot away
Thursday I had nothing to say
Thursday
by
Bark
Powerful images pull the reader
along the path this poet now
walks. Take part in his
wonderful use of words.
Featured by: DrippingWords

When Intending Permanence

When one intends "permanence",
one must write it with
a well-crafted ampersand.
"When Intending Permanence"
by
Cionie
Though short, this piece of poetry makes
the reader think about their own life with
its wonderful imagery and diction.
Prose
Featured by xlntwtch
A man of his word
by
leyghan
This is romance writing at its finest.
The mature content is described aptly and
action take precedence here. It has a wonderful
touch that makes it very good literature.
Featured by doodlerTM

SorrowbirdI watched him flap helplessly between the teeth of a barbwire fence, screeching for help.
"Papa, look Papa! A boy!"
My papa stood dazed for a moment, dust billowing at his legs, his eyes teetering along the field. It wasn't until later that evening he told me he hadn't understood what I had seen. What he had seen.
With grass tickling the backsides of my legs, I bounded toward the boy, "What are you doing? Are you okay?"
As I approached him, I felt his skittish eyes rake across my every movement. With his ten-year-old arms slung inside the gaping maw of a fence and darkened feathers pasted along the creases of his face; he looked squarely at me. I could hear his bird-bones quaking at my voice, he pushed harder against the fence. I winced for him.
"Hold still, we'll get you out," I turned back to my papa who stood alongside the road, "Papa," I pleaded, "Please! Help him!"
Reaching out, I touched his shoulder, "Don't be afraid. We're going to help you."
He didn't pull away from me. I thou
Sorrowbird
by
HugQueen
A vivid story that subtly employs
fantasy to convey emotions associated
with people coming and going in life.
Foreign Language
Featured by shebledgreenink
:thumb326080872:
Toi
by
BlueApplz
I love this poem for being as
succinct and immense as its message:
No words could describe you.
For more information, including how to suggest a Deviation
to be featured, please visit us at
DailyLitDeviations
.
Thanks so much for supporting the lit community and this project!
~ The
DailyLitDeviations
Team ~
Prepared by: spoems