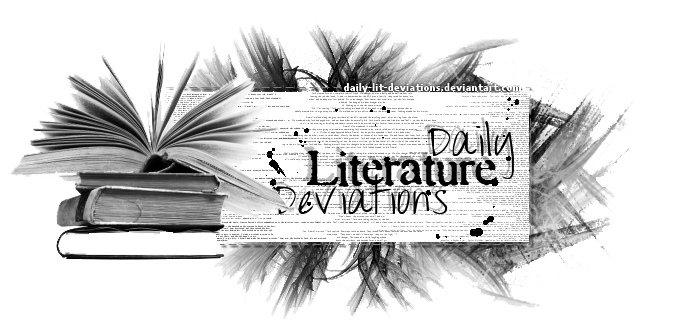 Guidelines
|
How to Suggest a DLD
|
Group Administrators
|
Affiliation
|
Chatroom
|
Current Staff Openings
Daily Lit Deviations for January 10th, 2013
We are proud to feature today's Daily Literature Deviations!

You can show your support by

ing this News Article.
Please comment and

the features and congratulate the artists!

For all of the featured artists:
If you receive a DD for one
of your pieces featured by DLD please note LiliWrites.
We will include you and your piece in a special recognition news article.

Poetry
Suggested by LiliWrites
Ophelia's Stream
by
vespera
Unsettling imagery and the
use of slant rhyme make this
poem easy to read and see.
Featured by: LadyofGaerdon

summergirlNow read aloud over here. Do give it a listen, won't you?
i. summergirl,
you are crowthroated and tumbling
through the aspen grove
hair on fire with sunrise, lungs
full of sky.
eyelashes like wildflowers
and every morning brings
a new spray of freckles
and a sharper curve to your collarbones.
the cornfields hold no shadows
for your lighthouse eyes
and there are no endings in that
surefooted smile.
ii. you have grown
so fast.
autumn finds you with broken ankles
leaning on an oak branch
and watching the skies.
crow to sparrow--you are quiet.
summergirl, there is peace in silence,
perched treetop,
fallen antlers in your hands.
you will come to mourn your deer.
keep them close.
iii. by winter you have paled,
and like the streams
your eyes have frosted over.
you feel the chill--
there is no need for sight.
summergirl, th
"summergirl"
by
disrhythmic
Complex and vivid, with sweet
sensory overload and a rich,
dreamlike atmosphere, the
beauty of this poem will make you ache.
Featured by LiliWrites

the back of your head against my washed pillowcaseI find it
disconcerting
that
you are the King
of my own Head
& that I am
subjugated
by my own
temptation
My bones, your
welcome mats,
cushioned
to your insatiable
satisfaction
--
I find this
discomforting,
your  constant
rebirths in my
libido, despite
three years of
silent therapy,
false recovery
& worshipping
    the wrong  gods
you are the best muse
for struggling artists
everywhere & worst
case of the bubonic plague
since the bubonic plague
--
I find you
disenchanted
in the middle
of any where,
peeling flesh,
lulling  sullen
sirensongs at
3AM
I shot a flock
of  phoenixes
& ate Adam's
poison apple
yet
I remain ignor
ant  and ignor
ed by you
--
I find Nothing-
decontaminate
your stovepipe
& leave me be.
the back of your head against my washed pillow case
by
ChloroformBoy
Biting, acidic, and a clever application
of poetic loathing. There's something
in this for every bruised heart.
Prose
Suggested by: GrannyJae
Featured by: SilverInkblot

halfwayshe lives in an old cottage by the shore, and the waves break against the shallow cliffs and spray foam all over her drying dolls. She makes charms and love-spells and potions, and crafts dolls from ceramic mold to quaint little mannequins; and they come alive under the touch of her blue-stained fingers (blue because she paints their eyes always blue, like the waves and the eyes she should have had)
he keeps a lighthouse in an island off the coast, and he comes and goes to town in a chipped grey boat (the color of her house) and he's happy living alone, savoring the silence and the power he has, over life and death, and light and darkness, and every night he makes the cove alight/adarkened with his lantern, showing the way to the piers.
she's the one that sings the children of the village asleep, because the strong drifts carry her lullabies tucked in the fold of their cloaks, and the fathers and mothers in the village listen entranced to her songs of death and rebirth every night, com
halfway
by
BluestWaves
The back and forth in this
pieces puts me in the mind
of the hush of ocean waves.
Featured by doodlerTM

Dissatisfied with Silence    "How is it?"
    He keeps trying to make conversation, like we actually have anything to talk about.  I don't look into his chocolate-caramel eyes, but instead keep my neutral expression fixed on my fork.  I've only been picking at my food--a lavished slab of steak and mashed potatoes.  The basil is wet and dark green.  It sticks to the fork as I tilt it this way and that; just minuscule motions as I watch the light of the fancy chandeliers that the metal throws back at me.  I cannot see my face within the silver, nor can I see his.  The pretty reflections seem to come from an entirely different world, taking the low light of the restaurant and giving it life.  Motion.
    How ironic.
    "It's fine," I reply, having long since lost any expression in my voice.  He sits back as if offended, and I automatically flinch at the shadow which crosses his face.  I don't like that shadow.  I've learned to fear it, just as I've learned to fear him, and I know when it's there even when I only
Dissatisfied with Silence
by
Riveriia
A disturbing vignette
about a victim's turmoil
and her wish for escape.
For more information, including how to suggest a Deviation
to be featured, please visit us at
DailyLitDeviations
.
Thanks so much for supporting the lit community and this project!
~ The
DailyLitDeviations
Team ~
Prepared by: LadyofGaerdon