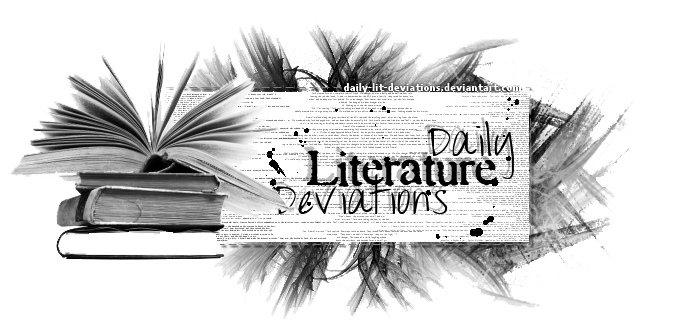 Guidelines
|
How to Suggest a DLD
|
Group Administrators
|
Affiliation
|
Chatroom
|
Current Staff Openings
Daily Lit Deviations for January 25th, 2012
We are proud to feature today's Daily Literature Deviations!

You can show your support by

ing this News Article.
Please comment and

the features and congratulate the artists!

For all of the featured artists:
If you receive a DD for one
of your pieces featured by DLD please note damina.
We will include you and your piece in a special recognition news article.

Poetry
Suggested by: Parsat
Featured by: LadyofGaerdon

For the Ones Left BehindI shed no tears for you who sleep,
nor for the clay that breathes no more;
for why should any faithful weep
for one who suffers nevermore?
These tears are for those left behind,
for us who must remain alone,
deprived of light nor hopeful sign,
long waiting for our journey home.
The years of life creep slowly by
while we await our coming end,
yet not a day marks those who die,
who with the angels Christ attend.
With spirit tongues, you sing of hope,
in song eternal life proclaim,
in vain attempt to help us cope
with never seeing you again.
Your joy cannot to earth descend,
nor douse bereavement's wicked bite,
so pray instead this heart to mend
until the day we reunite.
Though life is long, and death is sweet,
years yet must pass before we meet.
And I will strive to remain strong,
though days are raw and life is long.
"For the Ones Left Behind"
by
QuiEstInLiteris
From the suggester: "A piece that is spot-on in every
way: the meter, the solemnity paired with hope, the powerfu
l personification."
Featured by spoems

Letting GoWhen I die--
if I have time--
I'll try hard
to let go.
I'll pry my dreams
away from the great
expanse of space
that I'll never explore.
I'll loosen my grip
on the way the moon
looks when it glows
behind a passing cloud,
and the breathless
star-lit moment
before it comes back out.
I'll let go of the globe,
a miracle in blue and green,
and all the places
my traveling eyes landed
and longed to see.
I'll farewell that sudden
explosion of spring,
when the world turns
green in one bright,
wake-up week.
I'll whisper goodbye
to every meteor shower
I won't see, every song
I'll never hear
on the radio.
But I suspect that at the end--
when I've come full circle
and my fingers that clung,
tiny, to my father's hand
have finally learned to let go--
the last thing left in my palm
will be you.
Letting Go
by
girl-of-few-words
The spires of depth that we reveal when we remove all the
layers of our attachment to the material realm are apparent in this poetic
contemplation - still, we hope to hold a piece of ourselves to the very last.
Featured by: LadyofGaerdon

Not ForgottenBe peaceful, sleeping dragon, and sleep well,
And may your slumber bring you pleasant dreams.
Reality is harsher than it seems,
But dreaming visions do not have to tell
That when you go to sleep tonight you never shall arise.
The downy quilt of ash will keep you warm,
And also grant you rest without an end,
Your silence from the eons to defend,
And perfectly preserve your sleeping form,
So you are not forgotten, for your shut-forever eyes.
Take heart, devoted parent, guard your nest,
And may your care protect it from the storm.
Be steadfast as you watch the land transform,
And thus is your fidelity expressed,
Although your dedication's goal you never shall attain.
When rapid flows of sand begins to rise,
You still preserve your unborn progeny,
As you are joined with them eternally,
Recording what your honor must comprise,
So you are not forgotten, though your nurture was in vain.
Be bold, courageous hunter, seek your prey,
Although it is a dark and stormy night,
And on the sliding hill
"Not Forgotten"
by
Agahnim
An account of three dinosaurs that went on to become well-known
fossil discoveries, and the significance of their deaths, with
a structure and rhyme scheme that contributes greatly to the mood.
Prose
Featured by: LadyofGaerdon

16.7.1945You can't blame them for what they did, not really.
Their war, ensnaring the most powerful countries in the world and sending millions of their finest young men and women out as if to the slaughter, had been raging for nearly six years. Both sides showed no sign of faltering, entertained no thought of surrender. Something had to be done to break the psychological stalemate. Something that would make men fall to their knees in awe even as their cities and their people disappeared in a flash of white light.
What the scientists and the handful of informed onlookers say today in the desert under heavy rain will never be known by man, for the age of man will end in approximately ten seconds. There was talk that the test be delayed until the storm has passed to avoid magnifying the fallout, but orders came from far above that they need these results now, and when the scientists get an order like that, it would cost them more than their lives are worth to ignore it. They place bets while t
"16.7.1945"
by
ravenofroses
A thoughtful, absorbing glimpse into the consequences of
human folly and nature's wondrous ability to bounce back from it,
full of excellent turn-of-phrases and spot-on diction.
Featured by: SilverInkblot

Never finding the stars"I've never found the stars, for they were always too poetic for me to reach."
I looked over at her, admiring her form highlighted in the window by the moon.  "You've never found them?  Are they not right there in the sky?
She turned her head towards me, away from the night heavens, and her fine, frizzy, mist of humidity-curled hair blossomed slightly in the moonlight as she did so.  "These are just distant representations that tell us where they are located in the galaxy, Charles.  They are simply the same as a portrait of the night sky or a sonnet written about twinkling celestial bodies.  They are just an author's or artist's perception of their true selves.  After all, just because you can point to Africa on a map does not mean you have found it."
She put her head back in line with the window panes, and I pondered this curious creature in my room.   She was full of intellect, wonder and femininity, which lef
Never finding the stars
by
enigmaticsmile
An inspirational little piece with some interesting
characters that left me in thought.
For more information, including how to suggest a Deviation
to be featured, please visit us at
DailyLitDeviations
.
Thanks so much for supporting the lit community and this project!
~ The
DailyLitDeviations
Team ~
Prepared by: Ebahr