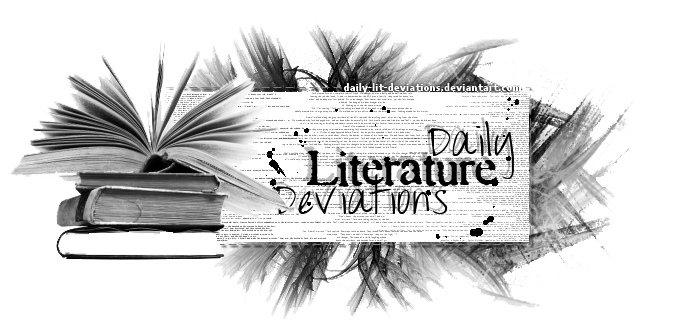 Guidelines
|
How to Suggest a DLD
|
Group Administrators
|
Affiliation
|
Chatroom
|
Current Staff Openings
Daily Lit Deviations for January 10th, 2012
We are proud to feature today's Daily Literature Deviations!

You can show your support by

ing this News Article.
Please comment and

the features and congratulate the artists!

For all of the featured artists:
If you receive a DD for one
of your pieces featured by DLD please note damina.
We will include you and your piece in a special recognition news article.

Poetry
Suggested by: doodlerTM
Featured by: LadyofGaerdon

Dirge I- The Sun Said to ChicagoThe Sun said to Chicago,
"Oh land of sad, sad stone-"
That is all I heard, as the radiance
Was devoured by the continuingcloud
The sun does not shine in Chicago.
I saw many faces here
Who would've been sad,
But they were empty instead.
I saw two silvery ghosts, deer,
Convene in an empty lot.
They conversed, in Silvan tongues,
"Shall we leave then?"
"Yes- the grass is losing here.
The trees are dead, the stones are
Slaves
To the hands of the empty."
The city's metro wurms squirm;
They are infesting the ground.
They scream, unlike the silent dying
Of Novum Eboracum, Screaming
They are emerging, speeding toward
The stable of the planes and back.
Oh Deus,

"Dirge I - The Sun Said to Chicago"
by
JuliusScipio
From the suggester: "A beautifully
crafted poem that conveys the sorrow of
trying to belong in a new place."
Featured by

Maudlin-Mandolin

Delicious Delirium

You are the land I'm dispossessed from
You are my right arm that was blown away
As I lay in ambush
On fragrant rain-mixed mud
Of the trenches you dug
The flavors changed from earth to iron
The colors, tan to red
Dark river red
The mud, now crimson-brown sticks to me... look
Can you see, this, your war ruptures
On me?
I don't want to crawl out of this long narrow hole
Somehow
Keep raining on me. Wash some of me away.
All right? I know you can be kind
Sometimes.
© Debjani Chakravarty 2012
"Delicious Delirium"
by
Dreamydeb
A colorfully descriptive poem
of submission- filled with the
aftermath of war.
Prose
Featured by LiliWrites

The Way We Built Bridges"You waste too much time on your words." You once told me.
"No," I replied "you don't waste enough time on words. Words are a tool to you, not a treat. A pragmatic means of communicating, bargaining, exchanging vital snippets of information. Calm down. Stop speaking so fast. We're not fighting a war (not us, not here). You don't prune and select your language. You've forgotten how to roll it around on your tongue, or try it on for size. Revel in rolling Rs, or the sweetness of a string of vowels and consonants, arranged in such a way to create more beauty than you ever thought possible.
Language can be a delicacy to contrast your paltry recital of data. You should try it."
The Way We Built Bridges
by
Tohroe
This short, philosophical
piece presents words as a gift
and a joy - something every
writer can attest to.
Featured by shebledgreenink

Cendre et PoussiereShe stood in the cold and crisp November air, flicking ashes from a cigarette into the breeze.  Her expression was as frigid as the ice on the ground; her hair was a coffee sort-of brown like her eyes.  Short, she was voluptuous in the true sense of the word.  
Her name was Noyer.
She threw the cigarette to the pavement and extinguished it, bare foot.  She walked on into the day, observing nothing, observing everything.  Where she'd come from and why was a mystery even to her.  Daughter to no mother, no father—she was an orphan of the mother earth.  
In the deep pocket of her coal black wool coat, she had a cashier's check written out to Noyer Reynolds for the sum of $20,000 from the account of David Reed, Jr.
Her memories were an anthology of lives she'd never lived.  She was a writer, a singer, a painter, a pianist, an architect, a doctor, a teacher, an engineer.  She had seen everythi
Cendre et Poussiere
by
zmorgason
A poignant snapshot of a character
with nothing behind her and a plethora
of things in front of her.
Featured by shebledgreenink

The Minotaur's Bride"Why, such untruths," says the Minotaur, stroking my cheek with a waxen claw. "What reason have I to murder and, ugh, how I shudder to say it," (he provides a theatrical little twitch of fur) "eat my guests?"
"That is merely what they say."
"They, they, they. And who is they, and how do you suppose they know? Have they been here? Do they dine with me?"
"Well, no, sir, but . . ."
"You silly little girl. So silly. So charmingly silly." He holds my entire chin now in his massive hand, and I know he can feel my frantic swallows like a sparrow's heartbeat against his flesh. "Why do you suppose I request only maidens and unwed men?"
"I... I do not know, sir."
"Well, goodness, it can't be that they taste better. Why on earth would anyone suppose a virgin tastes better than a slut, or vice versa? Humans are humans. I imagine you lot all taste the same."
"But marriage…"
"I'm a lonely creature. Admittedly a greedy one as well. No one needs seven wives at once. But I do enjoy i
The Minotaur's Bride
by
orphicfiddler
A delightfully dark peek
into a popular Greek myth.
For more information, including how to suggest a Deviation
to be featured, please visit us at
DailyLitDeviations
.
Thanks so much for supporting the lit community and this project!
~ The
DailyLitDeviations
Team ~
Prepared by: spoems