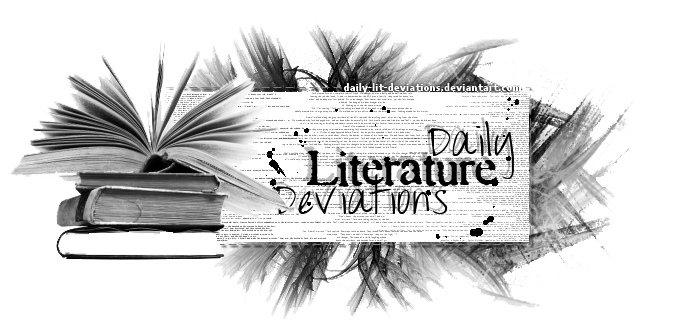 Guidelines
|
How to Suggest a DLD
|
Group Administrators
|
Affiliation
|
Chatroom
|
Current Staff Openings
Daily Lit Deviations for February 7th, 2013
We are proud to feature today's Daily Literature Deviations!

You can show your support by

ing this News Article.
Please comment and

the features and congratulate the artists!

For all of the featured artists:
If you receive a DD for one
of your pieces featured by DLD please note LiliWrites.
We will include you and your piece in a special recognition news article.

Poetry
Suggested by: intricately-ordinary
Featured by: betwixtthepages

and I still keep running into parked carsMama,
your baby girl's swimming
in dead of the night
hair, scarred knees,
overgrown weeds, and
countless pairs
of shoes-
with those
orange and yellow wheels
that hug my toes
and heels
I'm running into
parked cars
trying to get
my kite to fly
and hiding under
dashboards
listening to you
fight
I'm rummaging through
boxes of secrets
that Daddy tried
to hide-
solving puzzles with pieces
I'll never uncover
in these thoughts
of you
and I still keep running into parked cars
by
Hfeather53
From the suggester: A touching
poem that nearly feels like a
confessional sticks with you
through its vivid descriptions
and intense relatability.
Suggested by: intricately-ordinary
Featured by: SilverInkblot

Of BlissKissing daffodils sway,
serenaded by the waver of
gossamer wings;
faces blushing bright
as the sunlight
slips away.
Of Bliss
by
Concora
Suggester: "One of the loveliest
writers you will ever get to read,
in a few brief pictures, she
has painted a dream."
Suggested by: intricately-ordinary
Featured by: SilverInkblot

takingwild sea-scented boy,
when it's time to
use the razor
i will cry and i might
leave dark-moon bruises
on your biceps
but i won't
blame you,
i won't. instead,
i will remember
primitive indigo dawns
with naked lamplight
light on half your face,
fire in your eyes,  
me trapped between
your hands firm on the sides of my head,
i will remember cathartic silences,
your gaze leaking into my tear ducts,
my waist
my ribcage
my sadness  
that you taste away,
the pulse of your vitals
against mine, lips raw with
sincerity,
and i will remember  
our skins our touch
the energy flowing through
our foreheads,
your bicycle
your pen
your smell your smile
your hold your salt water
that i will take with me
forever.
boy born from ocean breeze
there is no other you
i still do not want this blade but
i do not blame you.
taking
by
520romeo
Suggester: "Stunning imagery composes
this poem that manages to bury under
your skin with how close it comes to your
heart. By crafting two characters that are
each a little too human, this lovely poet
has demonstrated the complex feelings
in both remembering and finding causes."
Prose
Featured by xlntwtch

50.726217, -2.841747We arrived solemnly at a day masquerading as romance. I emerged from the people carrier and ingested the familiarity of the place; Langdon Woods. Now, those pathways are dug into my palms. Deep trenches scratched into the whorls of my fingertips. Reminders of where I've been.

We walked for a while, hand in hand. You pointed out cashmere blankets of bluebells that bowed their heads as we marched past. I saw them repeat infinitely, a kaleidoscopic tessellation of my many copies of this memory, each slightly different (some faded and well worn). I remembered the bluebells infused with the smell of you.

After a time, we grew weary. Sweat bubbled onto our skin until our hands could no longer grasp. I rested. Sat on a worn smooth log bench facing the town where we lived, I ate, and drank, and filled myself with thoughts of you.

You had other places to be and went quicker than I, I couldn't make my body match yours and I lost you. The woods felt heavier, and the trees wav
50.726217,-2.841747
by
PoetryOD
A superb piece of fiction by
a writer who combines poetic
imagery with prose action in
a way that is a testament to
the power of both.
Featured by xlntwtch

HundeminenI don't know words very well, but I think they call the thing "Tank." It is a big fat thing with a long nose and it smells of metal and diesel. Though I don't know words very well, I have come to understand that I must go to Tank and bite the cord on my chest. I must worry it until heavy thing that is mine falls beneath me because this makes Man-With-Hat happy and when Man-With-Hat is happy he feeds me. This is good because I am hungry all the time. If I do not worry the cord and instead come back with the thing that is mine then Man-With-Hat is not happy and he strikes me instead of feeds. This is how I learn to worry the cord and drop the thing that is mine even though I don't know words.
I learn slowly without knowing words, but this is not bad because eventually there is a time when I can find Tank every time. I can worry the cord every time and let thing that is mine fall every time and this makes Man-With-Hat very happy. But then there is a time when I go to Tank and it is making
Hundeminen (Revised)
by
DamonWakes
A terrific tale, told from a different
viewpoint than many will expect.
This is a story that's cautionary,
exciting, and relevant to the time
it takes place, if not beyond.
For more information, including how to suggest a Deviation
to be featured, please visit us at
DailyLitDeviations
.
Thanks so much for supporting the lit community and this project!
~ The
DailyLitDeviations
Team ~
Prepared by: LadyofGaerdon