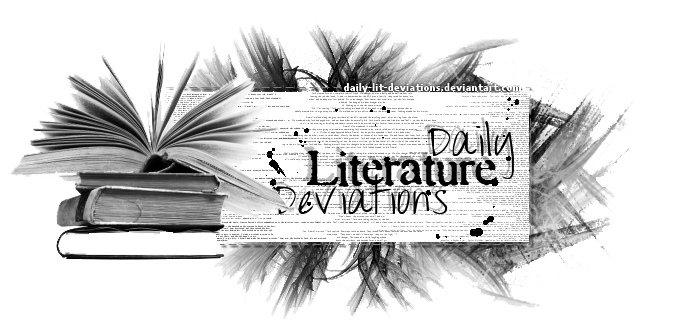 Guidelines
|
How to Suggest a DLD
|
Group Administrators
|
Affiliation
|
Chatroom
|
Current Staff Openings
Daily Literature Deviations for February 6th, 2013
We are proud to feature today's Daily Literature Deviations!

You can show your support by

ing this News Article.
Please comment and

the features and congratulate the artists!

For all of the featured artists:
If you receive a DD for one
of your pieces featured by DLD please note `Kneeling-Glory.
We will include you and your piece in a special recognition news article.

Poetry
Featured by: =TwilightPoetess

ForwordI have not become stronger
in the broken places.

Bones ache of age
                   of misuse
                   of disuse
and each cracking joint
is an audible reminder
of missteps
of misjudgments
of paths walked too long
and of steps
that should have been,
but were never taken.

Bent fingers jut
from palms of sandpaper,
calloused and crinkled,
they cannot grip
with that same eager desperation
of a child seeking comfort.

Black becomes gray
at the gates
of troubled temples and
dreams,
once saliently sweet,
decay on the tongue
like the sound
of necessary words produced,
but never employed.

I have not become stronger in the broken places
Forward
by `
dreamsinstatic
It's the regrets--the things we
never did and the words we never
said when we should have--that
leave us crippled, not the bruises.
`dreamsinstatic offers up a well-known
phrase with a unique, fresh view.
Featured by: =DrippingWords

glass boythe "I love you" never left my lips, for
I thought it might sound pretentious,
assuming,
desperate.

though you wouldn't have heard me,
even if those words had been said.
and even if those words had been said,
your parrot voice would have merely
returned them to me in a gentle, dumb,
answering machine welcome message.

every time we talked,
there was the fear of shattering you.

you were my glass boy, a boy who was
breakable, yet malleable to the heat
of torched pressure.

but still there was me,
foolishly following the glass boy
wherever he might go.

one day my soul slipped in your puddled irises
and when I had come to the gro
"glass boy "
by *
doodlerTM
The piece is imaginative to the
highest degree. It uses its words
to paint the delicate picture, then
rips it away from the reader,
making them beg for more.
Featured by: =TwilightPoetess
Cruel Intentions
by `
LadyLincoln
We've all been there before--
wanting someone so much it
hurts, watching from the
shadows, indecent thoughts
lurking just beneath the surface.
`LadyLincoln brings these
sensations to life with this lovely piece.
Prose
Featured by *doodlerTM

Flushed AwayDad once told me that drinking some form of hot drink after a greasy meal helps to wash the fat away. "Some Asian thing," he grunted with a shrug. "But you have to drink it either while eating or within 15 minutes after you finish eating, or it won't work."

I asked him how the hot drink remedy actually works, all the while sipping on a lukewarm mug of green tea.

"I dunno," he said. "Apparently the hot water keeps the fat from sticking to you, and it washes out. Works for me," he continued. "I gotta go take a shit every time I do it. I don't eat as well as I used to when your mother cooked for me, so I have to be careful with what I eat. I a
Flushed Away
by ~
Cerdisinerias
An well-written vignette connecting
the significance of food and joy
within the confines of a family.
Featured by *xlntwtch

Small GiftsThe cat who lives in my neighborhood brought me another dead lizard.
"It's lovely," I observed, "but you do realize I have no use for that."
"Oh! I didn't know," the cat replied. "It's how we show affection for our humans. If you'd like a dead bird instead, that could be arranged."
"No no, I get what you're doing. It's sweet, really. It's just--"
She paused from grooming herself to look up at me quizzically.
"It's just... I can't do anything with a dead lizard or bird. Except throw it away. Which, by the way, reflects in no way on my appreciation of--"
"Wait," the cat sat up. "You throw them away? I worked my ass off to catch that thing. Least you could do is take a bite." She nudged the small green body with a paw.
"Here's the deal," I began again. "What I really need is money. Barring a miracle, I'll be gone from this place at the end of the month. I'm already behind on the rent."
"But I like you!"
Small Gifts
by *
RalfMaximus
A terrific, very short story that
explains a lot about both a cat
and her neighbor. A must-read
for anyone who has ever known a
cat, and for those who never have.
For more information, including how to suggest a Deviation
to be featured, please visit us at =
DailyLitDeviations
.
Thanks so much for supporting the lit community and this project!
~ The =
DailyLitDeviations
Team ~
Prepared by: =LadyofGaerdon