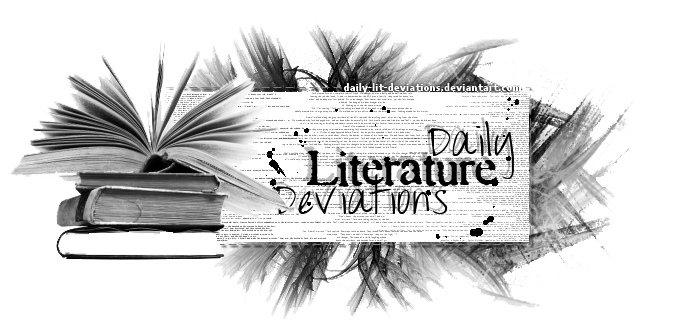 Guidelines
|
How to Suggest a DLD
|
Group Administrators
|
Affiliation
|
Chatroom
|
Current Staff Openings
Daily Lit Deviations for February 5th, 2013
We are proud to feature today's Daily Literature Deviations!

You can show your support by

ing this News Article.
Please comment and

the features and congratulate the artists!

For all of the featured artists:
If you receive a DD for one
of your pieces featured by DLD please note `Kneeling-Glory.
We will include you and your piece in a special recognition news article.

Poetry
Suggested by: =Christianonfire7
Featured by: =TwilightPoetess

BrailleI see your scars
and they're beautiful

if I could read braille
I would tell your story
to all the world
for inspiration

I see the beauty
of their war crimes
because what didn't kill you
makes me fill with pride

to survive is half the story
God be the glory
that strengthening
comes from the marrow
so life is made
& sustained
in the bones

blood is life

and with every stripe
you gave life
so my love for you
is born

I see your scars
I sense your flaws
beauty is for the queen
that have been through wars

and how wisdom
is not for the innocent
because redemption
comes from being guilty
of living life.

I see your scars
and the beauty
tha
Braille
by ~
LandOriginaL
This beautiful, well-executed spoken word
piece will make readers think about Braille in
a different light--a more intimate, bodily way.
Braille is definitely worth a read!
Featured by: =SilverInkblot

three coats and terribly coldjust friends,
we sit opposite each other
at a coffee table.

you begin to lose your voice,
blathering over matters
of zero consequence.

there are bigger things, i say,
worthier of the degradation of your throat.
love, for instance.

love!
you say derisively.
love—who needs that?

only everyone in the world, i say.
everyone except me,
you say pompously.

you are shaking your head no,
and as if taking a cue,
your body follows in a shiver.

you're wearing three coats,
all of which you've bought
for yourself.

i watch your trembling hands,
and warily
wrap them around my coffee cup.

everyone including you, i correct.
three coats and terribly cold
by ~
ilyilaice
A simple piece, but an effective one,
capturing a moment between "just friends."
Featured by: `thetaoofchaos

For dear EmilyFor dear Emily you may have told the
carriage to hold the reins taut and
make the horses gait regal, more print
than divot in the grass toward her
mausoleum, but in the eyes of
unfinished youth, appalling are his manners.
One moment my clear eyes stare in
wonder, first discovering my
ability to masturbate, then with
a breath I stare into a
gas station bathrooms cracked glass
and watch the blood in my near shot
eyes, and it is not the light which
makes me blind.

Ripe grapes could be pressed from my blood
vessels, and the dark red brew wood
aged twenty six years and more, but
where in some casks the wine gains some
hint of distinction, cher
For dear Emily
by ~
one-in-hell
The dizzy revelations in these strophes sing
of desires in a startling and appealing manner.
Prose
Featured by *xlntwtch

First ImpressionsIt was on the second day of Miss Willard's stay at the house of her dear friend, the new Mrs. Fitzgerald, that Mrs. Fitzgerald began to feel ill. She did manage to fool Mr. Fitzgerald into believing she was just a little indisposed and send him off to work quite convinced that there was nothing to worry about, but she could not so easily persuade Miss Willard that no better medicine was required than a cup of hot tea and the company of a dear friend. Miss Willard, so meek and obedient at all times, would be meek and obedient no more at the thought of her friend's illness and, in spite of her excellent education, she indulged in the unprecedented insolence of disobeying her host's wishes, and the laws of decorum which required a young lady such as herself to never leave the house unaccompanied, and undertook the trip through the snow to the physician's house, several streets away. Dr. Chipweek, hearing of Mrs. Fitzgerald's symptoms, filled his bag with what jars and utensils he thought
First Impressions
by *
dparparita
A marvelous tale of historical romance
about a book, a man, two women, and how both
books and women can make either foolish
or grand first impressions.
Featured by *doodlerTM

The Slave Trader"Good evening, Herr." The man's voice was small, accented in Spanish. He was wearing a pair of glasses and an old tricorne hat colored dark blue. The table he was sitting at was laden with papers and scrolls, a few inkwells and enough quills to make me think a goose is running around completely naked. The room was empty save for him and me; a number of candles resting on the table and a few shelves around cast the room in odd shadows.

"Wie gehts? Diese ist eine gute Nacht, ja?" I replied sitting in the worn out armchair across from the bespectacled man. A small smile broke out on his face at the remark.

"
The Slave Trader
by =
popov89
An intriguing historical fiction
story that addresses the calamities and
moral quandaries associated with slavery.
For more information, including how to suggest a Deviation
to be featured, please visit us at =
DailyLitDeviations
.
Thanks so much for supporting the lit community and this project!
~ The =
DailyLitDeviations
Team ~
Prepared by: `thetaoofchaos