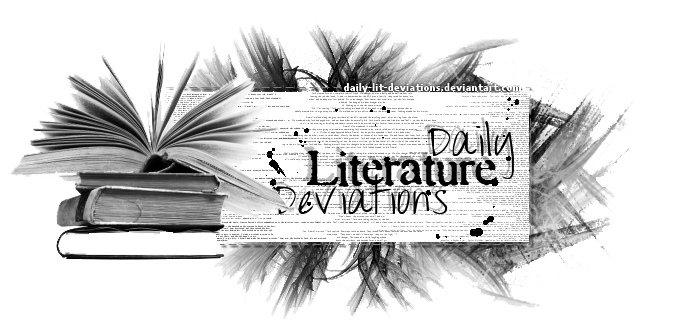 Guidelines
|
How to Suggest a DLD
|
Group Administrators
|
Affiliation
|
Chatroom
|
Current Staff Openings
Daily Lit Deviations for February 4th, 2013
We are proud to feature today's Daily Literature Deviations!

You can show your support by

ing this News Article.
Please comment and

the features and congratulate the artists!

For all of the featured artists:
If you receive a DD for one
of your pieces featured by DLD please note LiliWrites.
We will include you and your piece in a special recognition news article.

Poetry
Suggested by: intricately-ordinary
Featured by: SilverInkblot

i want you like no one else shouldi want you.
and those words purge
from my lips
like fluorescent moonbeams.
swollen eyes
are darker than they seem
and something was different
in the way you
looked
at me.
it's been a year or so
but the hymns of the air
conditioner
are painless.
and my tank top
is hinging onto your
collarbones
but i don't know
if the melody is on
key.
and ash is spilling
from your lips
even though your
mother
told you smoking is
a breeding ground for
cancer.
will your skeleton hands
smoke me?
i want you like no one else should
by
Unseen-reality
Suggester: "A scary new take on overpowering love.
This writer takes on the dreaded cliche in an unbelievable
new way that will make you stop and think about the ways
your own heart pounds."
Featured by: LadyofGaerdon

Quake the EarthYou were
drinking
from the rust-rim
galaxy
in quick sips and swallowed stars,
like those remembered
at the bottom of the glass.
I slept
drunk
from the orogeny
of your subduction,
dreaming
of your skin sliding to a fit
against mine
and the tremors we could make.
Quake the Earth
by
nawkaman
Unique, vivid imagery and resonant
metaphor create an enchanting read.
Prose
Suggested by alapip
Featured by xlntwtch

Smoke and Mirrors: Law EnforcementSoft murmurs.
"Sawyer."
No.
"Josephine."
Go away.
"Josephine!"
WHAT. "What!?"
"Are you sleeping?"
She opens her eyes, suddenly aware that he's right. As she shuffles around in her chair, trying to find comfort again, the police captain comes into focus from across the table.
'Wake up," he barks.
"I'm awake." Irritation stains her voice.
"Josephine Sawyer, I've been captain of the London police for sixteen years. And god dammit, I have never seen someone fall asleep while being interrogated before." He leans back in his chair and lights a cigarette.
She taps her fingernails against the back of her chair, which is all she can reach while handcuffed like she is. "I think you're actually less intimidating in reality than you imagine yourself to be. Got an extra smoke?"
"Shut up," the captain orders. There's a beat of silence. She stares at him while he thumbs through a few papers. He stops and squints at one of them. "Did you sleep through your mug shot, too?"
She shrugs.
He gives an exasp
Smoke and Mirrors: Law Enforcement
by
dreamylittlethings
Suggester says: Here's excellent dialog
and a surprise ending for you. I agree.
Featured by doodlerTM
we are all waiting to be found
by
momo-madness
A story that shows the coincidences of life and
how deeply connections can be made only to be cut short.
Foreign Language
Featured by Exnihilo-nihil
:thumb329471661:
L'invocation du soir
by
Alraghan
L'invocation du soir ("The night's invocation") tell us the
story about a pact between a succubus and a magician.
Well paced (en vers tétrasyllabiques), the story lead us,
like in a medieval story, to the expected end... This poetry is a
part from Alraghan project : 100 stories of sorcery.
For more information, including how to suggest a Deviation
to be featured, please visit us at
DailyLitDeviations
.
Thanks so much for supporting the lit community and this project!
~ The
DailyLitDeviations
Team ~
Prepared by: SilverInkblot