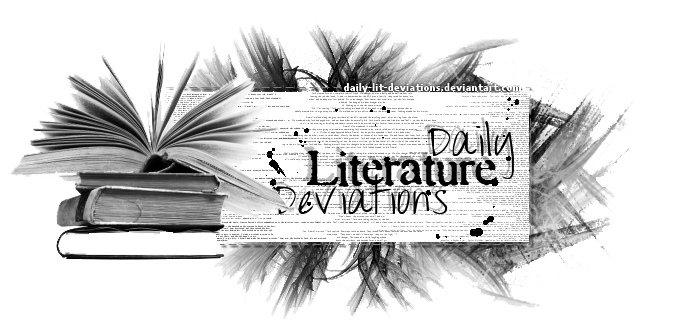 Guidelines
|
How to Suggest a DLD
|
Group Administrators
|
Affiliation
|
Chatroom
|
Current Staff Openings
Daily Lit Deviations for February 9th, 2012
We are proud to feature today's Daily Literature Deviations!

You can show your support by

ing this News Article.
Please comment and

the features and congratulate the artists!

For all of the featured artists:
If you receive a DD for one
of your pieces featured by DLD please note damina.
We will include you and your piece in a special recognition news article.

Poetry
Suggested by: SilverInkblot
Featured by: LadyofGaerdon
"starstruck"
by
saltwatersleep
Says the suggester: "Poetry isn't my strongest suit,
but I know what I like; short, sweet, and beautiful."
Suggested by: archelyxs
Featured by: LadyofGaerdon

Dominic.it crests,
inhaling us,
our surfboards,
our balance,
the water
imprinted with our
souls, if it all froze
you'd be cast
the die is cast, Caesar said
you said he said, if it all froze
I'm counting on you
Rome's counting on you
past ten
that's when the stairs diffuse
each step so painful,
we know what waits at the bottom
of the sea the landing
busts submarine skin
steel plated, snake eyes weighted,
you blew a gasket
Marie Antoinette asked me yesterday
how we managed to hang ten
for so long on the wave
of words, of men, of sex, betrayal, sheer luck;
the wave of eyeballs, emerald hummingbird's wings, jasper kisses of monarch butterflies;
the wave of eternal mortality, of archaic nunneries, of traditional forms of self-mutilation and capitalized italicized Love...
I remember how, as if it were
frozen in polaroid
I didn't tell her how we radiated every hue out of our prisms
how we refracted and captured the sun's power and lit every street
for miles of suburbs, disco-balling some sort
"Dominic"
by
claytonwoolery
From the suggester: "Touching emotion saturated in universal
imagery, a universal energy. I hope everyone gets the chance
to feel this way."
Prose
Featured by shebledgreenink
Stuck
by
raspil
The prompt was "Make the mundane seem extraordinary,"
and raspil executed it wonderfully.
Featured by shebledgreenink
bye. baby.
by
Magnius159
Beyond just trying to make you feel sorry for characters, this piece
presents a picture of a junkie's life and lets you decide.
Foreign Language
Featured by shebledgreenink

VouloirJe veux m'étendre contre ton corps
Sentir tes cheveux s'envoler sur le sable
Et puis me perdre en toi une fois encore
Avant de mourir d'extase, le cœur instable
Je veux parcourir ta peau de mes doigts fous
Pour mieux découvrir tes ultimes secrets
Et puis recueillir sur les bords de tes yeux doux
La rosée nouvelle, soudainement perlée
Je veux te retrouver à moi rien qu'une fois
Me désaltérer à la source de ta voix
Et puis goûter tes lèvres dignes d'un roi
Qui n'en a pas voulu, folie qu'est cela
Je veux m'endormir au creux de ce nouveau jour
Apprendre à écouter les battements de ton cœur
Et puis faire l'amour sans doute pour toujours
Une dernière fois, une dernière heure
Enfin je te veux mienne, à présent et à jamais
Douce rêverie qu'est cela…
Vouloir by
shoknar
The title means "to want," and this poem captures the
emotional essence of physical desire.
For more information, including how to suggest a Deviation
to be featured, please visit us at
DailyLitDeviations
.
Thanks so much for supporting the lit community and this project!
~ The
DailyLitDeviations
Team ~
Prepared by: Ebahr