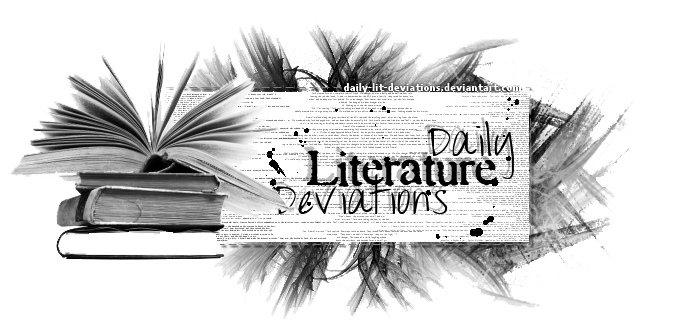 Guidelines
|
How to Suggest a DLD
|
Group Administrators
|
Affiliation
|
Chatroom
|
Current Staff Openings
Daily Lit Deviations for February 2nd, 2012
We are proud to feature today's Daily Literature Deviations!

You can show your support by

ing this News Article.
Please comment and

the features and congratulate the artists!

For all of the featured artists:
If you receive a DD for one
of your pieces featured by DLD please note damina.
We will include you and your piece in a special recognition news article.

Poetry
Featured by spoems
teeth
by
RockstarVanity
The horror of losing one's identity while trapped
within the fantastic torture chamber that is the subconscious
mind is relayed here in frank and effective verse.
Suggested by: Sleyf
Featured by: LadyofGaerdon

I Tried To Ring -Metropolis-I tried to ring, but the sky stole the message;
And a lady lay sleeping by a tower block,
Unaware of the colourless dream of the suit wearers,
As they stiff-nosed their blinkered way
Through their fickle offices,
Built on numbers and tired yawns.
A dreamless merchant will try,
But fail to realise the meaning,
And as the sleeping lady sleeps on,
The sun begins to sink on the city.
Back in the offices the computers hum and shine
Their dull mind-melting lights long into the cold night.
Failing light falling through the
Grey clouds on a grey scene,
The cold city silently screams as
Towering office blocks block the orange night sky.
There's no place to hide in here,
...no place to hide from here.
But still - "never more" and ever "false"
Lies the troubled news from abroad
- Of wars, of rape and death,
From far far away straight into our morning minds,
Where newspapers and radios seep across
Our breakfast tables like poisoned honey,
Spreading hysteria and worry
Like the fluttering wings of a
"I-Tried-To-Ring-Metropolis"
by
Paul-1485
Says the suggester: "It paints a vivid (albeit in the
muted sepia and grey smog of the city), image of the world
run by routine and media. It's relevance to this day and
age strikes a very strong chord, I believe, in most of us
and reminds us how tied to routine we are within our
cities and daily lives."
Featured by: Carmalain7
Five Years in an Apricot Windmill
by
julia-caitlin
Riddled with allusions, metaphors, and similes to
make you feel alive, melancholic, and all smiles all at once
because you'll be feeling everything as if for the first time.
A poem that is simply alive.
Prose
Featured by doodlerTM

The DoctorWhen I was seven, I was diagnosed with emotions.
"Poor girl." I heard them say. "She'll never survive this one."
I laid with my face towards the ceiling on the cold examination table, listening to them discuss my fate. I felt something breaking in my chest and something burning inside my throat. A small tear slipped down my cheek.
"Doctor! Look at this!" Shrieked my mother, "Something is coming out of her eye."
The doctor rushed over to me and wiped the tear from my cheek. He touched the top of my head as he whispered, "I am so sorry." And then he turned to my mother. "It's a tear. It means that she is sad."
"Sad?" My mother asked inquisitively.
"It's one of her emotions. This doesn't attack the same way that normal diseases do, there are all sorts of different symptoms. Right now, she is sad and the only way that I know how to explain it is that she is feeling down."
"What do you mean by down?"
"Her emotions can best be described as ones that are up—when she is feeling good, and
The Doctor
by
xthe-eleanorx
A very unique story about a thing that people can
take for granted. It is chock-full of beautiful syntax and
dialogue.
Featured by shebledgreenink

I Took You InI took my mother's last name for a week and I think that killed my father just as much as when he found me kissing a boy at sunrise when I said I'd just be taking a walk. He came to find me so we could get coffee and talk like we used to before I had a driver's license. He used to pick me up from work every night.
You are the boy I kissed at sunrise and I was almost positive that our story had set on us the following night when the stars came out and I stepped out under them to smoke one cigarette in exchange for one last kiss. I didn't take it from you. You and I were made for morning, but the boy smoldering on the porch was a falling star. His image has long since faded from the sky.
I took a thick black suitcase to school with me and when I was getting ready to go home, I filled it with clothes three days early because that's how little I could wait. I argue that skyscrapers are no replacement for mountains and I begged to come back for weeks before I had a ticket in hand. And now t
I Took You In
by
otherwiseunbroken
What caught my attention about this piece is the
subtle repetition, almost unnoticed until the end, when the
entire narration gets pared down to just the essentials.
For more information, including how to suggest a Deviation
to be featured, please visit us at
DailyLitDeviations
.
Thanks so much for supporting the lit community and this project!
~ The
DailyLitDeviations
Team ~
Prepared by: Ebahr