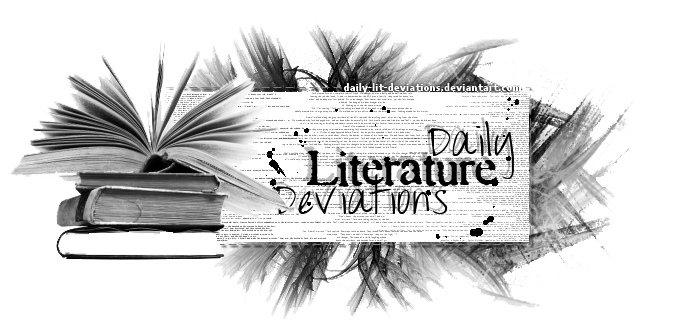 Guidelines
|
How to Suggest a DLD
|
Group Administrators
|
Affiliation
|
Chatroom
|
Current Staff Openings
Daily Lit Deviations for February 24th, 2013
We are proud to feature today's Daily Literature Deviations!

You can show your support by

ing this News Article.
Please comment and

the features and congratulate the artists!

For all of the featured artists:
If you receive a DD for one
of your pieces featured by DLD please note `Kneeling-Glory.
We will include you and your piece in a special recognition news article.

Poetry
Suggested by *xlntwtch
Featured by =DrippingWords

The CatThe cat turns once
makes a small warm den
in the bend of my knees,
and bathes a while
all needle teeth
and sandpaper tongue

with the grey brush of your chin
against mine
in the young part of the day
the sleepy salmon-colored dawn
when you would wake to me
in the bend of your arms
and the cat would rise
and move away
but now she stays.
The Cat
by *
riparii
This is a poem that lingers in the mind.
The writer reminds us not only of loneliness
when she describes a cat, but also the strength
and comfort to be found with one.
Suggested by: =AzizrianDaoXrak
Featured by: `thetaoofchaos

it's your call, starlingmy sister is going to be a cyborg
and i hope she stays gentle. i heard
that cochlear implants

can sometimes become commanders
the same way that learning commands
formative love. i hope she

stays humble and continues
to make my tinctures in the endearing
way she does,

dissolutions gentle
enough to flood underground tunnels
with flute-song.

she takes my wrist by force
and she decrees that all knowledge
happens in a snow-felled wood

at sunset. it's like the natural life
inside her yearns still
for that brackish obliteration,

and maybe when she's a cyborg
it will detach itself from its carbon
sequestration and fly out to its avalon,

and,
it's your call, starling
by ~
v-espertine
Per the suggester: "This is a strangely gentle
piece that I feel sure Isaac Asimov would have
loved. His diction is simply stunning."
Suggested by: *alapip
Featured by: `thetaoofchaos
Locate the End
by ~
ViolinSpine
Per the suggester: "This poem is so unique",
and I must agree. The wild metaphorical
treatment in these long lines is very fresh.
Prose
Featured by *xlntwtch

Suicide Route       I ate lunch with a sparrow today, and to think, I was beginning to feel lonely. Well. You see. I'm not the type. To be lonely. I have a huge family. Lots of friends, but I don't know. I guess it was just today. Eating a sub outside of Hazel's Deli after class, I was just. Thinking. And then a sparrow came hopping up to me, right up to me. It picked at the ground by my boots, so I dropped some bread, you know. Like in the movies. Right then, for the first and only time today, the sun came out.
       In the matte sunlight I could see every detail of her, from her bl
Suicide Route
by ~
sayraparker
A riveting piece of flash fiction
that reveals the speaker's situation
through great description and action,
shown with a sparrow during lunch.
Featured by *doodlerTM

Jason and a GunHe was dead. Or at least, he was dying, but also possibly dead. One doesn't typically assess the situation as they die; they mostly just focus on trying to stay alive. Jason was definitely one of those people, vain as his efforts may be. A wound to the chest that yields as much blood as he was lying in would make situational awareness seem as relevant as the price of tea in China. As he lay there, dead or dying – still not knowing which – Jason's mind slowly slipped into something of a dream or a memory…

He remembered himself walking down the sidewalk to his apartment in the big city. It was a non-busy part of the day; few
Jason and a Gun
by ~
ThatOneWriterGuy
A superb piece about a sacrifice made
for a stranger and the last thoughts of
the man who made that sacrifice.
For more information, including how to suggest a Deviation
to be featured, please visit us at =
DailyLitDeviations
.
Thanks so much for supporting the lit community and this project!
~ The =
DailyLitDeviations
Team ~
Prepared by: `thetaoofchaos