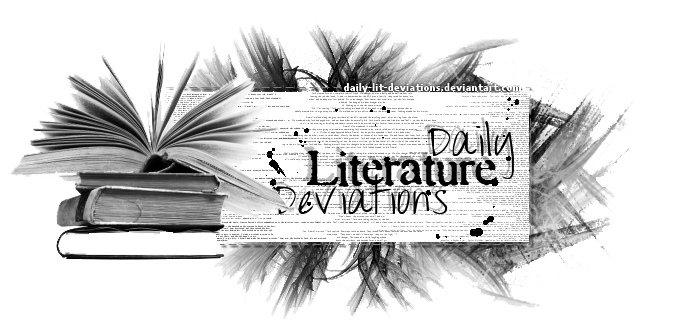 Guidelines
|
How to Suggest a DLD
|
Group Administrators
|
Affiliation
|
Chatroom
|
Current Staff Openings
Daily Lit Deviations for February 21st, 2012
We are proud to feature today's Daily Literature Deviations!

You can show your support by

ing this News Article.
Please comment and

the features and congratulate the artists!

For all of the featured artists:
If you receive a DD for one
of your pieces featured by DLD please note LiliWrites.
We will include you and your piece in a special recognition news article.

Poetry
Featured by: betwixtthepages

WoodstoveWoodstove
It was cold.
A sudden crackle,
the snap of flame
and red warmth spread through the room
from the staunch, cast-iron woodstove
huddled in a corner
by the rocking chair.
Its glass window was blackened
with soot, testifying to its unwavering service
defending the house from winter's merciless jaws
with only a few pieces of wood
and some old newspaper. Nothing
had kept it from its job in all its long years.
Even when the fickle electric neighbors
stopped working,
the woodstove happily gave its warmth for
cooking, heating water,
giving light.
Now the house is empty
and the always-faithful woodstove
has been abandoned,
left to wear cobwebs
and give a house to mice where there once
was fire.
And although outside, it was summer,
it was cold.
Woodstove
by
Captain-Random
The use of imagery and scenery
throughout this beautiful poem
by Captain-Random will leave
readers wishing for cold nights
and warm, crackling fires. Woodstove
is one poem you shouldn't miss!
Suggested by: doodlerTM
Featured by: lion-essrampant

Second SphereI found part of me by accident
in a Parisian cardboard box
with satin rags; purple ink
depicting people and clouds.
Tungsten from the wires
of lightbulb husks.
He kicked my hand when I pulled him out,
my fingers caught up in the blonde.
Here there are boys who count
the golden rings of Saturn,
and retinas that lick up the sunset.
Pictures of Japanese lanterns on the sea-crest
and swarms of orange fireflies.
Girls who do not dot
their I's with hearts,
and wait for iodine skies
with slow, dripping
thunder.
"Second Sphere"
by
FallingAsleepTonight
Suggester says: "Some of the
best poetry requires re-read
after re-read to fully understand
and interpret - "Second Sphere"
is one of those poems."
Suggested by reflectionsinwater
Featured by: LadyofGaerdon
:thumb354185846:
bear
by
hazeltown
Suggester: The imagery is
raw and sensuous, but
always reminiscent that
in the end, it will always
be tamed and succumb to pain.
Prose
Suggested by glossolalias
Featured by xlntwtch
Why He Hates Winter
by
jaguaran
Suggester's words: Sharp, sad, honest,
painful...salingeresque in using third
person to convey a story that's too
hard to tell in first. It's a fascinating
piece that doesn't cut corners.
Suggested by: Creativity-Squared
Featured by: SilverInkblot

I Called Your Boyfriend Gay"I called your boyfriend gay and he hit me with his purse." said Chad as Kisha wiped blood off his face and applied a bandage.
"It looks like he hit you with more than just that." she replied, "If I were to guess he punched you twice with his left in the head and struck a right to the gut."
"And this is exactly why you have this job." he smiled taking some gauze to stop the blood pouring out of his nose, "You got it exactly right.  How do you do that?"
"Years of college." she replied examining his chest to see the extent of the damage, "What did you do to get him to hit you like this?"
"I already told you" Chad ran a hand through his hair, "I called him gay and he hit me with his purse."
"I need more than that." she frowned, "And I know for a fact Jeff isn't gay."
"You know how he was dressed up as a woman for his most recent assignment?" Kisha nodded, "I saw him on the way there and thought it would be funny to mess with him so I called him gay.  He hit me with his
I Called Your Boyfriend Gay
by
Xyleena56
Suggester: "This piece takes
a cliched phrase and weaves
an excellent story from it."
For more information, including how to suggest a Deviation
to be featured, please visit us at
DailyLitDeviations
.
Thanks so much for supporting the lit community and this project!
~ The
DailyLitDeviations
Team ~
Prepared by: LadyofGaerdon