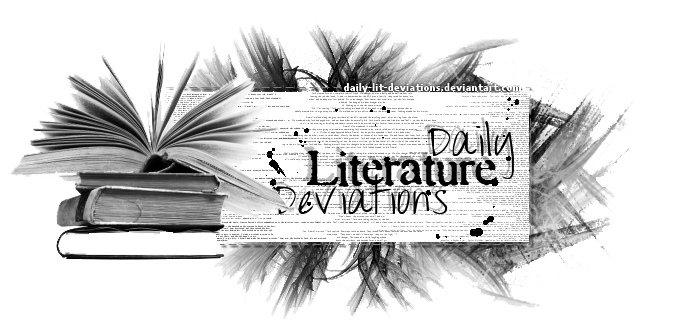 Guidelines
|
How to Suggest a DLD
|
Group Administrators
|
Affiliation
|
Chatroom
|
Current Staff Openings
Daily Lit Deviations for February 10th, 2013
We are proud to feature today's Daily Literature Deviations!

You can show your support by

ing this News Article.
Please comment and

the features and congratulate the artists!

For all of the featured artists:
If you receive a DD for one
of your pieces featured by DLD please note LiliWrites.
We will include you and your piece in a special recognition news article.

Poetry
Featured by: betwixtthepages

PeaceI
have warped
beneath the
sunlight; silent
nightmares steam off my charred and twisted skin.
The vast, velvet sunset is salvation;
It balms the world
with gentle
caress;
peace.
Peace
by
haphazardmelody
This beautifully executed tetractys, written
by haphazardmelody, will make readers think of
peace in a different way. The word choice
is lovely--Peace is definitely worth a read!
Suggested by: betwixtthepages
Featured by: SilverInkblot

cannibalistic cityit will eat your brain first.
you will wait for your coffee in orderly queues.
you will smile at the fake blonde receptionist at the orthodontist.
you will talk to your neighbor about the serious problem the management has with the cat infestation problem and you will agree to write a bitchy letter if something isn't done soon.
then, it will take your limbs.
your arms and legs will disintegrate into a melange of taxis and buses and metros
and your bike tires will go flat and you won't even notice.
your arms and legs will become so weak that you won't be able to hold yourself up anymore.
it will devour your eyes.
it will suck all the colour out of your retinas and leave technicolour dribbles and not give a shit.
it will lick the creative genius who resides behind your eyeballs dry and spit him out on to the pavement to beg for attention.
it will swallow your tongue.
your sharp-edged blade you used to wield will be blunt and your teeth will become a tripwire.
you will forget how to say w
cannibalistic city
by
singmelovesongs
Suggester: "Sometimes, I imagine large cities
must feel a little bit like this piece to those who
are not strictly social, life-in-the-fast-lane creatures:
a sort of soul-sucking, heart-decaying, cannibalistic
fever. singmelovesongs has a grasp of imagery
that will leave readers breathless.
Featured by: spoems

OrnithologyI sometimes imagine us,
Years down the road, sitting
On the patio of a London bistro
Much more sophisticated than we are.
We'll waste the afternoon drinking tea
As impolitely as we can.
We'll chat too loudly about absolutely nothing,
But with such authority the woman one table over—
The one with the ugly scarf,
Because it's always the one with the ugly scarf—
Will mistake you for someone famous.
We'll spend the next hour reminiscing
Youthful conquests, like Cleopatra might,
Or Anne Boleyn.
Then we'll make-believe
Like nothing's wrong with us.
We'll call it a day—
Find a good pub and drink a bottle of gin,
Each—
After watching an English bird glide by
In a sundress, and we remember that
We came here to forget.
We used to call it "hen-hunting,"
This want for a wife,
Back when we had a sporting chance.
Ornithology
by
katiekerr
The poet lightheartedly contemplates a future
where past pleasures have become a lost golden age.
Prose
Featured by doodlerTM

Saving Ladybugs"Lizzie. Lizzie, I think they're here."
At the trilling of her mother's voice, the young girl in question looked up from her ladybugs. She had been watching them flutter with a vitality that decreased with the amount of oxygen in the sealed glass jar. Slowly, the spotted prisoners had drifted downward, coming to a defeated rest at the bottom.
The sounds of a cart wheeling up the path prodded at the windows frosted over with ice. Placing her hand on the glass, Lizzie watched as the white spider webs melted slowly, leaving a hole through which to see. However, before she could wipe her hand on her heavy winter skirts, a single, booming knock sounded at the door.
Her father's footsteps, almost as booming as the knock itself, made their way from the study, through the hallway, down the stairs, and to the front door. She liked to listen to their almost military regularity.
As her father pulled the door open, she crept closer to the entry. A stranger's voi
Saving Ladybugs
by
GuinevereToGwen
A touching story about ladybugs and loss
told through the point-of-view of a child.
Featured by doodlerTM

Firebird The radio was the last thing Gwen packed.
It was an afterthought, an act of impulse. She'd been in the pantry, raiding every scrap of non-perishable food she could get her hands on. She shoved granola bars and bags of pretzels into the folds of the clothing that was already taking up the majority of the space in her beat-up purple backpack. She'd had the backpack since she started Kindergarten. Joel had never cared enough to buy her a new one.
When her bag was bursting at the seams, Gwen jerked the zipper closed, using her knee and the side of the washing machine as a makeshift clamp to hold the bag shut. Just as she tugged the zipper into place, though, a blush of pink caught her eye from behind the dryer. She set the bag down quietly on the stained linoleum and tried to get a better look at the object. It was small, pink, and probably plastic, but tha
Firebird
by
MirandaDay
A short story that is beautifully imagistic,
yet painfully bittersweet in the way it deals
with a hard decision that a character must make.
For more information, including how to suggest a Deviation
to be featured, please visit us at
DailyLitDeviations
.
Thanks so much for supporting the lit community and this project!
~ The
DailyLitDeviations
Team ~
Prepared by: spoems