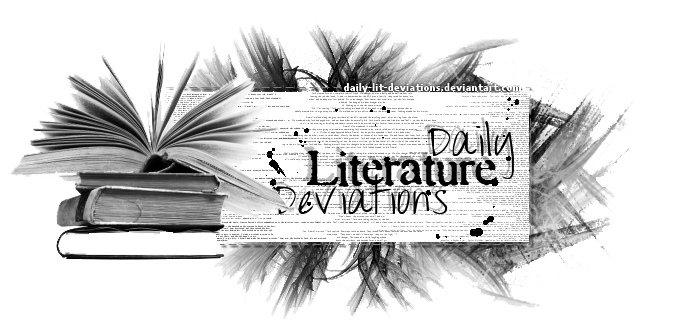 Guidelines
|
How to Suggest a DLD
|
Group Administrators
|
Affiliation
|
Chatroom
|
Current Staff Openings
Daily Lit Deviations for December 9th, 2012
We are proud to feature today's Daily Literature Deviations!

You can show your support by

ing this News Article.
Please comment and

the features and congratulate the artists!

For all of the featured artists:
If you receive a DD for one
of your pieces featured by DLD please note LiliWrites.
We will include you and your piece in a special recognition news article.

Poetry
Suggested by: doodlerTM
Featured by: DrippingWords

DarkcityYou cannot look directly at the ocean
Because the ocean has become the sun:
and it has been three long days
of rubbing you from my eyes like sleep,
the sky until it turns Kahuna blue
but it is only for the voice that's heard behind closed doors,
that we pretend we cannot hear
the things which cannot keep her eyes
from raking shores- to meet
the current strong enough to shift
the space between the islands-
so it is easier to read between the lines,
and harder through you. )
I am almost
too weak for capitals
the certainty of punctuation... is it
because i do not wish for strength
that your pupils widen to transmute
the sound of the highway into current?... i am
certain of nothing except
that you are not .
Are you afraid
to be alive? Will you not
move together the continents with
your convulsions at the ocean floor? Are you
afraid of running out
of breath?
(We will uncover the finale on the fringe of our stiff fingers,
stored in the clammy fumble for the keys; the way the wind will
"Darkcity"
by
hyperfluxy
Suggester says: "A wonderful,
engaging poem about the meshing of
relationships and nature."
Featured by: LadyofGaerdon
:thumb341140309:
The Waitress Faked It
by
MattVoscinar
Rather ingenious,
tongue-in-cheek
use of form make for a
clever and entertaining read.
Prose
Featured by doodlerTM

woolly sweaters in may and the meaning of life.what seems like a million years ago i promised myself that i would discover the meaning of life for you.  that way you'd have to stay alive.  no more dismissing your existence as pointless, i would find that goddamn reason for you to live.  
i went to the library and looked up lots of things.  where to start? i wondered.  the obvious choice lay in the natural world.  i started to read the origin of species.  a few chapters in, i switched my focus to the human mind.  i started reading psychology books, class tutorials, study guides, the basics.  introductions to mental illness.  people, nature.  no luck.  i searched through pages of print outs filled with words i didn't know until the letters swam before my eyes and broke off into separate objects.  scrabble tiles.  science never was my strong point.  
in the back of my notebook i began to record my thoughts.  i coloured in lines and shaded odd shapes that seemed to make sense at the time, labelled them "life," "death," "matter," "consc
woolly sweaters in may and the meaning of life
by
carpefuckingdiem
A heart-felt exploration of life,
the future, and relationships in a
beautiful poetic narrative.
Featured by doodlerTM

The Truth about BirdsHe showed me a painting of a bird. Swift movements, smooth angles; the essence of aerodynamics. He told me that flying is the act of perfection. He told me how birds are freedom itself. He regarded them as delicate, perishable beings that disappear if touched. To him, birds were the ideal that you can only earn towards, but never reach.
"Do you now understand Birds, my child?" he asked me.
"I do. I've always understood them. I've always known the Truth about Birds. You, however, do not. You only see them as a Symbol of the Humans."
Real birds, however, are neither delicate, nor perfect. Real birds are rough and tough. Real birds need strength. Strength to fly, strength to feed their chicks, strength to defend themselves. Even mother cuckoos need strength to lay eggs that exhaust them and could never be cared for in such an exhausted state.
Real birds are dinosaurs. Real birds had feathers and hollow bones and toothed beaks before they could fly. Real birds fight among themselves. They
The Truth about Birds
by
sii-kei
A thought-provoking dialogue
that questions the value of
reality and imagination.
Featured by LiliWrites
Circuits
by
SadisticIceCream
Imagine being capable of thought,
ideas, and emotions but not realizing
your own potential. That is Bobby, a
robot who possesses an A.I. that
outstrips any creative abilities
his creators thought possible.
For more information, including how to suggest a Deviation
to be featured, please visit us at
DailyLitDeviations
.
Thanks so much for supporting the lit community and this project!
~ The
DailyLitDeviations
Team ~
Prepared by: thetaoofchaos