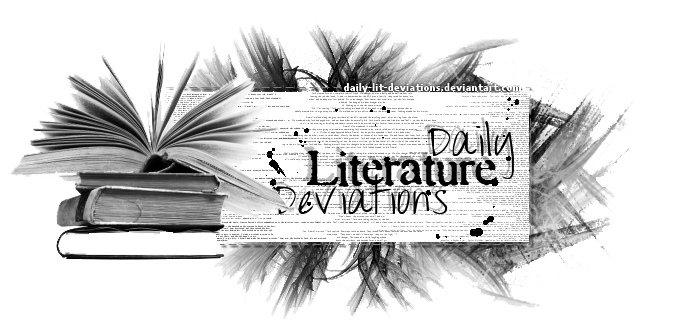 Guidelines
|
How to Suggest a DLD
|
Group Administrators
|
Affiliation
|
Chatroom
|
Current Staff Openings
Daily Lit Deviations for December 6th, 2012
We are proud to feature today's Daily Literature Deviations!

You can show your support by

ing this News Article.
Please comment and

the features and congratulate the artists!

For all of the featured artists:
If you receive a DD for one
of your pieces featured by DLD please note LiliWrites.
We will include you and your piece in a special recognition news article.

Poetry
Suggested by: SurrealCachinnation
Featured by: SilverInkblot

Totems and Godhoodi. As a child, confronting giants.
I take the pine tree as my totem,
learn to love the nakedness of its nether-regions
and its northerly fibers stretched and waiting
for the weft to its warp.
Girlhood is still a part of me as the
learning what I am. In the end,
I haven't climbed a tree in a long time;
I am small, and scared, and ringed round with walls,
and I beg the moon to teach me
to use my pine trees as a ladder.
ii. In the way only young love can.
You, sir—
you are pine chips, and I carry you
like a fetish in my mind.
You are the first vampiric sweetness
to suck the breath from my body:
unknowing, the feeling of yearning;
I am fibrous—celery stalk,
pale and clutching my thread self together.
iii. Transmogrification.
Watch as I petrify,
stretch until my bones
will not bend to let me drink.
With age I become a god,
brittle-boned and cackling; with age
the osteoporosis will leech my fibers dry
and my pine sap blood will freeze in my chest
to keep me warm in winter.
My finge
Totems and Godhood
by
AzizrianDaoXrak
Suggester: "This piece uses many different

aspects and details of one specific image to

discuss four different events, all of which appear

to be connected and significant to the speaker
of the poem, and all of which can be tied
back to the pine tree. I love the fact that
that one image ties the whole thing together
without limiting the poet to one thought"
Suggested by: TheDorsai
Featured by: betwixtthepages

Crayon SoulmatesDear Stars,
I have a bone to pick with you. You see, when I was six, I called myself the nowhere girl... and I coloured myself a soulmate. I made him on crumpled sheets, with broken pieces of crayon, on a playground that was too busy wondering whether growing up entailed stealing their mother's cigarettes and their father's dirty magazines (I suppose I was already wise enough to know that growing up meant choosing one of the many ways of breaking yourself in two.)
I hope you remember him, stars...he was important to me (My best friend threw that drawing away on my seventh birthday and told me that someone like me was not supposed to have such dreams.).
He had hair as ebony as deep onyx and a smile that never grew up (Peter Pan would have been proud).  He was magic in soul form, and smelled like cinnamon and the earth after it has rained. His eyes rivaled a lions on the best of his youth, his words were story shaped. His skin was an ink coloured canvas of wonder and even in crayon
Crayon Soulmates
by
UntamedUnwanted
When we're little, we imagine that
our soul mates will sweep us off our
feet, carry us into the sunset, and
make us happy for the rest of forever.
UntamedUnwanted explores the reality
of soul mates in this beautiful piece.
Featured by: betwixtthepages

dfc 12-6: monotetrai thought i'd write a tongue twister:
one that doles out oral blisters,
has folks begging 'mercy, mister!'...
i just missed 'er, i just missed 'er.
so...that leaves me writing aimless,
monologuing blithe and shameless.
should i be accused of sameness
am i blameless? am i blameless?
dfc 12-6: monotetra
by
deinktvis
This humorous tongue twister,
written for The December Form
Challenge--Day 6, is sure to bring
readers back time and again. deinktvis
executed this form like an expert.
Prose
Suggested by: alapip
Featured by: SilverInkblot

Whale Songs of the PacificListen, the girls swallowed by whales are the ones that grow up lucky.
Listen, no one will warn you about the little boys with the magpie eyes and the fists swinging splinters of glass. No one will warn you that their smiles are sweeter than their words are sweeter than their souls are sweeter than their intentions. No one will warn you of the sheer weight of the world.
Listen, sometimes girls are fragile. Sometimes girls are frothy. Sometimes girls let boys nuzzle "I love you"s into their necks and sometimes girls drink the wine of believing them.
Listen, sometimes the boys really are sweet, and little girls' tart puckered mouths can't taste the difference.
Listen, writers are the ones that drip fishhooks down their throats to coax out their hearts. Writers are the ones who fling those heart-hooks into the sea even if they have a message but not a bottle. Listen, sometimes fish swallow them. Some of those fish sink to the bottom of the ocean with the weight of the world in those heart
Whale Songs of the Pacific
by
Sora-Seraph
From the Suggester:
"she had me 'listen'ing
all the way through."
Suggested by doughboycafe
Featured by xlntwtch
running with the devil
by
glossolalias
Suggester writes: Ooooh, it hurts so good.
This piece takes on difficult topics and
tells us in a gentle, fine way that we're
all human, even with our differences.
For more information, including how to suggest a Deviation
to be featured, please visit us at
DailyLitDeviations
.
Thanks so much for supporting the lit community and this project!
~ The
DailyLitDeviations
Team ~
Prepared by: LadyofGaerdon