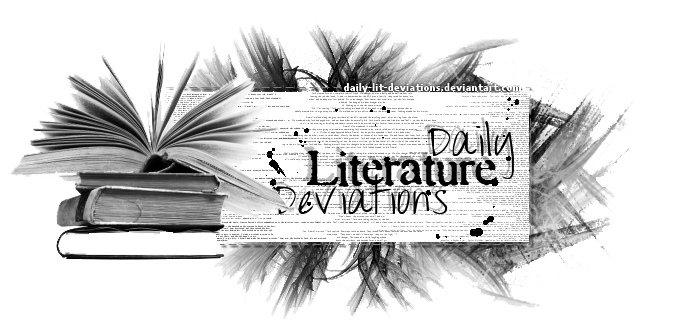 Guidelines
|
How to Suggest a DLD
|
Group Administrators
|
Affiliation
|
Chatroom
|
Current Staff Openings
Daily Lit Deviations for December 5th, 2012
We are proud to feature today's Daily Literature Deviations!

You can show your support by

ing this News Article.
Please comment and

the features and congratulate the artists!

For all of the featured artists:
If you receive a DD for one
of your pieces featured by DLD please note LiliWrites.
We will include you and your piece in a special recognition news article.

Poetry
Suggested by: intricately-ordinary
Featured by: SilverInkblot

AtlantisOur ships float close under sunlit skies,
hovering above Atlantis.
We claimed the ocean miles as our own,
an underwater district which we would call home.
Drown.
Suffocate with Neptune,
as heavens burst through violet haze.
Your gaze,
splits the nebula, infinite space,
and explosions in a faraway place.
And when the sun should close its eyes,
you'll sail afar.
To climb electric vines,
and lay in the arms of the storm.
Atlantis
by
aaronbyrnepoetry
Suggester: "Oceans and space were
never so sweet. In describing the
vastness in the two places we as
humans find inconceivable, this
writer has accurately demonstrated
the ability to find a home in love."
Featured by: betwixtthepages
:thumb339302406:
Honeythief.
by
sickicks
With a subtle metaphor and a
clever play on words, sickicks
leaves readers pondering the
definition of the key word--violated--in
a new and inspiring way. Honeythief.
will put a buzz to your thoughts.
Featured by: betwixtthepages

Dandelion's Lamentthe warm spring wind
gives me life
no one desires to defend;
they call me Weed,
stomping me down
to the level of Crabgrass
and Poison Oak,
although I harm none
with my meager
existence.
I can grant your wishes
as your cold breath
sends shivers down my
stem; I can
thrive on the dream-fields
of children, who still
call me Flower.
Dandelion's Lament
by
SurrealCachinnation
As children, I imagine we all enjoyed
the nursery rhyme about dandelions
and "popping" their heads off at the
end of it. Dandelion's Lament, by
SurrealCachinnation, is a unique
take on what a dandelion would
say if weeds could talk.
Prose
Suggested by: DrippingWords
Featured by: SilverInkblot
The Fox Bride
by
doughboycafe
Said the Suggester: "The characterization
in this story is very well done; it's almost
as if the characters are real people."
Featured by doodlerTM

FrostbittenWinter is her favorite time of the year.
It's beautiful. Silver and blue dance around with one another in a waltz of freezing passion as snow and ice douse the land in a blanket of boreal glamour. Glass windowpanes become easels for falling snowflakes, frost etching into the smooth surfaces in intricate and unique patterns.
Winter has always been her favorite time of the year, and it always will be.
It is not because of Christmas--no, even though she loves the holiday, it is not what sparks her strong fondness for the star-colored blanketing across the land. Her infatuation with the snow and ice and everything cold has to do with something that most people don't truly believe in.
A boy.
A boy whom she met long ago.
She still remembers the day like it was yesterday. Running around in the forest, laughing and tasting the snowflakes as they fell down into her parted lips and melting immediately on her tongue. All bundled up as a precaution, even though the winter has always been kind to h
Frostbitten
by
lupus-astra
Although not a completely original idea,
"Frostbitten" presents a great snapshot
of a girl infatuated with winter, or more
specifically, a personification of winter.
For more information, including how to suggest a Deviation
to be featured, please visit us at
DailyLitDeviations
.
Thanks so much for supporting the lit community and this project!
~ The
DailyLitDeviations
Team ~
Prepared by: LadyofGaerdon