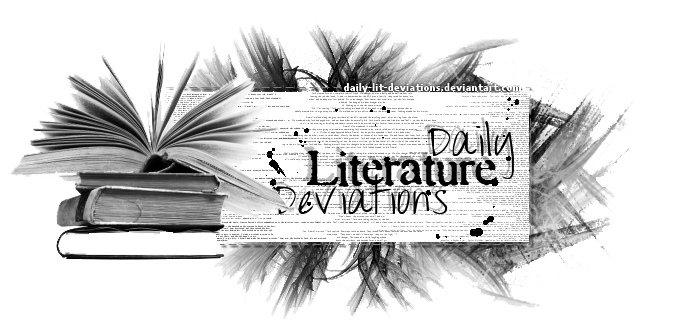 Guidelines
|
How to Suggest a DLD
|
Group Administrators
|
Affiliation
|
Chatroom
|
Current Staff Openings
Daily Lit Deviations for December 31st, 2012
We are proud to feature today's Daily Literature Deviations!

You can show your support by

ing this News Article.
Please comment and

the features and congratulate the artists!

For all of the featured artists:
If you receive a DD for one
of your pieces featured by DLD please note LiliWrites.
We will include you and your piece in a special recognition news article.

Poetry
Featured by: SilverInkblot

MarigoldsI.
She braved the marigold patch
once a week
a decision all claimed was wise
You're lost
this will set things straight
he will be your guide
II.
There was a narrow path
less marigolds grew there
the apartment awaited
at the end of the path
its owner grew to be a friend
Over lemonade
they discussed possibilities
new beginnings
how lovely
how wonderful
it is to trust each other
as friends (except deeper)
as equals (except closer)
against the backdrop
of such a chaotic world
III.
Some weeks later
blinded by the harsh sun
she dared not look down
a hand skimmed her thigh
On her way home
the marigolds burned her eyes
like fire
as an odd feeling swept over
worm-like
it crawled through
It's just the sun in my eyes
just the fog in my head
that made time stop
and voices disappear
IV.
Marigolds again.
She picked one
mindlessly ripping
each petal
Familiar doors opened
his blond hair created a halo
lit just so
smiling
I'm so glad you came
The worms slithered further
fingers crossed
silent prayers w
Marigolds
by
fadingreverie
Very, very subtle. It may take more
than one reading to unearth the story.
Suggested by: xlntwtch
Featured by: betwixtthepages

A Look At The ProcessI wish I could tangle up my words like you do;
create paradoxical, beautiful, undefinable nonsense
with that gleaming hint of meaning,
that contextual truth, the pearl hooded by
words upon words upon words and
wrapped around with soft whispers of nothing
harsh bites of ironic irrelevance
and carefully misleading references no one will ever understand
Alas, my heart dribbles off my sleeve
and lands exactly where it falls;
it beetles across the page,
being what it is
I wish I could look at my poetry -
smile, and go:
"Yes - that is a mystery"
A Look At The Process
by
Meggie272
From the suggester: Like the writer says in Comments, she wrote
"...a poem about writing poems..." though it's unlike some poetry seen here.
This piece is fresh, funny and often true.
Featured by: DrippingWords

Letters to the UnbornMy letters will never be received by you;  
         
you will never be able to hold my hand within yours
nor feel the wind upon your cheeks
touch the reddest roses or
lie snuggled in my arms
                   you will never know my kisses-
                   placed upon chubby cheeks
                   
I lost those moments when I let
someone tell me what to do with my body
whisper lies into my weakened ears
             
             in the dead of night I swear that
             I'll love him like I would have loved you
                      [I know he will never replace you]
                      because in my soul I feel it screaming
                as if I have the blood of you on my hands
[but honestly, I do]
               
you are my darling angel
sent to heaven too early
for my mistake.
"Letters to the Unborn "
by
xMotherMoonx
A heartfelt piece filled with wonderfully sad imagery.
It speaks directly to the soul.
Prose
Featured by doodlerTM

And a Sixpence in her ShoeSomething Old.
The first time we meet I am letting a cat out of my bag and you are skipping rocks and skipping school. At first glance I can tell you are broken, with your tired eyes and quivering smirk, and at second glance I realize you are beautiful.
As the cat runs off, a black streak melting into an oil portrait of the woodsy lake, you notice me and tell me your name. In return I tell you a secret.
Secrets, we soon find out, are the oldest tricks in the book.
After we meet each other we find ourselves together time and time again. At the ice cream parlor, the Cineplex, and the animal rescue center. I am busy picking up more cats to free, you are busy trying to stop me.
By that point our fates are inseparable, our secrets are inseparable, and we are inseparable.
You slip a worn diamond on my finger months later, a blatant promise. I accept it with a kiss, and though you may be broken and I may have compulsive cat-liberation tendencies, we marry weeks later.
Something New.
And A Sixpence in her Shoe
by
Irrelephantlovesyou
Through the thoughts of the narrator and beautiful symbols,
Irrelephantlovesyou weaves a story of heartache and
wondering at real-life circumstances.
Foreign Language
Featured by shebledgreenink

Santa Fe de BogotaSimón Bolívar found you como una Flor de Mayo.
I know that in your swelling city heart
you long por el mar, por la sal del mar,
but instead you straddle the roads,
hunker down over your landscape and breathe
your car fumes, inspiras las fumas como sombras,
espiras tranquilidad inquieta.
Colombia, madre, you have become
bloated in your old age, have grown your
ankles, pálidos e inflamados;
you should have been a sea lion,
morena y rapida y a la cresta como la espuma.
Mi alma, I will bring you the sea salt to run through your hair,
diamonds with which to crown your mane.
Santa Fé de Bogotá
by
AzizrianDaoXrak
This is a brilliant example of the potential of bilingual literature.
I strongly recommend reading this piece out loud.
For more information, including how to suggest a Deviation
to be featured, please visit us at
DailyLitDeviations
.
Thanks so much for supporting the lit community and this project!
~ The
DailyLitDeviations
Team ~
Prepared by: SilverInkblot