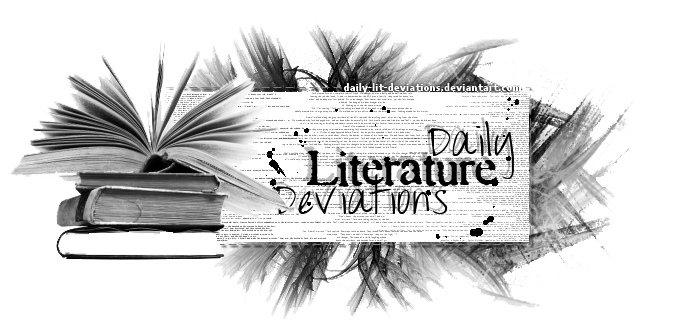 Guidelines
|
How to Suggest a DLD
|
Group Administrators
|
Affiliation
|
Chatroom
|
Current Staff Openings
Daily Lit Deviations for December 2nd, 2012
We are proud to feature today's Daily Literature Deviations!

You can show your support by

ing this News Article.
Please comment and

the features and congratulate the artists!

For all of the featured artists:
If you receive a DD for one
of your pieces featured by DLD please note LiliWrites.
We will include you and your piece in a special recognition news article.

Poetry
Featured by LiliWrites

fumesthe talk
of my
heart
unfurls,
wisps

of smoke


Fumes
by
KaitForest
Good concrete poetry uses an image to reinforce
the content of the poem. KaitForest has done an
excellent job of crafting a sensual, tender love poem
around the image of a candle flame in Fumes.
Featured by spoems

Rebound or TurnaroundFour months ago you worked across the room from me
six hours a day
five days a week
and I thought, "I'd like a man like that."
Except I already had one nothing like you,
and integrity trumps all.
Two weeks ago
it all changed.
Suddenly I was by myself in the bigger picture,
and with you in the smaller one--
across a table for yet another friendly lunch,
another forty minutes of secretly feeling sixteen.
I watched your shy eyes smile in that different way
and wondered if it was moving fast
or just moving closer to home.
Comfortable silences
and real laughter combine
to make unfamiliar deja vu.
I remember this,
or at least remember what I wanted once
before I traded it for what I thought I needed.
You think I'll be sick of you soon.
"Anytime now," you laugh as you kiss my forehead
and I close my eyes so my sense of touch
overtakes everything else.
You don't want what everyone wants,
the quick satisfaction of lust dressed as
a soulmate.
You don't want the lust at all, and
that scares me.
T
Rebound or Turnaround
by
euphoria
The easy, almost conversational facade of
these verses draped over the heavy muse of fear
feels like a metaphor for life itself.
Prose
Featured by xlntwtch
Mellifera
by
pseudometry
A fascinating, near-poetic vignette.
Not much can be written here without ruining
what's revealed to readers.
Featured by doodlerTM

Poker in Purgatory      I once sat around a table in Purgatory with three of the world's most wonderful artists. We played a  game of poker, sipping the finest wine and discussing the means by which we had died.
      Van Gogh spoke solemnly, and with an aire of apathy. I suppose that apathy was appropriate, being that his life had been ended by his own hand. As he folded his hand, he spoke of fits of brilliant madness, unbearable to any human, which both fueled his art and forced the gun to his head. I asked, after a time, if he knew how lovely the world had found his work since he'd died and he said that he did not. "It's amazing how often that happens to an artist," he went on. "Perhaps, then, suicide was for the best." He puzzled, though, over why it was that his death suddenly made his passion into something beautiful and note-worthy. "It's a goddamned shame, sir," he mumbled into his cards, "the way society will torture a man.
      It was disease that took Dali, I found. An awful fit of pneumonia
Poker in Purgatory
by
Weird-and-proud-LOL
Ever wondered what it might be like to play
poker with Van Gogh, Oscar Wilde and Salvador Dali?
Me neither, but this story by Weird-and-proud-LOL
gives a glimpse of what it could be like.
Foreign Language
featured by Exnihilo-nihil
Les vertiges sylvains - Chant d'Automne
by
Stolvezen
A beautiful visual poetry about
autumn and the rainy days. Image by
the poetess herself.
For more information, including how to suggest a Deviation
to be featured, please visit us at
DailyLitDeviations
.
Thanks so much for supporting the lit community and this project!
~ The
DailyLitDeviations
Team ~
Prepared by: spoems