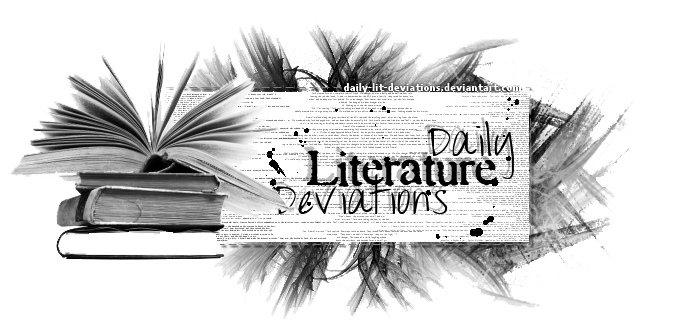 Guidelines
|
How to Suggest a DLD
|
Group Administrators
|
Affiliation
|
Chatroom
|
Current Staff Openings
Daily Lit Deviations for December 29th, 2012
We are proud to feature today's Daily Literature Deviations!
You can show your support by

ing this News Article.
Please comment and

the features and congratulate the artists!

For all of the featured artists:
If you receive a DD for one


of your pieces featured by DLD please note

LiliWrites

.
We will include you and your piece in a special recognition news article.

Poetry
Suggested by alapip
Featured by: spoems
:thumb344096227:
Living Sacraments
by
MaggiexMalarkey
Per the suggester: "This one is not at all a new subject,
but strikes me as a beautiful treatment."
Suggested by: Vigilo
Featured by: Carmalain7

Jazz   is
the rustle
of sheets
when you
drag them
back onto
the bed;
   is
the way
dust trips
the dark
fantastic on
velvet stretched
into more
than blue;
   is
thick marrow
soured with
acid reflux,
a raging
waveless ocean
turned to
wine with
the twilight.
And tremors...
And tremors.
Jazz
by
AMWeitz
Suggester: 'The first stanza is pitch perfect.'
Prose
Suggested by Creativity-Squared
Featured by doodlerTM

The Finest Casket (Complete Story)The chandlers, grocers, butchers, clothiers, and every other merchant in Chantsville was yelling in the streets outside the shop where I was studiously working. Their ruckus combined with the bleats and squawks of livestock wandering underfoot, creating a bustling racket that would drive the unfamiliar ear to distraction.
I was used to the noise, however, and I was so engrossed in my work that I would have sworn the world was silent save for the sound of my chisel biting into the cedar box before me. Delicate curls fell from my worktable, collecting in small drifts upon the dirt floor.
I stopped to wipe sweat from my face. The pause gave me a moment to step back and survey my work.
Yes, the casket was coming along beautifully. I had mitered the joints meticulously. I had planed it smooth as glass before tracing out the panels on each side. I had spent days, chisel in hand, carving the scenes into the wood, and the entire workshop smelled strongly of cedar.
It was almost done, and the c
The Finest Casket
by
Roskvape
From the suggester: "This story not only illicits multiple emotions from the reader,
but also leaves the reader with an excellent shock from a plot twist."
Featured by xlntwtch
Condensate
by
apothacary
A very brief, well-written piece that shows the limits and expansions of love.
Foreign Language
Featured by shebledgreenink

DecembreTout a changé depuis la neige
Paysage vaporé
Forêt d'arbres morcelés
Ciel d'ombres
Lac gelé.
Traces de pas, blanc sur rouge, rouge sur blanc
Un enfant glisse en chantant.
Tout a changé depuis Décembre
Qu'il est pâle, notre amour
Comme il sombre.
Et tout se vêt de décombres
Frêle décembre, décembre tombe
Froid aux yeux, buée
Tout a changé.
Dans la neige étendus nous riions
Heureux éclaboussés
Dans la neige nous riions
Puis tu t'en es allé
Blanc sur rouge, rouge sur blanc
Un enfant glisse en chantant.
Décembre
by
EloreCohlt
A poem about change that remains as emotionally distant as change itself.
For more information, including how to suggest a Deviation
to be featured, please visit us at
DailyLitDeviations
.
Thanks so much for supporting the lit community and this project!
~ The
DailyLitDeviations
Team ~
Prepared by: SilverInkblot