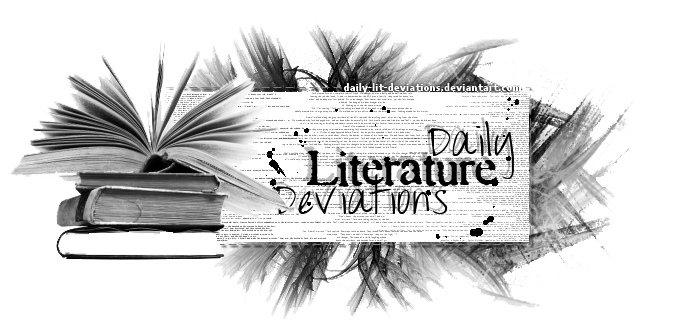 Guidelines
|
How to Suggest a DLD
|
Group Administrators
|
Affiliation
|
Chatroom
|
Current Staff Openings
Daily Lit Deviations for December 27th , 2013
We are proud to feature today's Daily Literature Deviations!

You can show your support by

ing this News Article.
Please comment and

the features and congratulate the artists!

For all of the featured artists:
If you receive a DD for one
of your pieces featured by DLD please note spoems.
We will include you and your piece in a special recognition news article.

Poetry
Featured by: SilverInkblot

GOD DELIVERS PIZZAToday God is a pizza delivery boy,
You call him to place an order,
You want this but not that,
And expect it to be hand delivered.
Today God is a hired assassin,
You live in fear of his wrath,
But quick to call upon his services,
To strike down your enemies.
Today God is a street hooker,
You want all your desires fulfilled,
And in the moment of passion you love,
But then you turn away in disgust.
Today God is a servant boy,
Like a slave at your command,
You want everything done for you,
But will do nothing for him.
Today God is a cleaner,
He scrubs your polluted home,
But you smear dirt on the walls,
And place the blame on him.
Today God is God,
You could ask for truth and love,
But instead you want pizza,
And definitely no olives.
GOD DELIVERS PIZZA
by
UtopianWhisper
An interesting look at the what people
ask for and what they actually want and need.
Suggested by: hypermagical
Featured by: DrippingWords

Star-crossedYou woke up on
the wrong side of
a cosmic bed
A pillow of
nebulae,
crushed
under your head
Meteorites
are all the tears
which you have shed
Your ring finger
is Saturn,
yet
remains unwed
Forever lost
in outer space
among a dreamed
starry array
Your light shines bright
lightyears away
but not enough
to seize the day
Star-crossed
and vaccum-cleaned,
sleep-tossed
and solar-weaned
Let your love be
a tesseract-
then I'll wish to
become Titan.
Star-crossed
by
goldshroom
A piece that is brilliantly written, and
has touching imagery that makes it stand out.
Suggested by: Bark
Featured by: betwixtthepages
<da:thumb id="419622503"/>
You Mystify Me
by
chewyraezen
From the suggester: The line "... you bend
and fold my origami heart..." says it all.
Prose
Featured by doodlerTM

Nietzsche Contemplates the Meaning of ChristmasNietzsche eyed the gaudy Christmas decorations. The pressure of providing all the people he knew with gifts weighed heavily and he once more wondered what the point of it all was.
Around him were people like him, shopping for Christmas gifts to show the people they knew they cared about them. But unlike him, they were constantly in motion, shoving against each other, searching and purchasing. The shopping mall was filled and Nietzsche felt he was the only one not caught in the fervor of Christmas.
He stepped outside to the parking lot to properly monologue.
"What is the point?" Nietzsche wondered to himself out loud. "What is the meaning of all this? Surely, Christmas is more than about its presents?"
"You're right," a voice behind Nietzsche said.
Nietzsche whirled around in surprise. "Jesus Christ!"
"That's right," Jesus Christ said, wearing a resplendent white robe. "Christmas is more than presents. Look at the word 'Christmas'. It has 'Christ' in it. Christmas is about me."
"Hold it
Nietzsche Contemplates the Meaning of Christmas
by
Vocable
A wacky, contemplative, and just fantastic piece
of literature featuring Jesus, Nietzsche, and Santa Claus.
Featured by: Gingersanps
Suggested by: MagicalJoey

He Comes with the RainRain slides down Yesteryear Antiques' cheap stained-glass windows in lazy swirls and spirals. Tracking a drop with narrowed green eyes, Shay wrinkles her nose and steps around a haphazard stack of Life magazines. A sheaf of her thick auburn hair falls across the right half of her face. Pulling a hair tie from her wrist, she scoops the locks into a messy bun. The lights flicker, thunder rumbling. Shay glances again at the rain's path on the windows. Turning to a set of dresser drawers, she rifles through pens, paper clips, and crayola markers. A wad of teal tissue paper crinkles under her fingers and Shay pulls it from the drawer, unwrapping its contents. A pair of hand-carved bamboo chopsticks, topped with snarling dragons, roll onto her palm. She pokes them through her bun before diving back into the drawer.
"I could have sworn there was a--" A flashlight skips across the debris and Shay snatches it up. Grinning, she clicks the button. Clicks it again. Frustrated, her grin fading, she
He Comes with the Rain
by
betwixtthepages
A well written short story that really
captures the reader's attention.
For more information, including how to suggest a Deviation
to be featured, please visit us at
DailyLitDeviations
.
Thanks so much for supporting the lit community and this project!
~ The
DailyLitDeviations
Team ~
Prepared by: DrippingWords