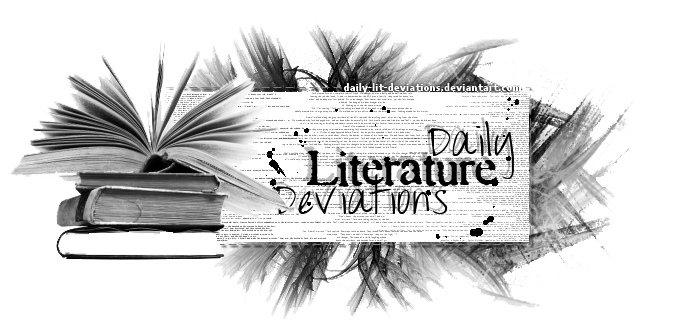 Guidelines
|
How to Suggest a DLD
|
Group Administrators
|
Affiliation
|
Chatroom
|
Current Staff Openings
Daily Lit Deviations for December 27th, 2012
We are proud to feature today's Daily Literature Deviations!

You can show your support by

ing this News Article.
Please comment and

the features and congratulate the artists!

For all of the featured artists:
If you receive a DD for one
of your pieces featured by DLD please note LiliWrites.
We will include you and your piece in a special recognition news article.

Poetry
Featured by: betwixtthepages
Human Trafficking
by
Christianonfire7
This emotionally charged piece by
Christianonfire7 sheds light on a
sensitive subject that many shy
away from talking about. Human
Trafficking will leave you feeling just
as broken as the bartered bodies.
Suggested by: doodlerTM
Featured by: DrippingWords

everything to feari sat alone with the turntable on,
speakers releasing a forgotten song
while rain hit the windows
as if to sing meekly along.
the cat wailed from a faraway place
and trotted all through the house
just to lay by my side.
the record came to an end
as the storm grew fierce
and the needle clicked as it continued
to spin. i raised my hand to my mouth
and pretended to smoke, pressed a finger
to my wrist and pretended to slice,
but i'm no good as an actress
so it didn't quite do the trick.
rain lashed at the windows
and as lightning broke apart the sky,
i felt there was everything to fear.
"everything to fear"
by
bringyourownbomb
Suggester says: "An poem that
paints a picture with subtle
things hiding in the background."
Suggested by: doodlerTM
Featured by: DrippingWords

vices.there's hell in your eyes, painting them black cesspits that could eat away the stars.
you tell me you need out of your head. the moon pulls higher in the sky, quietly marking the hour. our feet hang over empty air, the tracks below an open casket. you inhale nicotine and exhale burning buildings. smoke curls like fingers into the body of the night.
we're breaking like an ocean. eggshells on pavement.
i can't hold you together,
so you down handfuls of little white pills like peppermint candies.
like if you just keep swallowing, they'll whitewash the walls of your ribcage and purge your dirty heart.
you drink like you're always thirsty,
like you've found the antidote to forgetting.
instead, i hold matches to the dry tinder of my parchment skin to see if it catches fire
to burn down the gosttown of all the things i can't forget.
i dig trenches in my skin to leak out poison pulsing in my veins and the dirty swingset in my bones.
we both have memories we can't kill.
the black in our
"vices."
by
arabesque-o
Suggester says: "A poem powered
by vivid, stunning imagery that
examines the futility and value of life."
Prose
Featured by xlntwtch

Christmas ShoppingThe end of the year was coming up, and Miss Y was busy making holiday plans – the most important of which was her week long shopping spree, each year just a little more wastefully extravagant than the last.  Because of this, it didn't surprise me when we pulled up to the address she gave me.  The building looked familiar, though I couldn't place it, but it was ornately decorated enough to pass for one of Miss Y's vacation houses.  Hell, maybe it was one of Miss Y's vacation houses.  She had so many she forgot about some of them from time to time.
Pulling the car into the garage, I helped Miss Y out the back, half out of accustomed courtesy, half because she couldn't exactly stand up by herself.  Miss Y's Christmas Countdown came with new additions to the program every year.  This time, she decided that she'd dress more extravagantly each day.  Today she was wearing for t
Christmas Shopping
by
AnonDesu
This very good vignette shows readers
how things can get odd, even mortally
dangerous, while escorting certain fictional
characters while they shop for Christmas.
Featured by doodlerTM
29
by
GalaxyGoddess
A breath-taking story that
establishes an edgy plot almost
entirely through dialogue.
For more information, including how to suggest a Deviation
to be featured, please visit us at
DailyLitDeviations
.
Thanks so much for supporting the lit community and this project!
~ The
DailyLitDeviations
Team ~
Prepared by: LadyofGaerdon