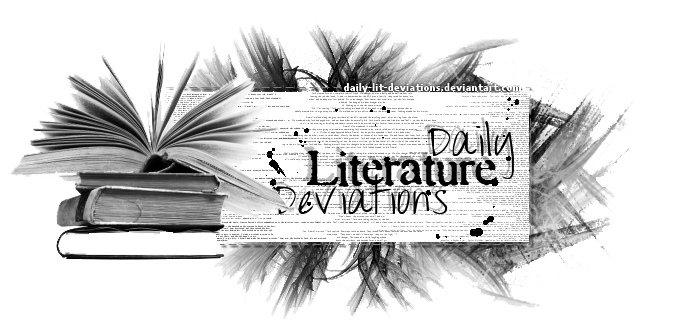 Guidelines
|
How to Suggest a DLD
|
Group Administrators
|
Affiliation
|
Chatroom
|
Current Staff Openings
Daily Lit Deviations for December 13th, 2012
We are proud to feature today's Daily Literature Deviations!

You can show your support by

ing this News Article.
Please comment and

the features and congratulate the artists!

For all of the featured artists:
If you receive a DD for one
of your pieces featured by DLD please note LiliWrites.
We will include you and your piece in a special recognition news article.

Poetry
Featured by: spoems
Smoking Out Another Story - Found Poetry
by
Flutingspirit
Gorgeous arrangement
with a wry edge.
Featured by: betwixtthepages
:thumb338602089:
The railway children
by
iamalazycapricorn
Reminiscent of Emily Dickinson's
Because I Could Not Stop for Death,


iamalazycapricorn

explores the ideas of
forever and transcendent loves in this piece.
Suggested by: Parsat
Featured by: LadyofGaerdon

Overwhelmed1.
Tears stream down your face
like holy water, searing skin,
blessed by old, forgotten truths
and cheeks of rosy porcelain.
Solitary thoughts stand out,
like winter's barren trees.
Tainted with corruption by
the cyst of your deficiencies
and the tumor of your discontents,
(I don't care to excise them by name.)
Sarcoma to sarcophagus,
they're buried much the same.
For what you cannot bear to say
is swallowed by the dark
and swampy waters of your soul,
ignored, to leave their mark.
2.
Tears crowd in your eyes and threaten
quick to stain your cheek.
Pure emotion, unresolved,
exhausts your will to speak.
Serene smile lifts the hopes
of those who stand beside you.
Happiness that knows no bounds,
at last explodes inside you.
The corners of your starry eyes
lend proof to outward signs
of joy that comes in rivulets
and leaves in salty lines.
No matter what the reason be
that cause your eyes to swell,
there is a sacredness in tears
that each of us know well.
Overwhelmed
by
MozartsNemesis
A wondrous blend of
emotion and imagery,
allusion and illusion.
Prose
Suggested by Eremitik
Featured by xlntwtch

Drinking in The AfterlifeFor someone who had killed herself, she was awfully cheerful. She was sitting at a small, one-person table in the corner of the pub, twiddling her hair and giggling. There was a bottle of beer on the tabletop. If I hadn't known that it was untouched, I would have thought she was drunk.
"Something amusing?" I asked, having walked up to her.
She jumped and looked towards me, her eyes finding mine. She smiled somewhat sheepishly. She was such a pretty girl. Why she'd killed herself, I couldn't imagine.
"I just can't believe this," she said. "Who'd have thought there'd be pubs in the afterlife?"
I nodded in understanding. "Indeed."
She tucked a strand of hair behind her ear, then reached out and touched her beer. She picked it up, then set it back down. "I was worried there for a while," she mused. "Suicide being a mortal sin and all. Thought I'd end up in a lake of fire or something."
"If you don't mind my asking," I said, "why did you take your own life? If memory serves me right, you ha
Drinking in the Afterlife
by
TheEmptyChest
Suggester said: This is solid and
decent story telling with bits of
the unexpected in it. I agree.
Suggested by violetense
Featured by doodlerTM

She reminds you of the wishesIt's not so much that she wants to run away. She just wishes she could feel better -- no, she could be better -- in a place which isn't here. Wherever 'here' is anyway. It's always the wrong place.
She's afraid of the sky. And when you asked her why, she said,
"it just looks so heavy. I'm afraid that one day it will fall
down on me
and crush
me."
You could never figure out what she stared at
when she propped her pretty bony elbows on that white windowsill (the paint was chipped but she said that only made it more beautiful, more like home, even though she never quite understood what that word meant) and stayed that way for hours
on end, ignoring the clock
and her surroundings. It was like she had faded out
into a world of her own. And then one day you figured out that she wasn't looking up at that dreaded sky or down at the ground which was too solid for her tastes. She always had this feeling that it would swallow her whole if she let her guard down, and early on already, you w
She reminds you of the wishes
by
towards-eternity
According to the suggester, this is
"one of the most subtly heartbreaking
pieces (they've) ever read," and
TowardsEternity really does manage
to artfully craft a story of desire with
She reminds you of the wishes."
For more information, including how to suggest a Deviation
to be featured, please visit us at
DailyLitDeviations
.
Thanks so much for supporting the lit community and this project!
~ The
DailyLitDeviations
Team ~
Prepared by: LadyofGaerdon