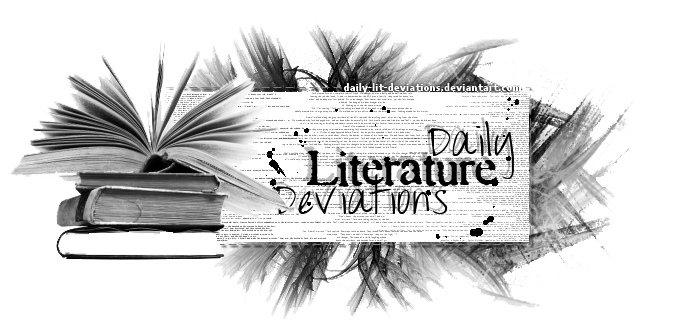 Guidelines
|
How to Suggest a DLD
|
Group Administrators
|
Affiliation
|
Chatroom
|
Current Staff Openings
Daily Lit Deviations for December 12th, 2012
We are proud to feature today's Daily Literature Deviations!

You can show your support by

ing this News Article.
Please comment and

the features and congratulate the artists!

For all of the featured artists:
If you receive a DD for one
of your pieces featured by DLD please note `Kneeling-Glory.
We will include you and your piece in a special recognition news article.

Poetry
Featured by: =LadyofGaerdon

WinterHer cold hands trace the lands spreading pallor;
In their wake, antique lace of crystal ice-
Scrimshaw tracery of pale frost flowers;
Tears a fickle flurry from fragile skies-

But bitter is her wintered breath the wind,
And ghostly the sound of its satin sighs;
Blue-veined deep the frozen lake of her skin;
Her voice a swansong of icicle lies-

Skeletal spine studded with evergreen-
The sheen of her shimmering white-wove veil
Crowned with holly bush and poinsettia leaf;
Her eyes drowning blue, her skin ghostly pale.
Winter
by ~
UltimateOutlaw
A veritable winter feast
of image, flow and rhythm.
Suggested by: *doodlerTM
Featured by: =DrippingWords

acousticyour soul is an acoustic
black and white picture
movie reel
captive sunlight
never yielding to release
giving shadows a new taste
of elegance, quiescent
the tranquil luminescence
that can trap a heart
in the photographic emulsion
or celluloid undertow
of slow motion
just as flammable
as a subtle combustion
kindling a rustic tongue
to move a languid expulsion
ladened with sorrows
carried like crystal shards
in a humble sun catcher
hung above a familiar window
prizing inconsequential matter
into flecks of golden dust
reminiscent of
beauty and
love~
"acoustic"
by *
lantern-rose
Suggester says: "A breathless
(and breathtaking) poem rich
with wonderful descriptive words."
Featured by: *Carmalain7

fishing for hearts with lace and not nettingtake one - in which burned bread is beautiful

They're crumbs in the road, toast-speckles that spin and skirt and we
     drive past, like we always do, the radio          singing
white noise against my black humor and you say
   you say I'm getting better, and I think no, I am better
I am better, I say and you say        no
and I say
yes,
I'm fucking exemplary
and you ask who Exemplary is and I tell you it's me and I think
    somewhere                we got lost in the words
And I'm not all that keen on admitting to you that sure thing, dad,
    I'm fucking myself
over
and over
            but mostly I'm just fucking myself o
fishing for hearts with lace and not netting
by ~
wish-sticks
An impending storm
and the proceeding torrent
of the human condition.
Prose
Featured by *doodlerTM

The Doctor

"Doctor?" I questioned uneasily. The figures and faces around me nodded, shifting around unsettlingly as if staying still was too much work for them

"I don't need a Doctor, I'm fine." I had no desire to see the Doctor. Even the title sent shivers down my spine.

"We know dear, but we were thinking that some people mature faster than others, and that maybe you should see the Doctor earlier," one of the figures said. I couldn't even see them, for I was seated in a hard chair that dug into my back while everyone else was crowed around me. Their like faces and similar statures all began to blur into one solid black surrounding of grey and more g
The Doctor
by =
Oilux
A fast-paced, gripping sci-fi thriller
about a dystopian world and a girl
who has an opportunity to learn
about the system that binds her.
Featured by *xlntwtch

Smoky Screen Sabitra loved Sanu, Sanu loved Sabitra, they loved each other. The school was made up of bricks and stones which were twice older than they, furniture was now cratered by termites, the wooden mullions of wooden windows were not all horizontal, the blackboard was cracked at places, the walls and benches were all scribbled with this + that, this loves that, and the metallic tin ─ rusted. But not a thing mattered to them, whoever entered in the class with whatever powered glasses and whatsoever they prattled, they didn't care, because Sabitra loved Sanu, Sanu loved Sabitra, they loved each other. Sabitra, with her head on her pal
Smoky Screen
by *
TheChemistryofGrief
A terrific look at young love

in another part of the world,

unless you live there. Subterfuge,

youth and love may or may not

overcome the caste system present there.
For more information, including how to suggest a Deviation
to be featured, please visit us at =
DailyLitDeviations
.
Thanks so much for supporting the lit community and this project!
~ The =
DailyLitDeviations
Team ~
Prepared by: =LadyofGaerdon