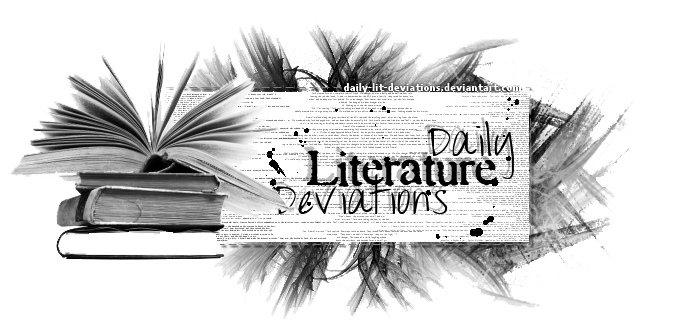 Guidelines
|
How to Suggest a DLD
|
Group Administrators
|
Affiliation
|
Chatroom
|
Current Staff Openings
Daily Lit Deviations for December 4th, 2011
We are proud to feature today's Daily Literature Deviations!

You can show your support by

ing this News Article.
Please comment and

the features and congratulate the artists!

For all of the featured artists:
If you receive a DD for one
of your pieces featured by DLD please note damina.
We will include you and your piece in a special recognition news article.

Poetry
Featured by: LadyofGaerdon

DecemberMy hands are
black with soot
and shiny with grease;
the embers lie low.
The air grew teeth.
We sit alone
in our separate dreams
and entertain the shade
of what was lost.
Our fingers will twitch
with phantom pain-
our mouths will run dry.
Everything I am,
outweighed, overcome
by a fistful of
words with teeth;
as heavy as gold,
as poison as lead,
and I can't write poetry
because I said I would
leave you alone
and you never leave the lines-
you are there between them,
every one.
"December"
by
riparii
Contained within the
lines of this evocative work
is an understated catharsis -
a living, breathing personification
of the month itself.
Featured by angelStained

work in progressI. you are no flame
I am no firefighter:
feet like sunken pavement,
shoulders draped with bags of
flesh,
people
like dominoes
or lumps of coal
milk and cookies by the stove
II. I slept on the floor last night
couldn't sleep through the
storm -- found solace only in
five-minute dreams
bottoming out like the rain
gutterballing down the windows,
lightning wrenching its way
though my eyelids, thunder
echoing in my joints,
crunching with every toss and turn
on the carpet, every house-shaking
wake-up call a reminder
I am not happy
III. self-diagnosis
I used to blink like a martyr,
make up disorders with names I couldn't pronounce,
hide my ideas in my head and grind my teeth
into the concrete
now I only see
the back end of daylight, with
real disorders I still can't pronounce and
keep all my ideas
carefully hidden in the trash
but I can still taste it with my eyes closed
IV. my mother
my mother has always been
a better liar than me
and I can see it, finally,
in the way her teeth
clench
into a
work in progress
by
poetic
poetic ventures back
into poetry with powerful,
intriguing ideas-- and they are
but glimpses of more yet to come.
Prose
Featured by shebledgreenink

Perseus 2: Perseus has BreakfastI made my way down the mountain in crisp morning sunlight, staggering a bit.  I felt weak but deliriously happy; I may have even sung a little.
It was a short trek to the first signs of civilization.  I'm sure people stared but at least they were polite about it: it's not every day a half-naked skeleton of a man bearing a black-diamond sword strides into town.  But frankly I only had one thing on my mind.
I found the inn easily enough, remembered it from my last journey through.  It wasn't open yet but that didn't stop me.  I parked my tired bones on a bench outside, propped the adamantine sword beside me and watched the world for a time.  It was a good day to be alive.
The proprietor found me soon enough.
"Your name wouldn't be Perseus, would it?"
I opened my eyes.  Apparently I'd dozed off in the warm sunshine.  I studied the woman before me, plainly dressed in a coarse-weave peplos.  She was yo
Perseus has Breakfast
by
RalfMaximus
Quick and whimsical, with
just the right amount of clash
between millennia.
Featured by shebledgreenink

Death's Favorite ColorPart one - Bedtime story
"Because it's custom," she said. She wore black, I wore black. "Everyone wears black at funerals. Black is death's favorite color, so we wear it as a sign of respect."
Grandpa slept. The priest told him a bedtime story. The priest wore black, grandpa wore black.
Part two - Cross examination
She wore white, I wore black. "It's to keep me safe," she said. "The doctors give us white to wear so we stay invisible to death."
Part three - Fairy tale
"It's like a play," she whispered. She wore white, I wore black. "The women play life, the men play death. The two in the middle join together, like life and death at the beginning of time." She was on drugs.
Part four - Eulogy
My mother was buried in her wedding gown.
"She told me once that black is death's favorite color." I sat back down. I wore orange.
A woman behind me whispered.
"How disrespectful."
Death's Favorite Color
by
cosmicpenguin
On the first read, innocent
and humorous. On the second read,
profound and touching.
Featured by: SilverInkblot

Free Hugs
(Lights up on a modest kitchen. MAN and WOMAN are standing, facing each other.)WOMAN
(shouting) Free hugs! Free hugs! Free hugs!
MAN
Do I get one?
WOMAN
Do you get one what?
MAN
Am I misunderstanding something?
WOMAN
I should think that my message is quite clear, being comprised of only two words, one syllable apiece.
MAN
Free hugs?
WOMAN
Yes. (shouting) Free hugs! Free hugs! Free hugs!
MAN
So, can I have one?
WOMAN
I thought you were on board, already, that you understood what I'm saying here. What's the problem? What is this "one" you want?
MAN
I want one of what you're offering.
WOMAN
What am I offering? I'm standing here, shouting (shouting) "Free hugs! Free hugs! Free hugs!" What could I possibly be offering?
MAN
You're offering free hugs, aren't you?
WOMAN
Offering?
MAN
Yes.
WOMAN
More like demanding.
MAN
Demanding?
WOMAN
That they free hugs.
MAN
That they free hugs?
WOMAN
Yes. Hugs doesn't deserve this. Hugs deserves freedom. Hugs is as good and as innoce
Free Hugs
by
Same-side
It took me a moment to
understand the wordplay going
on, but when I did, the realization
made me chuckle.
For more information, including how to suggest a Deviation
to be featured, please visit us at
DailyLitDeviations
.
Thanks so much for supporting the lit community and this project!
~ The
DailyLitDeviations
Team ~
Prepared by: spoems