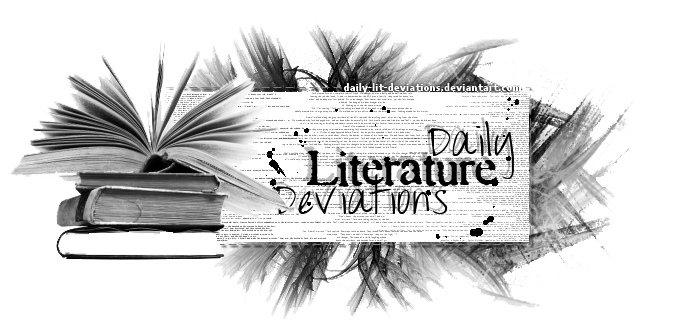 Guidelines
|
How to Suggest a DLD
|
Group Administrators
|
Affiliation
|
Chatroom
|
Current Staff Openings
Daily Lit Deviations for December 30th, 2012
We are proud to feature today's Daily Literature Deviations!

You can show your support by

ing this News Article.
Please comment and

the features and congratulate the artists!

For all of the featured artists:
If you receive a DD for one
of your pieces featured by DLD please note LiliWrites.
We will include you and your piece in a special recognition news article.

Poetry
Suggested by: Nichrysalis
Featured by: betwixtthepages

Angles of SeparationI was born at right angles to the earth
your houses are inscrutable
I stand on the shores of my heart
perched like aliens in a spaceship
who think mirrors are photographs of someone else.
My lips are bitter-tainted
from eating discarded fruits
I need someone to see my hands
waiting like constellations
and grab them through the clouds
to see that this universe is made of stories
so I can finally stand up
and live parallel.
Angles of Separation
by
moon-electric-lives
From the suggester: A truly outstanding finish
to a poem that begins with a bang.
Featured by: spoems
:thumb339840084:
Hemispheres, Part I
by
Muragaragah
The marvelous arrangement of setting and action
are sung to the reader with superior aesthetics.
Prose
Featured by doodlerTM

PhotographSix year old Rose decided that today would be the day she asked her grandmother about the painting.
It always held her interest, magic upon a canvas. Perhaps it was the rich colors that shimmered under the perfect lighting. It could have been the girl captured within the painting. Maybe it was all of those things, but she had an idea on what it truly was—the eyes.
They were created by the tip of a brush, but carried more life than anything she had ever seen. Color of ice blue, they carried familiarity, warming the inside of her chest. The more she stared, the stronger it felt.
Rose entered her grandmother's living room to see her standing motionless below the giant painting, which stretched over four feet on the wall. Every day Rose spent the afternoon over here, her grandmother would stare at that painting, not a single world falling past her wrinkled lips.
Rose tugged on her grandmother's sleeve and asked," Grandma, how come you look at that painting every day?"
Her grandmother looke
Photograph
by
dwkeiko
A heartwarming flash fiction piece about
different interpretations of love and beauty.
Suggested by spoems
Featured by doodlerTM

The Universe on a Ceiling (For a Daddy)Once upon a time, that girl over there asked her daddy to paint the universe on her ceiling.
"I want the stars and the planets," she said, "Sirius and Andromeda and a supermassive black hole. Maybe some dark matter to lurk in the corners, or a quasar star instead of my kitty nightlight."
Her father went outside with a bucket and a ladder spun from sunlight, harvest at dusk, just as the sun slinks beneath the horizon. Her
father set the ladder on the hill behind the house, climbed up, and he wrung the universe from the sky.
He wrung out the stars and the planets, Sirius and Andromeda and a supermassive black hole, or maybe two. He wrung out the dark matter and the quasar nightlight. He even harvested a comet to line the hallway with, so his daughter would have sure footing when wandering at night.
Then he folded up the ladder and went back inside the house, the bucket of the universe thumping at his leg. He went to garage and found giant rollers, a tarp and a pan, and he went to his dau
The Universe on a Ceiling (For a Daddy)
by
WildWolfMoon94
From the suggester: "This is such a sweet
little scene to honor one's father."
Featured by LiliWrites

Our Hopes And ExpectationsExpectations
The Evening haze has gently cuddled the city in its warm embrace. Tall lamp posts are shining brightly, spreading crystal clear light all over the street as if hundreds of miniature suns are hanged from the steel polls.
He pulls over and stops the car. The light flows through the windshield and lights the interior revealing his phone lying next to him. He looks at it for some time, his thoughts wandering thousands of miles away from that place. Suddenly, in one confident movement he picks it up and presses the compose a new message button. In a few seconds he types the message and after hesitating for a moment, presses the send button:


- How are you?


Soon the phone vibrates:




- Fine.
In an instant, after reading that one word, a wave of regret crushes him; he feels how stupid this spontaneous idea was. Chaotically he begins searching
Our Hopes and Expectations
by
Vainamoinenian
The author creates a vivid sense of hope
for forgiveness and reparation in this short
vignette that ultimately leaves the reader
and the character wondering.
For more information, including how to suggest a Deviation
to be featured, please visit us at
DailyLitDeviations
.
Thanks so much for supporting the lit community and this project!
~ The
DailyLitDeviations
Team ~
Prepared by: spoems