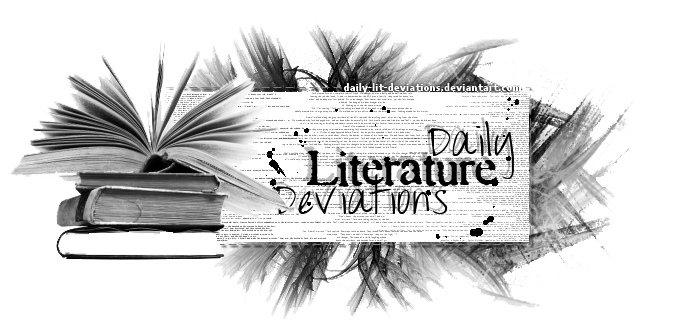 Guidelines
|
How to Suggest a DLD
|
Group Administrators
|
Affiliation
|
Chatroom
|
Current Staff Openings
Daily Lit Deviations for December 29th, 2011
We are proud to feature today's Daily Literature Deviations!

You can show your support by

ing this News Article.
Please comment and

the features and congratulate the artists!

For all of the featured artists:
If you receive a DD for one
of your pieces featured by DLD please note damina.
We will include you and your piece in a special recognition news article.

Poetry
Suggested by CrumpetsHarvey
Featured by angelStained

Of Half-Filled WordsShe is not a flutterbird.
Her fingers are skittish,
her smile is not.
Do not fear that you will
drive it away.
Sadness is her fumbling limb.
It is unwanted, yet
necessary.
When it is January
she will tell you,
"I am still struggling.
And I am becoming so many people
all at once.
A conglomeration of beauty that
I have managed to mangle.
Please, do not be sad for me."
Sometimes her sorrow is
meant for you. But mostly her.
Those specks and spots
of ocean storm lulls
reveal her truths:
ones she does not want
to extract from herself.
Her heart is not a rabbit.
When it beats
faster, faster, faster,
you need not
run harder to catch it.
Of Half-Filled Words
by
HugQueen
It has the distinct sense of an experience, explored in
a disjointed, lovely voice. Suggester: ...because it deals
with the familiar poetic subject of misery in a highly unique way.
Featured by spoems
-we own nothing-The sun rises; we become slaves.
-we own nothing-
by
8Happiness
An entire treatise on the subject of free will and the
nature of human enlightenment could not better pinpoint said
abstractions into an actual understanding any better, and certainly
not more beautifully, than this simple poem.
Featured by: LadyofGaerdon

Clockwork GodHe knew there was a simple solution:
Go back and altar history—
sacrifice time.
He would work backwards.
The atomic clock would be simple;
one well-placed sneeze would knock it off course,
then he would find the Swiss watchmaker
and explain to him in chocolate tones
that punctuality was overrated.
The Greeks would be a challenge.
It would take the hands of several gods to convince them to smash
those handsome sundials.
Then he would reach into the soul
of the first homo floresiensis who
looked at the sky and decided to delineate day and night,
to make them into two halves,
And tell him that things were just fine whole.
And there would be no before, no after,
No hour, minute, second 'til
his four weeks left were gone—
There would only be now.
"Clockwork God"
by
Halatia
A fascinating look at the concept of time and how deeply
it effects all we do - and just what it might be like if that concept
were eradicated.
Prose
Featured by shebledgreenink
:thumb184148694:
Thinking of Alice
by
BrandonRChinn
As the author said, "a short story on love and companionship."
What stood out to me in this piece was that the romance aspect is
almost a minor focus, yet by the end you have a complete portrait of
their relationship.
Suggested by doodlerTM
Featured by doodlerTM

Daddy?"Daddy?"
I lowered my newspaper just below my eye line. There stood before me, a small, young girl. She was leaning back and forth, on tiptoes, her head was facing downward but her eyes were staring at me from the corner of her eye.  Her smile stretched as she bit her lip. She was just oozing with an aura of childish curiosity. I could've just ignored her. It didn't need to happen. Not to me. But I chose to. I thought I was prepared. So I replied,
"What d'you need honey?"
Her eyes widened, her smile turned to a laugh. She tucked her hands behind her back as she said,
"Where do babies come from?"
I mentally snapped my neck and knuckles. I cocked a smile because I had an ace in the hole. The very first chapter of all the parenting books I skimmed through.
"The Stork delivers babies to all mommies and daddies, sweetheart."
Poor kid never stood a chance. I slowly and triumphantly raised my paper back to my face, chuckling even. How foolish I was.
"Where does The Stork get them?"
Daddy? by
NotChizimaru
A quaint piece that demonstrates the terrible
consequences of lying to children.
For more information, including how to suggest a Deviation
to be featured, please visit us at
DailyLitDeviations
.
Thanks so much for supporting the lit community and this project!
~ The
DailyLitDeviations
Team ~
Prepared by: Ebahr