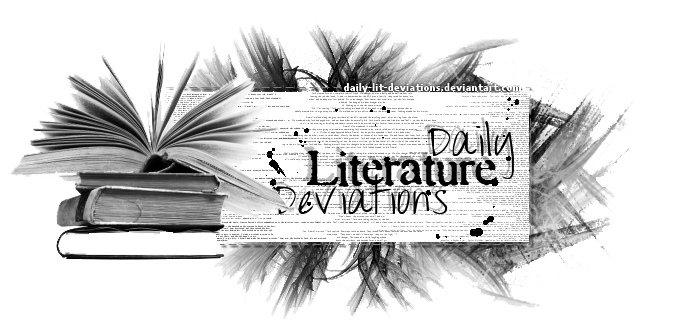 Guidelines
|
How to Suggest a DLD
|
Group Administrators
|
Affiliation
|
Chatroom
|
Current Staff Openings
Daily Lit Deviations for December 26th, 2012
We are proud to feature today's Daily Literature Deviations!

You can show your support by

ing this News Article.
Please comment and

the features and congratulate the artists!

For all of the featured artists:
If you receive a DD for one
of your pieces featured by DLD please note LiliWrites.
We will include you and your piece in a special recognition news article.

Poetry
Featured by: LadyofGaerdon

Peace On EarthFreedom is not free
                                     Love, it never lasts
Forgiveness has its limits,
                                               We are trapped within our pasts.
After
all the bodies fall,
After
all the blood is shed,
Where is the  " g i f t "  we fought for?
Is there a reason that we're dead?
And one tin soldier watches
As cities
                And bodies
                
"Peace on Earth"
by
AutumnForAlways
Deceptively simple, with wonderful
rhythm and an even better message,
this piece will leave you thinking.
Featured by: betwixtthepages

In my bathroom againGod's in my bathroom again,
he's shaving the patches of his
beard and pulling clown-faces
at the soap. Last night
he held me as I lay in a fever,
made little screams, kept
the hot tongues from my face,
the mushrooms from my
spine.
He says his old girlfriend
tried to drink his blood, that
it messed him up
for a while. He says
it's been a long time.
God looks sad, jingling his
teeth at me like loose
change. The clicks of my
heart make me sick;
folding his pyjamas
would be
the kind thing
to do.
In my bathroom again
by
emilygolightly
If you could have a conversation
with the God of your religion, what
would you say? How would you act?
emilygolightly explores this idea
in In my bathroom again--this piece
is sure to take readers by surprise.

Featured by: lion-essrampant

Waiting for her to come this wayThe breeze tousles through the night and his hair.
He sits in expectance for her to come here;
waiting for her to come this way.
Like that first time; her footsteps echoed so loud.
In a night as such not even the moon could be proud.
An ethereal glow she emitted, an embodying light.
The wind ruffled her black locks like an angel in flight.
Her breath was a sanctifying whisper of life
and her dress; oh a woven fabric of natures device.
Her soft traces upon the earth would have grown
the fruit bearing brushwood, piercing through a stone.
The hair settled; the wings retreated, her eyes slowly set
on a young boy tending tulips. Their gaze just then met.
He stared; what else could he do; she stood a little away.
The moon too curtsied to her outlining her portrait.
He stood tranquil, the tulip yet held in his hand.
She smiled and approached like a being with command.
She took the tulip, sniffing in its fragrance, sighing so deep,
the earth purred in compliance underneath her feet.
She smiled
"Waiting for her to come this way"
by
NotenSMSK
This work is gentle in its execution
while still grasping the reader's
attention, and has the the elements
of a beautiful poem - natural
rhyming, subtle, but powerful imagery,
and a message that stays with the
reader long after it's finished.
Prose
Featured by: SilverInkblot

My six-word memoirBorn in a snowstorm. Still cold.
My six-word memoir
by
jenniology
Beautifully evocative for so few words.
Featured by doodlerTM

Shakespeare's Tragic PlaygroundCome one, come all to the newly opened theme park based on Shakespeare's plays! Are you daring enough to live through the infamous lives of the Shakespeare's characters? Experience the heart-breaking tragedy of Romeo and Juliet, the anxiety-filling betrayals of Richard III, the anguish of Hamlet, the trickery in Macbeth, or the back-and-forth moral fight of Othello. At Shakespeare's Tragic Playground, anyone can experience the tragedies that Shakespeare envisioned, only with a thrill of a theme park.
"Did my heart love till now? Forswear it, sight! For I never saw true beauty till this night." Everyone loves a good ride based on the honeymoon, new love stage in their lives. It's a time of joy; a time where all things seem right, and that nothing could possibly go wrong. That's exactly what we try to capture on our ride, "Strayed Love". The ride looks like a nice carriage ride, and the beginning is just that: couples are slowly started with a few small bumps so they can focus on t
Shakespeare's Tragic Playground
by
VagrantDreamer
A detailed description for a
theme park that Shakespeare
fans will appreciate, and one
that I wish really existed.
For more information, including how to suggest a Deviation
to be featured, please visit us at
DailyLitDeviations
.
Thanks so much for supporting the lit community and this project!
~ The
DailyLitDeviations
Team ~
Prepared by: LadyofGaerdon