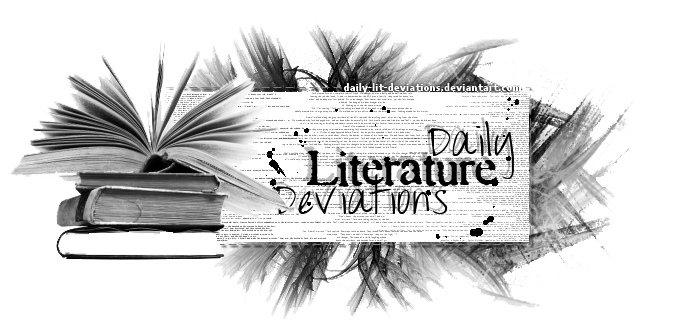 Guidelines
|
How to Suggest a DLD
|
Group Administrators
|
Affiliation
|
Chatroom
|
Current Staff Openings
Daily Lit Deviations for December 25th, 2012
We are proud to feature today's Daily Literature Deviations!

You can show your support by

ing this News Article.
Please comment and

the features and congratulate the artists!

For all of the featured artists:
If you receive a DD for one
of your pieces featured by DLD please note LiliWrites.
We will include you and your piece in a special recognition news article.

Poetry
Featured by LiliWrites

griefmary sleeps beside me, it is morning; we are
dream-sunk and tangled in her quilts
honey warm and bathed with sun, we are berry-stained
and slow-breathing, lips purple
from last night's wine -
it is morning; we are softened creatures
and the light has come to hold us.
mary's phone is a wasp, a bramble, is a vaguery that
we cannot be bothered with. it is morning and
mary's phone is wrathful, insistent, needling us
into a sluggish consciousness. we break the
surface without grace or tact and
it is morning, and he was just here
he was right here and he was breathing but now
he is gone; he has passed through, passed on,
passed into the other, the ether, the endless,
the place we cannot follow, has passed
away
away from mary, from the green and the gray,
from the earth that bloomed when we
were not paying attention, from the sky and
the hearts of the trees.
mary, it is morning; it is morning for mary and
she is disassembling before my eyes. i place my palm
flat on her spine and feel t
Grief
by
SuddenlyAutumn
It is rare to read a poem that so aptly
describes one of the most harrowing of
human emotions - particularly when it
is seen from a bystander's viewpoint.
Suggested by:

Lacewinged-Beauty


Featured by: betwixtthepages

You can't have all of me.I hope you'll understand,
I've parcelled my heart
up in postcards
and back-alley blow jobs
and I might
still want to kiss
other people and
touch other people
and love other people
but I'll never want to
come home to anyone else.
You can't have all of me.
by
trembling-knees
From the suggester: This piece has a quiet
beauty that can't be explained. Sometimes, we
just can't afford to give all of
ourselves to someone else.
Prose
Featured by: SilverInkblot

He's No GentlemanAnd then she's trapped and she knows it, her body standing stiff against the wall with his eyes seizing her up. They are all but sparkling in something between amusement and the promise of unspeakable horrors and it breaks her heart again and again, to have him so close but so far from what she wished for, to have him right where she wanted him, but she never asked for all this pain, she didn't want this violence that was painted all across the cruel curves of his lips.
"Don't", she says, weakly, and he smirks at her, idly caressing her neck in a tantalizing show of slowness. Her breath catches in her throat, for even though he doesn't comment on it, the message is clear: I've got all the time in the world and you won't stop me.
She squeezes her eyes shut, willing the scene to disappear, willing the almost tender touch on her throat to stop feeling like a threat, willing to wake up and laugh it all off - but his rasping voice breaks through this intense wishing of hers, making h
He's No Gentleman
by
miserabel
"...they define our non-participation as
consent." Be sure to read the artist comments.
Featured by LiliWrites

Dear Little LightsDear Little Lights,
You never knew me. You didn't know that I existed on the same planet as you, you were too small to understand the scope of the Earth. You lived in your secluded and sheltered circle of friends and family, as children do, merry and healthy, bright and focused. Not one of you had even an inkling that there was such a great, wide world, ready to be explored, and now, you never will. Tragically, unlawfully, disturbingly, you have each one of you been removed from the painting, inked out and painted over before you achieved any of your hopes and dreams. You will not be able to close your eyes and wait patiently for the day you grow up, the day you will marry, the day you in turn will hold a tiny, squirming body waiting for a name, so their light may shine.
You were taken before you were able to create lives for yourselves. And while you'll never get the chance to meet me, never be able to allow me the pleasure of holding your hands, or listening to your favorite bedtime
Dear Little Lights
by
pullingcandy
A tender, heartfelt tribute to the 20 children
whose lives were taken at Sandy Hook Elementary.
Foreign Language
Featured by Exnihilo-nihil

LVIII. Pour enterrer la Lune.
L X V I I I - Pour Enterrer la Lune…
J'ai minuit dans les veines,
La lune au fond des yeux
Et j'ai tissé mes cieux
Dans le vide des plaines
Aux horizons d'adieux
Cendrés de larmes vaines…
Si l'été se fait terre
Pour couvrir mon cercueil,
L'hiver se fera deuil
Sur l'ombre délétère
Qui brille dans mon œil
Où la peur doit se taire.
Ma peau, comme une absence
Sur l'éclat des douleurs,
Étincelle des pleurs
Qui disent le silence
Délavé des couleurs
En toiles d'existence !
Et l'angoisse fragile
Se brise entre mes doigts
En cristaux de feu froid
Quand la braise immobile
S'essouffle de ma voix
Où saigne l'inutile…
Une ligne de fuite
Se terre dans ma main
Où meurt un lendemain
À l'attente sans suite
Qui croise mes chemins
Sur un sol anthracite…
Les vagues sont désertes
Et portent mon regard
Au loin des cauchemars
Qui mènent à ma perte,
Mon âge est en retard,
La blessure est ouverte.
La tombe grise est close
Sur mon rêve effacé,
Un frisson s'est tracé
Comme un lambeau de ros
Pour enterrer la Lune
by
ArikaRinkishika
To bury the moon" is a chilling and subtle
poetry about lost dreams. Written in hexameters,
one of the most beautiful french text of 2012.
For more information, including how to suggest a Deviation
to be featured, please visit us at
DailyLitDeviations
.
Thanks so much for supporting the lit community and this project!
~ The
DailyLitDeviations
Team ~
Prepared by: spoems