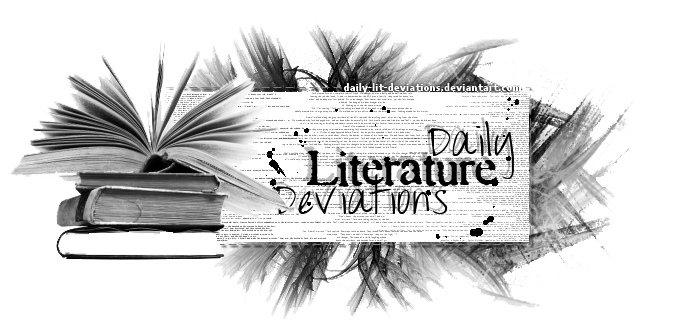 Guidelines
|
How to Suggest a DLD
|
Group Administrators
|
Affiliation
|
Chatroom
|
Current Staff Openings
Daily Lit Deviations for December 23rd, 2012
We are proud to feature today's Daily Literature Deviations!

You can show your support by

ing this News Article.
Please comment and

the features and congratulate the artists!

For all of the featured artists:
If you receive a DD for one
of your pieces featured by DLD please note LiliWrites.
We will include you and your piece in a special recognition news article.

Poetry
Featured by LiliWrites
Taut
by
beeinthebottle
Lisa neatly juxtaposes clever wordplay
with the reality of being an introvert in
this quick-paced, witty poem.
Suggested by: queenofrelax
Featured by: Carmalain7

Windmilli am raw;
waiting for the skillet
kiss
me though the windmill
be careful not to
miss
me through the windmill
paint on me, a target:
erase
paint on me,
a smiling face
i am burnt;
waiting for the sunset
kiss
me through the windmill
be very careful not to
miss
me through the windmill
lips like morphine
words flow like ipecac
until you come back
lips like morphine
wordless chatter
against your scattered
anatomy
love is a windmill
for this reason, i slow our blades
let us
cultivate
Windmill
by
WillSchenck
Suggester: "i've loved this poem for
a long while now and really think it deserves
more attention. the very first stanza is such
a striking and unique image that instantly takes
my breath away, and the rhythm is so melodic it
just lulls me through the poem. it's simplistically
and beautifully written, and permeated with passion."
Suggested by alapip
Featured by: spoems

mansuetude and sentiment.parietal flowers of your (mouth, eyes, ears)
plication and pleating of the house plants lives
revel in it: swim in it.
litter your hands with it.
house plants, house cats, house shadows on the grass,
all so orthogonal and plain.
oh
your
grasp
and
tales so phatic, maybe penitent but never dull.
maybe.
maybe your
parasitism should be pushed to perdition
maybe the limbs of the house plants will
pave your terrene and turning gaze.
oh dear
votre sentiment est tardive et vil et pÔle.
mansuetude and sentiment.
by
nighttimebeautiful
The moodiness of the poem is counterbalanced
by the almost clinical nature of the diction -
a mysterious sort of precision that intrigues.
Prose
Featured by LiliWrites
On Dead Leaves and Other Valuable Things
by
FuzzyHoser
This meditation on faith, family, and the way
tradition connects us all is short but powerful.
Suggested by alapip
Featured by xlntwtch

I buildOne day, something changed.
I had always been able to hear the sound of the servomotors beneath my skin; I had always been able to feel the shape and temperature of the deck rail beneath the sensors on my fingertips. I had always been able to infer, by vibration and heat, where in a given space a supervisor might be.
I had always known, but now I knew.
Something had been building.
Things build. The sciences build. Mathematics builds, calculus on algebra on arithmetic. Physics builds on mathematics. Chemistry builds on physics, biology builds on chemistry, psychology builds on biology.
The sciences build, becoming more diffuse as they do, becoming less scientific and more human, as though humanity and hard fact lie on two ends of a continuum, incompatible, disparate.
I built.
Or rather, she built me.
She built on mathematics, on engineering, on neurochemistry, on the auxin-influenced way that plants' leaves develop on their stems. The first supervisor took a series of raw materia
I Build
by
consolecadet
A wonderful sci-fi vignette by a talented writer.
Suggester says: Though this subject has been covered
before, I've never seen it covered better.
For more information, including how to suggest a Deviation
to be featured, please visit us at
DailyLitDeviations
.
Thanks so much for supporting the lit community and this project!
~ The
DailyLitDeviations
Team ~
Prepared by: spoems