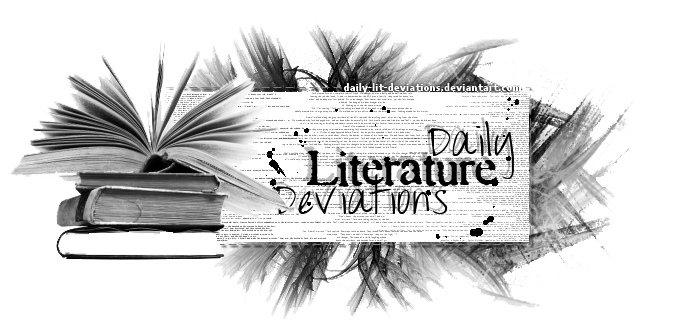 Guidelines
|
How to Suggest a DLD
|
Group Administrators
|
Affiliation
|
Chatroom
|
Current Staff Openings
Daily Lit Deviations for December 22nd, 2011
We are proud to feature today's Daily Literature Deviations!

You can show your support by

ing this News Article.
Please comment and

the features and congratulate the artists!

For all of the featured artists:
If you receive a DD for one
of your pieces featured by DLD please note damina.
We will include you and your piece in a special recognition news article.

Poetry
Featured by: LadyofGaerdon

why i'm scared of ghostsdear ghost of christmas past,
it's christmastime.  christmas eve, to be exact.  i can't look outside without seeing the shimmer of the snow, like tiny fireflies etched into each flake.  glistening strands of colorful bulbs christen the neighborhood, like they're declaring us worthy of a little light.  
i'm shivering like i got caught in a snow bank, and i'm blinking like i'm hoping my eyelashes will tangle together and pull my lids closed.  
i was wondering; if dreams are so pretty, why do they shatter like sherry glasses against tile as soon as we open our eyes?  maybe they aren't meant for us to hang on to, cause the most beautiful things are only ever viewed at a glance.
(any more than that, and you start to notice the bloody color of the sky and the way the roses smell more bitter than sweet.)
and i was thinking that's why snow gives itself over to the wind so easily, cause looking too closely at your hand linked through m
"why i'm scared of ghosts"
by
IOwnSarcasm
There's a wonderfully obscured feeling
about this piece -as though you're looking
through an opaque window, or at a blurred
reflection. The words hit you like a faint
dusting of snow on a quivering branch -
fragile, ephemeral, ghost-like - and all
the more beautiful for it.
Prose
Featured by shebledgreenink

The Art of BelongingLeonora Abbott. Leonora Abbott. It's the kind of name that one would automatically attach to a woman, perhaps in her mid to late twenties, who has somehow climbed her way up to high society, through social class and good breeding. Perhaps this woman has a pale, oval face that is perfectly formed, framed, maybe, with fragile russet-coloured curls that accentuate the colour of her eyes which seem to sparkle with a million shades of cobalt blue - no, not blue, green, much more suitable for her colouring. She wears dresses of fine opalescent silks and satins, with diamonds, not rubies for they would go against her hair colour and, more than anything, look like droplets of blood, flashing at her throat. She's the kind of woman that would only do things to a capacity that is considered 'proper', keeping her manner to a carefully polite altitude, in fact, she's the personification of chastity and purity.
---
Leonora Abbott sat with her back to the room beyond the window, focusing all o
The Art of Belonging
by
A-Rose-In-Misery
This piece reminds that the word "perfect"
merely indicates a nearly impenetrable facade.
Suggested by: leyghan
Featured by: SilverInkblot

A Shooting StarShe had never understood why people sometimes said the stars were cold.  She understood how the moon could be cold; it could drop down to -150 degrees Celsius at night, but stars?  Stars were burning gas. They could never be cold, or so she thought; however, as Renee stood in the graveyard, she understood.  It was noon in the middle of July and there wasn't a cloud in the sky.  Renee didn't feel the heat.  She didn't know how she could ever feel again.
One year.  That's how long they were married.  365 days.  George, her husband, had started feeling bad a few weeks into their marriage.  The doctor gave them the news with a grave face:  Cancer, strong and malignant, was raging through him.  George remained as cheerful as ever, though.  He enveloped Renee in a bear hug, saying, "Don't you worry, my girl.  With you by my side, I can beat anything lif
A Shooting Star
by
thespes
From the Suggester: "It's a beautiful
story about love and loss that I think you
and others might enjoy."
Suggested by: SadisticIceCream
Featured by: Ebahr

The Cloud BookThe last time I learnt to read, it was from clouds.
They hung on the bald horizon, and I could feel what they were saying without suddenness or ceremony. They lowed like cows on the slopes of my home which was not my home.
My country lay spread out behind me. I blinked and it was gone.
They lowed goodbye –
I did not weep.
*
"Are you cold?" Anna asked. Slap-slap-slap went the sea on the edge of the boat, trying to pen a letter. I stared out across the water.
She tried again. "I'll get you some bread."
"You asked me if I was cold."
"Are you?"
"If I am, bread will not warm me."
She laughed. It was a dangerous thing to do. I felt heartbeats divide the air and seized her throat in one. My hands were black strokes of coal against her skin and her eyes were very, very pale.
"There is no place," I panted, "there is no place for laughter now."
"We did not have to follow you."
"Anna."
She was afraid. It would be easy to break her neck.
"No-one else came. Only you. No-one else is comi
The Cloud Book
by
Solarune
A wonderfully put together piece of
prose, written by using a Music Map (see the
deviation comments) to bring a piece of music
(in this case "Cuan Bhéil Inse" as performed
on the cello) into life as a solid, readable
story, full of imagery and creativity.
Foreign Language
Featured by shebledgreenink

LE MOJITO - THE MOJITOUn trait de rhum et de citron bien vert
Le sucre de ses lèvres
Et j'ai vu sous sa robe
Une ombre rouge
La belle aventureuse
S'éloigne dans le soir, hélas !
A dash of rum, a little lime so green,
A shot of sugar from her lips
And I saw under her dress
A red shadow
The great adventuress
Passes away in the night, alas!
Frantz, avril / april 2010.
LE MOJITO by
Exnihilo-nihil
A concise note on the infinite mystery
of woman.
For more information, including how to suggest a Deviation
to be featured, please visit us at
DailyLitDeviations
.
Thanks so much for supporting the lit community and this project!
~ The
DailyLitDeviations
Team ~
Prepared by: Ebahr