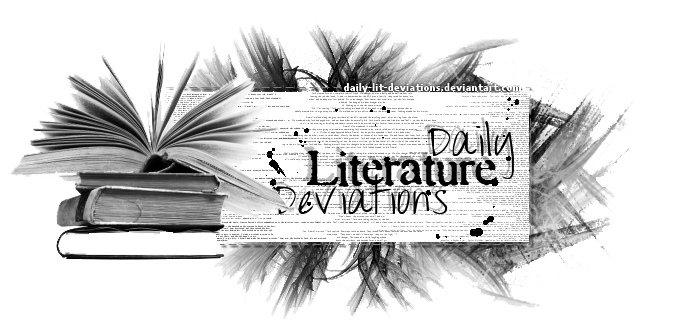 Guidelines | How to Suggest a DLD | Group Administrators | Affiliation | Chatroom | Current Staff Openings
Daily Lit Deviations for December 19th/ , 2012
We are proud to feature today's Daily Literature Deviations!
You can show your support by

ing this News Article.
Please comment and

the features and congratulate the artists!

For all of the featured artists: If you receive a DD for one
of your pieces featured by DLD please note damina.
We will include you and your piece in a special recognition news article.

Poetry
Featured by: LadyofGaerdon

Which Color, Which?What do you see?
I see everything: vivid, entwined, breathing; growing.
Every drop of radiant color sings to me a new song.
Let me breathe, let me sing; let me shout in exaltation!
Let me bleed, let me burn, let me fall; let me die.
Keep me from my fate and keep me from my life.
Hide me from their light; hide me from their darkness.
Can you feel them? Can you feel the colors?
They are separate, so far away!
Let them blend together, let them paint my picture.
Let them merge to tell my story before I fade like they do.
I can feel all of my colors aching inside:
Red is my lover – passionate and burning.
Orange is my warmth – glowing and still.
Yellow is my sickness – growing and aching.
Green is my mother – safe and warm.
Blue is my heaven – untouchable and high.
Purple is my vain – envious and hidden.
Pink is my image – smeared and broken.
Black is my killer – livid and powerful.
Gray is my mourning – present and dark.
White is my end
"Which Color, Which?" by mindlesspuppettoy
A rich, vivid soliloquy; the descriptions and color associations

are fascinating, the voice of the narrator intensely strong -

the effect is a blurred, yet lovely image left in the mind of the reader.
Featured by: LadyofGaerdon
"Never have I kissed a poet" by FuzzyHoser
A lovely, lyrical poem that ruminates with enchanting rhythm on

the mysterious, enthralling power that poets inevitably wield.
Prose
Suggested by: doodlerTM
Featured by: SilverInkblot

Of Loss And Measured TimeIt was ten minutes before the accident, and I just told my boyfriend that I love him. He's on his way to my house, and I'll see him soon.
It's been five seconds since the accident, and I'm getting worried. The distance between our houses is only five minutes.
It's been twenty minutes since the accident, and I hear sirens blaring their way down my street. I open the door and run to follow their path.
It's been forty-five minutes since the accident, and I'm watching the ambulance pull away from the mangled remains of what was once a red sports car.I didn't see the victim, but I don't need to. I've seen that car enough times. I vaguely register my phone ringing in my pocket.
It's been an hour since the accident, and I'm pulling into the hospital parking lot. I'll see him soon.
It's been three hours since the accident, and I've finally stopped crying. A doctor comes to tell us that he's alright. Something is said of head trauma, but I haven't been listening since his third word. The doctor
"Of Loss and Measured Time" by KatasumiHeyano
From the Suggester: "A touching and thought-provoking

piece about love, and when love hurts."
Featured by: shebledgreenink

just a thought.the boy on the corner of my street is building a rocket. his skin is smothered in smoke and ash. his breath tastes of aluminum no matter how much his mother makes him brush his teeth. the particles adhere to his strands but he does not care because he just wants to leave and never come back.
his cousin delves deeply into her dreams, only coming up for air for a few hours. she sketches the creatures of pacific ocean eyes and multifarious races on the backs of her hands. their lemon yellow skin has painted hers and her mother spends most of her time in the bathtub, attempting to rid her daughter of these 'puerile' ideas. the daughter sits on her bed, crying as the red consumes the sunshine shade and at the fact that she cannot fall asleep.
i am the best friend to both of these dreamers. their parents cling to my wrists, begging me to not make their descendants depart. i say that if they really did love their children, they would let them leap into their dreams like antelopes. they just s
"just a thought" by LostWithinDreams
The imagination in this piece is vivid, and it speaks to those

memories of childhood you probably should not have forgotten.
Featured by: SilverInkblot
Footnote To The ApocalypseThe day after the apocalypse, I read.
I find a bookshop, one of the only buildings that hasn't been destroyed by the blast. The door is locked, but the front window has a hole in it , and my shirt-wrapped fingers manage to break away enough of the splinters to create some sort of entrance. For the first time in my life, I am thankful for being small.
My hands are bleeding when I get inside. My shoulder is too - there's a sliver of glass buried in it too deep to dig out - and the gashes on my chest have opened up again, but there isn't much I can do about those. I don't want to bleed on the books, that's all.
I don't have any bandages, so I cut up the rest of my sleeves and wrap my fingers in the fabric: not perfect, but it will stop the worst of the staining. Then, I hunt.
It isn't a targeted pursuit - I'm after anything that's unburned, unbroken, and with all the pages intact - but somehow a pattern starts to emerge in the pile I make under the kneehole of the desk (animal
"Footnote to the Apocalypse" by GentlemanAnachronism
What does one do after an apocalypse? Read of

course! The small touches of humor in this

dark piece really make it something special.
For more information, including how to suggest a Deviation
to be featured, please visit us at DailyLitDeviations.
Thanks so much for supporting the lit community and this project!
~ The DailyLitDeviations Team ~
</p>
Prepared by: SilverInkblot