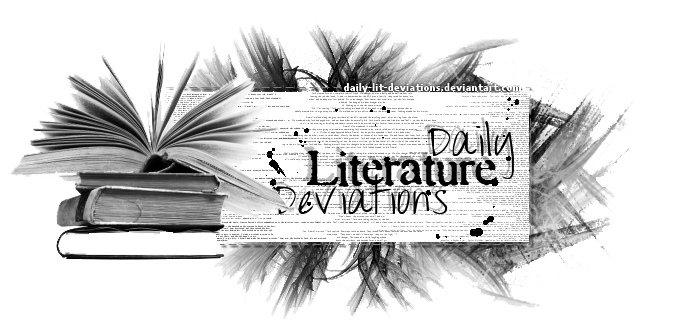 Guidelines
|
How to Suggest a DLD
|
Group Administrators
|
Affiliation
|
Chatroom
|
Current Staff Openings
Daily Lit Deviations for December 12th , 2011
We are proud to feature today's Daily Literature Deviations!
You can show your support by

ing this News Article.
Please comment and

the features and congratulate the artists!

For all of the featured artists: If you receive a DD for one
of your pieces featured by DLD please note damina.
We will include you and your piece in a special recognition news article.

Poetry
Suggested by: RetroZombie
Featured by: spoems

The Cello's LamentThey call me brute.
I'm permitted to chant,
   but they won't let me Sing.
They've confused non-agility for
   inflexibility—
        my belly enfolds the earth;
        my throat trills at the stars;
        my eyes embrace the cays
           of the sea.
I am an omnivore,
   yet they will only feed me leaves.
"The Cello's Lament" by HaveTales-WillTell
This wonderful poetic engendering of an instrument with human frailties,

such as suffering indignation from being kept in the shadows

of higher profile strings, is well orchestrated.
Featured by: LadyofGaerdon
:thumb200762613:
"I Want To Be Shaken" by RiseandBe
Such a universal concept, impeccably phrased, with formatting

that enlivens the words, allowing them to jump from their

lines straight into your consciousness.
Featured by: LadyofGaerdon

Alikeand here's the miracle of life:
everything is so alike
doesn't matter if you're human or a tree
the rules apply to the entire being
i left my home
   and lost it all
we replaced your soil
   and changed your world
now,
we both live,
  but we blossom no more.
December '09
A simple yet profound fragment of thought, exploring

the deep similarities between all life. We are all

transplants in our own way, are we not?
Prose
Featured by: shebledgreenink
"The Day We Left For Earth" by Tuttlebird
A sort of backwards space odyssey,

and an intriguing snippet of flash fiction.
Suggested by: doodlerTM
Featured by: SilverInkblot

Impossible ExistenceMine is an impossible existence.
Every day, I do the impossible. I get up, eat Cornflakes, go to work. I work in an office. It is quiet. I like that.
I walk through the park on my way home. The birds are singing. The boys are playing football between the trees. Brown, crackling leaves are thick underfoot.
When I get home, I kiss my warm, flustered wife as she hurries past me out the door. She is heading to her shift over at the hospital. She works the evening shift on Wednesdays. She does impossible things there.
The kids - Annie and Michael - are playing in and out of the hall, chasing each other. The TV is on in the front room. Tom is chasing Jerry round and round the screen, much like Annie and Michael.
Annie is seven and wants to be a nurse. She wants to do impossible things, like her mother. She is small and bright and blonde and has her mother's radiant smile.
Michael is three. He is my impossible child. He has freckles and dimples and mousy brown hair. He is giggling
"Impossible Existence" by HintOfMagic
From the Suggester: "An uplifting piece

that makes you count your blessings."
For more information, including how to suggest a Deviation
to be featured, please visit us at DailyLitDeviations.
Thanks so much for supporting the lit community and this project!
~ The DailyLitDeviations Team ~
Prepared by: SilverInkblot
</p>