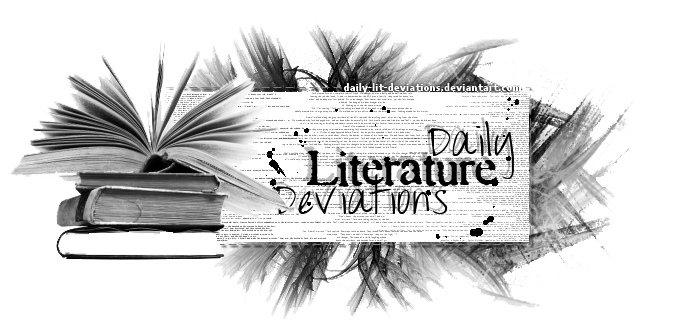 Guidelines
|
How to Suggest a DLD
|
Group Administrators
|
Affiliation
|
Chatroom
|
Current Staff Openings
Daily Lit Deviations for August 30th, 2013
We are proud to feature today's Daily Literature Deviations!

You can show your support by

ing this News Article.
Please comment and

the features and congratulate the artists!

For all of the featured artists:
If you receive a DD for one
of your pieces featured by DLD please note `LiliWrites.
We will include you and your piece in a special recognition news article.

Poetry
Suggested by: *chromeantennae
Featured by: `TwilightPoetess

*The Option*Raging thirst consumes
Conscience did not die that night
Starvation the option.
2013 Delice1941
3rd August2013
*The Option*
by
*
Delice1941
From the suggester: The almost-vampire imagery
is absolutely incredible. A fantastic, fantastic piece.
Suggested by: *IntelligentZombie
Featured by: `TwilightPoetess

60Here is everything small and sweet,
Here the dreams, the ideas, the scent of mesquite,
the clandestine brine in the swell of our waves.
Here are your nothings and your smiles, your art,
My glances and my knowings and my fear of the dark;
Here are the terrors that tear us apart
But won't let us rest in our graves.
60
by
~
AfterTheNonSequitur
This beautiful rhyming piece has a smooth,
natural rhythm. With a nod toward the
nightmares we all keep locked deep, :
devafterthenonsequitur: will leave you pondering.
Featured by: `SilverInkblot

the boy with twelve bracletsthe cobwebs of your past cling
to the inside of your ribcage
and gently strangle your heart.
when i saw you for the first time
i had already known you for weeks,
taken part in your gorgeous
conversations and watched you spread
laughter like a perfect virus
among all the people you met.
you wore twelve bracelets,
six on each wrist;
once upon a time they served
to cover a mistake you made
when you were thirteen,
but it wasn't a mistake now
so much as a story
about a boy who was brave enough to keep breathing,
and you kept the bracelets just because their memory annoyed you
when you took them off.
that was what you said, anyway.
then i learned how sure you were
that you were only pretending
to be brave.
you wore a mirror as a face,
silver and starlike,
molded to your features and well-rehearsed
in reflecting just what you
knew people wanted to see
and one night,
terrified of seeing nothing but myself
in you
[and greedy to see your face]
i smashed the mirror.
i expected you to scramb
the boy with twelve bracelets
by
*
aprilwednesday
*aprilwednesday has a true talent
for taking harsh realities and painful experiences
and crafting something beautiful from them.
Prose
Featured by ~doodlerTM

The BarberBefore
The shop bell tinkled. A wall of heat blasted through the door in protest at the fans and air conditioning attempting to keep the scorching summer at bay. And the man walked through the door.
He had been coming to this particular barber's shop for over twenty years now, and he knew the barber well, or as well as anyone could be expected to know their barber. The barber knew him better.
They exchanged a series of general pleasantries that were personal enough to be polite, but indifferent enough that they could have been between any two acquaintances in the world. The man sat down and made himself comfortable. The barber prepared for work.
As the barber got started, he struck up conversation. The man responded, babbling away incessantly as the barber knew he would. He appeared to be only half-listening to what the man was saying and paying more attention to his hair, but the latter had become such a routine job by now that his mind was focused almost solely on the co
The Barber
by
~
harristhenerd
A delightful work that follows the
emotions of confusion, love, and loss.
Suggested by: *xlntwtch
Featured by: =DrippingWords
"Communications 101"
by
`
raspil
Suggester says: "Answering calls on a crisis
hotline can be excruciating, but this writer
makes reading about it a joy."
For more information, including how to suggest a Deviation
to be featured, please visit us at
=
DailyLitDeviations
.
Thanks so much for supporting the lit community and this project!
~ The
=
DailyLitDeviations
Team ~
Prepared by: =DrippingWords