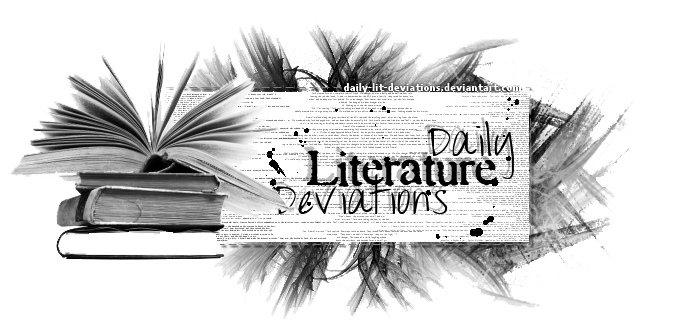 Guidelines
|
How to Suggest a DLD
|
Group Administrators
|
Affiliation
|
Chatroom
|
Current Staff Openings
Daily Lit Deviations for August 30th, 2012
We are proud to feature today's Daily Literature Deviations!

You can show your support by

ing this News Article.
Please comment and

the features and congratulate the artists!

For all of the featured artists:
If you receive a DD for one
of your pieces featured by DLD please note LiliWrites.
We will include you and your piece in a special recognition news article.

Poetry
Featured by: Nichrysalis

The lilies she lent (old)

In some mystic woods, bloomed an innocent bud
It nurtured delicately; from the vile world she was shut.
But alas; 'fore she left, ten love lilies of red,
that withered only at her will, she plucked.
She roamed the wide plains, with her beauty ablaze;
her scent aromatic, earning many a praise.
Yet gullible was she; the sprout of love
homed in her when she met the boys gaze.
Such charm and enchantment; oh what lovely art!
His ways did betray purity of the heart
his wines curled around the innocent girl,
poisoning her soul with his impulsive darts.
Yet one, con by birth, never has a strong hold
over one true love only, thus her love he sold.
For worthless gains oh such pain the girl felt.
With her will, one love lily withered in cold.
Yet he tricked once again; a true fiend was he
and innocent she was, she blindly agreed
to give him a try, only one try, no more
had she only known how deceitful he could be.
He broke 'gain the ties, he engulfed her in pain
another lily did wilt, each
The Lilies She Lent
by
NotenSMSK
A classical piece of literature
with traditional elements and
a lovely narrative to tell. A
wonderful piece for those who
enjoy well-done traditional poetry.
Featured by: TwilightPoetess

Who am I?1.
I have my father's crooked fingers
And my mother's vicious teeth.
There comes a time
When these things become necessary
To the defining of me.
I am not defined by you
Defining me.
Though the entry you write
May suggest otherwise,
I am not defined by you
Defining me.
2.
My sense of self is hyped
On stimulants and praise
Before it dashes itself
Against darkness
Robbing itself of substance
And boundaries.
I am rebuilt cyclically,
Did you know?
I don't think you did.
But I am not defined by you
Defining me.
I am a natural monument
A force of nature
That waves its banner
In the thronging masses.
Among many, I am one.
A droplet in a storm.
3.
My father's fingers
Are restless on my hands.
My mother's teeth
Gnash angrily in my mouth.
I fight to claim them.
To control them.
To direct them.
I am not defined by you,
In me,
Defining me.
4.
The rain falls and echos
In empty caverns full of self
and not self.
Fingers, like spiders,
Crawl through the recesses
Searching but never finding.
Teeth gra
Who am I?
by
spre
We are all, in one way or another,
defined by other people.
Artists, poets, daughters, brothers.
spre challenges herself to look
past the definitions and to figure
out who she really is, claiming
"I am not defined by you / Defining me."
That's a great stance to take.
Featured by: TwilightPoetess

HAIKU: untitledsalmon moon
falling back into
the ocean
HAIKU: untitled
by
impersonalinfo
This haiku, by impersonalinfo,
gives readers a glimpse into a world we
don't often think to consider, juxtaposing
a soft, tranquil night with the harsh flash
of a salmon leaping through the air.
This is a lovely piece to get lost in.
Prose
Suggested by: LookingGlassInk
Featured by: SilverInkblot

Wishing Lanterns     I remember a day that happened about three years ago, when my parents woke me up in the earliest moments of the morning. It was a bit chilly and the sky was still dark as we packed up a few blankets and crawled into our little green car. Dad had the radio turned off and mom was looking out the window as a cool but refreshing breeze tickled her hair. I clutched at my stuffed dog and placed my chin atop his fluffy head, all the while resisting the urge to fall back asleep.
     The car came to a stop and I awoke with a start, pretending I had been awake the whole trip. Mom just smiled as she pulled the blankets from the back and took my hand as we followed dad to the edge of what appeared to be a massive hill. It was a steep drop to the bottom, but it was probably the greatest view I'd ever seen of the houses and parks that made up our town.
     We sat together on a wooden bench and mom wrapped a large chunk
Wishing Lanterns
by
CaitxxSith
Suggester: "a heart-wrenching story about
a boy's one and only wish and the difficulties he
and his family face to make it come true. It's
beautiful, inspiring and feels amazingly genuine."
Featured by doodlerTM

swallowing silver spoonsShe counts thirty-one days during every odd month and thirty days during every even month (apart from February, but that doesn't matter, everything else is the same). There are twenty-four hours in a day, and she thinks that doesn't matter, either, because it leaks away just like the number of days.
The days pass in a blur and she wonders what happens if she oh, just happens to glance out the window because she thinks that the world's going to end anyway. Might as well just sit here.
So this is life, broken and battered after withstanding just a few years of marriage, but then again, she never quite expected him to die early. Just one of those things, you know. Widowhood.
Honestly, love's more trouble than it's worth. You take it, hoping that by giving it a second chance it'll come back nice and wonderful, but no, it just happens to be ruined by nature, by living, by a dead-drunk-driver who forgot to brake and ended up killing someone else instead.
It's like
swallowing silver spoons
by
XanthiaB
A heartfelt piece about love
and loss that has the intricate
language of poetry while still
weaving an excellent story.
For more information, including how to suggest a Deviation
to be featured, please visit us at
DailyLitDeviations
.
Thanks so much for supporting the lit community and this project!
~ The
DailyLitDeviations
Team ~
Prepared by: LadyofGaerdon